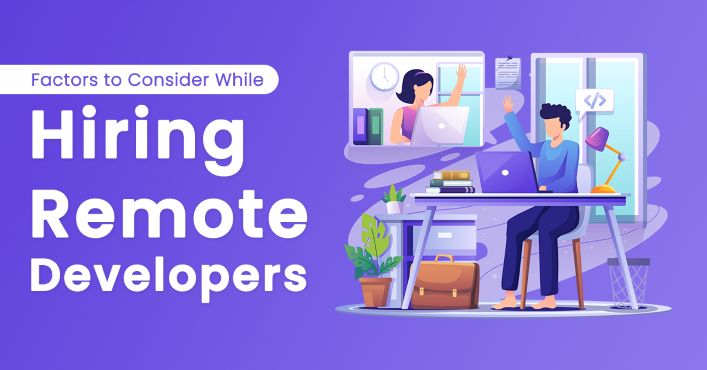 Remote resources are in huge demand as businesses be it small or big prefer to outsource their software, web, and mobile app development projects. There are many advantages of hiring remote developers from top software company. And one of is that they have great knowledge on the latest technologies and frameworks with vast experience in managing responsibilities.
Understanding the process of hiring developers is not too complex. But, if you cannot find the right skilled experts, the entire aim of the project development may fail. So, the next question immediately that comes is what should you keep in mind before you start searching for remote developers to hire for your project requirement.
Well, to give you the exact answer, we have written this article. It is wise to follow the below points and consider them while hiring remote team members working dedicatedly on your project.
Things to Consider While Hiring Dedicated Developers
Do you have a mobile or web app idea? Are you wondering how to convert it into reality?
Many businesses are ready to build an app today and enter the digital world in competition with other businesses. In such a scenario, hiring a team of dedicated developers helps comprehend your unique business requirements while eliminating the expenses of hiring and infrastructure. You'll just need to outline your idea and vision to them. They will work on that idea and make it a reality. While developers are dedicatedly working towards building innovative apps, there are still a few who do not deliver quality over money.
To safeguard yourself from such remote developers, follow the below factors.
Experience of the Remote Developers
One of the most important things to consider while hiring developers is the experience of the team members working remotely on your project. If you have decided which platform to develop your app, hire developers or specialists who are experienced in the same field. For example, if you are looking to develop an app for Android, look for android app development experts.
Not all apps are of the same size, features, color, and complexity. With every stage the complexity may increase. Therefore deciding on the level of experience of your developers is crucial to build your project successfully. Keep in mind, as the level of complexity of project and experience of the developer increases so does the cost of the development.
Portfolio of the Outsourcing Development Team
If you want to employ the best professionals, you need to check their past projects. They must be having a portfolio of their delivered projects. Moreover, you must look at the clients the development team has worked for in their portfolio and the type of projects that have developed in the past. You may also contact their previous clients and reach out to them to know more about their experiences of working with the development team.
Check the projects that match with your project requirement and industry to understand their quality of work more clearly. It will help you give clarity on choosing the right specialists for your project.
Communication
The best way to complete the project smoothly is to keep the communication smooth and transparent. When it comes to hiring a dedicated development team, the key to a successful business is communication. It is one of the most crucial factors to be in the loop with your project updates and the performance of your hired dedicated team. Hence, a clear communication channel among each dedicated development team member must be one of your top priorities.
The responsibilities of the developer team is to keep you informed of every stage of the development and discuss the changes if any. Therefore, get clear about the communication language and channel beforehand.
Price Discussion
You can get cheaper remote developers working as freelancers but that won't assure you successful project development and completion as there are many cons of hiring. While hiring remote developers from top software development service providing company may seem costly but it can help you generate good ROI in long run.
Remember the goal of the product idea you initially came across and your vision to upscale your business with that product. You may find other companies who hire remote developers working dedicatedly but the price is high. Well, spending a few extra behind them would give you lifelong satisfaction of the project. Also, these developers will always give you a bespoke web or mobile application as per your business needs.
You can choose to hire remote developers from a leading app development company. As they have team of dedicated developers with the skill-set that you are looking for and experience to understand any project requirement.
Location of Remote Developers
Always remember that the location of both the parties is going to be different. Remote developers could be located in different country or in other area than yours. This can affect you in many different ways such as language, culture, time. You should communicate with the company on the time for meeting, communication language and tools to manage the project.
It is always beneficial to keep things clear and transparent. Any miscommunication will lead to project failure and loss of the invested money.
Post Deployment Services
Let us assume that you have found that same skill you require in a developer and you have hired them at your affordable cost. They have also completed the project within the timeline with all the testing procedures. What next? Deployment / Launching?
What if you find any bugs after the app is launched? What if you want to change any feature or function according to the customer's review and feedback? Is your hired team of remote developers ready to make those changes?
Ensure that the company you hire, should also serve you post development.
Conclusion
The role you are looking for in a remote developer can always be available with the right procedure and steps. When you hire remote developers make sure that you have every aspect cleared and confirmed with all the stakeholders so that you can be more confident in looking forward towards the success of your project. With the above factors, you can hire the best remote developers to discuss your project and complete it within the timeline.
Whenever you hire remote professionals, discuss your project development requirement in details and communicate with them regularly.