Unforgivable weather is one of the most common reasons why people should invest in waterproof drones. Regular drones may get damaged or become lost during flight, while waterproof drones are made to handle anything ranging from snow and rain. This is the reason why these drones are used by amateurs and professionals alike.
The best waterproof drones are useful in situations like search and rescue, sports, etc. Here are some of the best drones that can withstand a dive in the water:
GPToys F51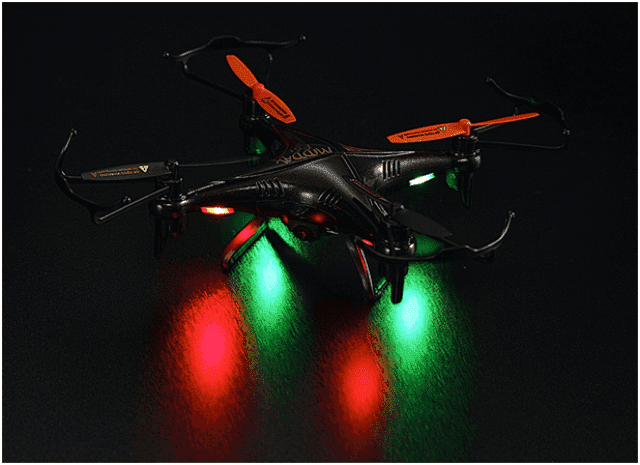 This drone is packed with a lot of extra features that makes it unique. It is also one of the cheapest waterproof drones available in the market. The camera, motor and panel are all waterproof in nature. You can click pictures or shoot videos underwater without any worries. The camera delivers HD quality and bright videos and photos.
The motors are protected with extra-durable waterproof shell; these motors help the drone navigate underwater. It also has a special blade protector that protects the blades from damage when underwater.
Additionally, the drone is also fitted with special LED lights that light up in the darkness, allowing you to see and locate it. It has a maximum flight time of eight minutes and can travel up to 70 to 80 metres from the controller.
SwellPro Splash Drone 3 Auto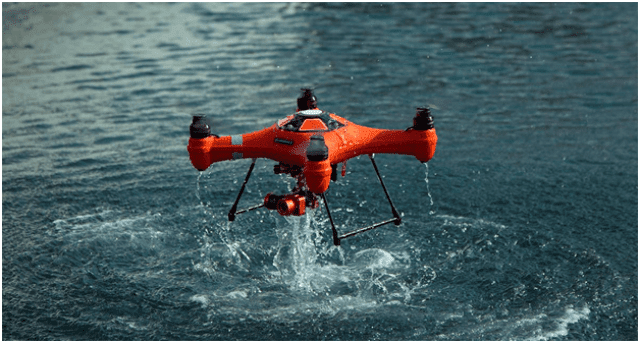 As the name suggests, the Splash drone has a lot of great features, all while keeping the aesthetics of a drone going on. It is 100% waterproof and can float on water without short-circuiting its inner electrical components. It has a modular payload release system that can carry up to 1.15kg of bait and a 4K HD camera pre-installed.
This drone will allow you to see underwater, thanks to the Fisherman Edition feature. While underwater, the drone makes use of its propulsion system that works on both salt water and fresh water, using its 620kV motors. This balances power and efficiency perfectly, making it the most preferred choice of drone for fishing and ocean survey work.
The drone has a maximum ascent speed of 4m/sec and a flight speed of 15m/sec. The maximum flying altitude is about 4,000 metres and delivers 16 minutes of flight time in a single charge. The camera can record 4K HD videos.
Goolsky IDEAFLY Poseidon-480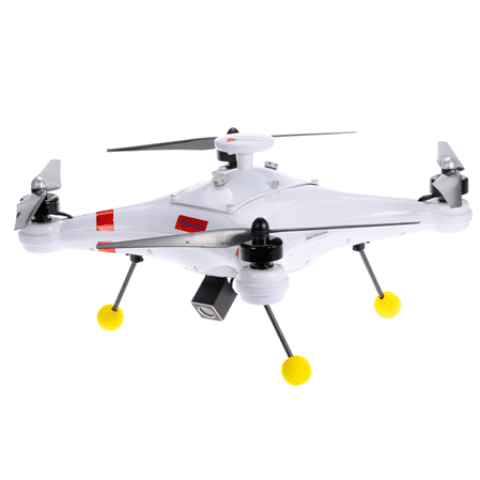 This is an amazing fishing drone that makes fishing even more fun! This high-performance drone can easily handle the roughest rainstorms and fast-blowing wind without any difficulty. It can also carry a payload of around 1.2 kg without any problem as well.
The drone uses features like an i6S transmitter set, Bluetooth Datalink, DJI NAZE controller, etc. so that is it easy for you to plan flight patterns and throw fishing baits up to 1.5 km away, thanks to its high-servo. The drone also has an IP67 waterproof rating and has an impressive flight time of 25 minutes in one go.
The flight controller is equipped with a 5.8G 600mW long-range image transmission for more secured flights, a one-key return function and a GPS system that offers much-needed reliability. The waterproof drone is a very high and efficient performer and stays soaked in water for more than 10 hours. It is also compatible with a lot of gimbals and cameras in the market.
SaraH2O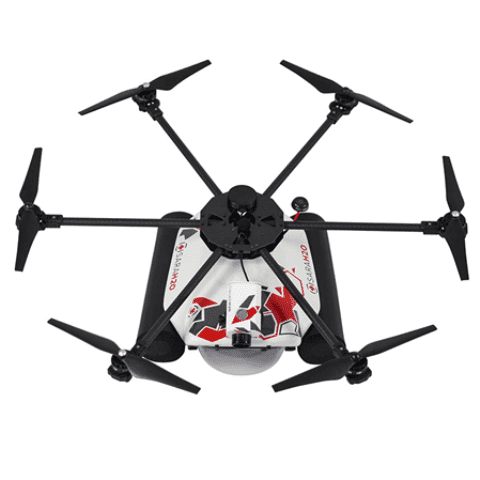 Originally designed as a search-and-rescue drone, the sturdy drone's hull is totally sealed, making it suitable for flying at unfavorable conditions like snow and rain. Its propulsion systems have a motor failure redundancy that gives you extra 25 minutes to navigate the drone to your hands.
This drone is capable of carrying a payload of up to 1 kg and is compatible with GoPro cameras. Both the camera and the gimbal are protected from the harsh environment because they are fitted into the drone's viewing dome, which is waterproofed.
This drone allows you to film underwater without any problem. You will be able to capture stabilized footage in high-definition quality. Also, the company, QuadH20's online shop, offers many customization offers for your SaraH2O drone.
HexH2o Pro v2

As claimed by its manufacturer, the HexH2o Pro v2 drone is one of the most advanced drones in the market today. According to its specs sheet, this drone is capable of carrying a 2kg payload. This drone can also film underwater in high-definition quality. You can operate this drone from up to 3.5 km away.
Some of its safety features include a smart return-to-home, which sends the drone back to its operator before the battery runs out, and motor redundancy. It was designed to integrate with the DJI GO app, thereby making it capable of several great features like No Fly Zones, signal strength, redundancy status, battery status, etc.
The gimbal, which is integrated with the drone, takes data from the flight controller into account while delivering perfectly steady footage. This drone is also available as a kit.
Waterproof drones are a great collection for enthusiasts. They are perfect for getting the best shots underwater or during heavy rainfalls, without the worries of the electronic circuits getting damaged. The frames of these drones are so tightly sealed that they can withstand tremendous pressure like the bottom of a lake as well.