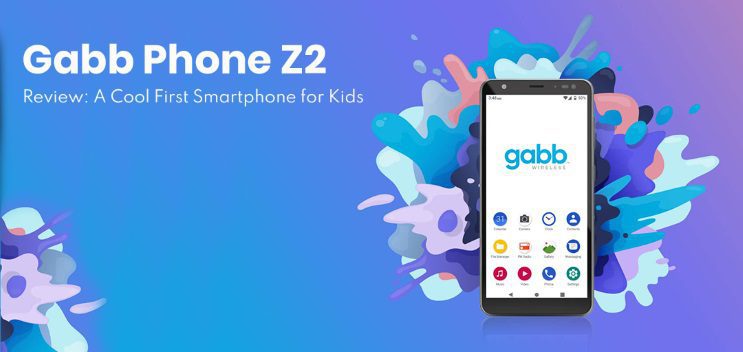 The Gabb Phone Z2 is an excellent entry-level gadget for both parents and children — but it is not without its flaws. As a father of two young children, ages nine and six, my children often want to play with my electronic devices. While my youngest has not yet shown an interest in having a phone, my third-grader has been begging for one for quite some time. To be sure, when pressed, I'm obligated by parental law to go into a monologue about how I was the same age as him when mobile phones were non-existent and blah, blah, blah. However, things have changed since I was a child, and technologies such as the Gabb Phone Z2 didn't exist while I was growing up. Even if I can go out and purchase a cheap phone and give it to my kid, there are some things that a responsible parent wants and requires to have access to their child's phone. Gabb Wireless is a company that aims to provide those parental requirements via its products. My kid has been using the Gabb Phone Z2 for a few months now, and we've come up with some observations about it.
The Gabb Phone Z2 will be available for $99 via the Gabb Wireless shop starting in August 2020. Although the phone is only available in one color, black, Gabb does offer four different cover choices for purchase on its website. The covers cost $12.99 and are available in four colors: Blast Black, Galaxy Green, Poppin Purple, and Rad Red. The Gabb Phone Z2 is presently available for purchase for $149.99 on the Gabb Wireless website. Gabb Wireless may not be a household name in the same way that Apple and Samsung are, but it is a household name in children's technology. Aside from testing the Gabb Phone Z2, my son and I have also tried the Gabb Watch, a smartwatch that may be used as an alternative to a smartphone. The watch has done an excellent job, but when my son's pals begin to get phones, he becomes convinced that he, too, needs one — enter the Gabb Phone Z2. The gadget is manufactured by ZTE and has a 5.5-inch display, which is considered modest by today's standards. However, the phone's body has a beautiful form, making it simpler to handle for those with tiny hands. It also includes a detachable back and battery, which is in line with the phone characteristics that aren't seen very often on smartphones.
Gabb Phone Z2
With 2,660mAh, the battery performs an excellent job of keeping up with everyday use. According to the manufacturer, the expected talk duration is 16 hours, with a standby period of up to 455 hours. Although my kid doesn't do much chatting or texting, there wasn't a single day when the phone's battery was less than half-charged by evening. Consequently, even for a talkative youngster, the phone should be enough to get them through the day. In our tests, the Gabb Phone Z2's performance was more than acceptable for a child's needs, and considering the device's specifications, the MediaTek CPU wasn't put under too much strain. While 32GB may seem to be a small capacity, it can be expanded by adding a microSD card to provide up to 1TB of additional storage. Your youngster will be able to shoot as many images as they desire in this manner.
For photography, the Gabb Phone Z2 sports a single rear-facing camera with dual flash and a front-facing camera with a resolution of 5MP. In addition, there are several built-in filters in the camera app that may be used to give photographs a little more personality. Aside from the filters, the only additional features are a manual mode and a panoramic option, which may be selected. Photos taken using the gadget are OK. While an older kid may not feel that their images are good enough for their social media account, the photos taken by a younger youngster are excellent. However, whatever the child's age, there should be no expectation that the photographs produced by the Gabb Phone Z2 would compare favorably to those produced by the top Android smartphones now on the market.
The presence of a fingerprint scanner on the back of the Gabb Phone Z2 and a 3.5mm headphone port are two features that users will appreciate. In addition to the PIN, password, and pattern choices, a fingerprint scanner provides an additional degree of protection while being simple enough for children to use. In addition, the headphone port is quite helpful when you want to put in a set of the most OK kids' headphones instead of remembering to charge the Bluetooth headphones. While all of the features we've discussed thus far are common across the most outstanding affordable Android file sharing phones, what distinguishes the Gabb Phone Z2 is the software it runs on. Like its wristwatch counterpart, Gabb has proprietary software installed on the phone that restricts the device's capabilities to keep your kid safe. In addition, MyGabb is a companion app that may be downloaded onto the parent's phone.
The software provides parents with real-time information on their child's phone, including its location, battery level, and other details. As previously stated, you can view the phone's position on a map, and you have the option of setting regular location updates and manually pinging the device. In terms of parental restrictions, the app for the Gabb Phone Z2 is quite restricted — but we'll get to that later. Safe Zones are a feature included in the app that is useful. A geofence may be set up so that you'll get an alert when the device enters or departs the defined zone. You can set up many geofences simultaneously if you want to. For example, you may create one for your home, school, a friend's house, or somewhere else that best suits your requirements. You will be notified when your youngster arrives at or departs from an anticipated place in this manner.
Another aspect of a child's smartphone that requires close monitoring is the device's ability to access applications. Not only is it not possible to download applications to the phone, but there are only 14 apps available on the phone as a whole. Limiting the number of applications available to a youngster is necessary for various reasons, including safety and attention assistance. Whichever the cause, you can rest confident that access to undesired applications will not be a problem with the Gabb Phone Z2. Gabb refers to those 14 applications as the Essential Tools. There is no way to deactivate or delete any of them since they are all pre-installed. Radio, camera, video, record, calendar, calculator, call, message, contacts, photographs, settings, files, music, and clock are some of the programs available on the phone. There is a fifteenth app, which is the Gabb app, which is used for initial setup. Also, as previously stated, when the wired headphones are put in, they work as an antenna for the radio app, allowing you to listen to music while on the go.
Gabb Phone Z2: What's not good
Even while the Gabb Phone Z2 offers several advantages over competing smartphones for children, several areas may be improved. The phone does a great deal of what it is supposed to form a hardware sense. However, the device's display and durability are the two key issues that need improvement. While the color and responsiveness of the display are excellent, the overall brightness is just insufficient. The screen is well visible in normal lighting conditions. Reading outside or in a bright environment, on the other hand, is very difficult. I'm not even talking about exposure to direct sunshine at this point. Even on a cloudy day, your kid will need to cup their hand over the phone to see what is on the other end of the line. The most critical feature for a child's smartphone is durability, which comes in second only to parental controls.
In contrast to many other smartphones, the Gabb Phone Z2 does not use the traditional glass and metal sandwich design method. Instead, it features a detachable plastic back that bends to create the side rails, which meet the transparent glass display. However, because it is not shatterproof glass, it is recommended that you purchase a screen protector. It's a pity that the Gabb Phone Z2 doesn't have at least some level of water and dust resistance certification. While the construction materials are satisfactory, there is no indication of water resistance. Water and grime aren't anything most kids would think twice about if their phone comes into touch with them, but they may swiftly destroy a phone.
Returning to the issue of cameras, it can produce high-quality images. However, as is typical of most low-cost smartphones, the cameras aren't given any thought. When working in favorable lighting conditions, the phone produces passable images. In low-light circumstances, on the other hand, it has significant difficulties. Images are blurry, and details are difficult to discern when concentrating on certain things. Another prevalent feature of images taken with the Gabb Phone Z2 is the high frequency with which they are blurry. Because auto-focus is sluggish to lock on, touching on the screen assists it in determining where to concentrate. However, a small kid will not be aware of how to accomplish this and, at the same time, is unlikely to be bothered by a hazy picture now and again. What will most likely happen is that images will be blurred due to movement. Children are notoriously difficult to photograph, and the absence of picture stabilization on the Gabb Phone Z2 makes for blurry photographs. In terms of software, the Gabb Phone Z2 is a little on the bare-bones side – which is a good thing in this case. While I have no qualms with the lack of applications on the phone, there are several parental controls that I believe should be accessible that are now unavailable.
First and foremost, I would want many of the features accessible on the Gabb Watch to be made available on the phone. An excellent example of this would be the ability to control the phone's contact list and calendar. As things stand now, your youngster may add contacts straight to the phone from the phonebook. The references are completely inaccessible via the companion application. As the kid grows older, the parent should be able to modify the phone's permissions to allow for the addition of direct contacts and the use of specific applications. The Gabb Phone Z2 does an excellent job decreasing the likelihood of distractions and unwanted applications, but it might do much better. Aside from that, I'd want the capability of seeing who has attempted to call my son's phone. Scammers aren't concerned with whether the phone number they contact is from a child's phone or not, so knowing how often my child's phone is bombarded with unsolicited calls or text messages would be beneficial. Gabb Guard, a new service from the business that operates in the background to filter out up to 95 percent of unsolicited calls and texts, will cost an extra $.99 per month and the regular $.99 per month subscription fee.
Turning to the service, the phone is powered by a Verizon MVNO operated by Gabb Wireless, which isn't always negative. However, one thing is that if Verizon does not have enough coverage in your region, you are out of luck. Also, the phone only works with the Gabb Wireless network, and switching to a different SIM card will result in the phone giving an error and failing to connect to the network. In exchange for a two-year commitment, the phone will cost you $17.99 a month if you buy it outright. A one-year contract costs $19.99, while a one-year contract without a contract costs $24.99 (plus tax). The Gabb Phone Z2 will cost an additional $5 a month if you want to use group SMS and MMS features. Additionally, the $.99 Gabb Guard and $4.99 to get a warranty for the phone must be paid. In most cases, adding a line to your existing family service provider is less expensive than the likely $35.97 Gabb Wireless subscription — but that isn't a choice here.
Gabb Phone Z2: Competition
Gabb isn't the only choice if you're looking for phones specifically designed for children. While it is possible to buy any phone from a carrier and deliver it to your kid, this is not the safest or most cost-effective method of dealing with the situation. If you decide to take it that way, it is recommended that you set up a Google account for your kid using Google's Family Link service. Trump and Pinwheel are two such companies that provide a strong value proposition in children's smartphones. Both of these firms offer low-cost phone solutions accompanied by a suite of software features that work together to guarantee that your kid has a pleasurable and safe experience. In the future, keep an eye out for evaluations of each of these manufacturers' possibilities.
Another option to explore is a smartwatch designed specifically for children. There are alternatives to the Gabb Watch, just as there are alternatives to smartphones. From both a software and hardware viewpoint, the TickTalk 4 is an excellent solution for a youngster between the ages of being too young for a smartphone and too old for a simple watch. The TickTalk 4 is a cellular-connected watch that can make audio and video conversations and send text and voice messages, and it is available in black and white. The look has two cameras, is water-resistant to IP67, and has Wi-Fi, Bluetooth, and GPS capabilities. The package also includes access to free iHeart Radio Family streaming music. In addition, a variety of parental restrictions, including location tracking and contact monitoring, are available in the companion app.
Gabb Phone Z2: Should You Buy It?
You should buy this if …
You've decided to get your youngster their first smartphone.
You want a phone that will not divert your child's attention away from you with applications and social media.
Your location is inside an excellent Verizon coverage area.
You shouldn't buy this if…
You want a phone with a wide range of parental control features.
Your youngster has reached the legal age of consent to use social media.
The phone must be water-resistant to function correctly.
A good choice for a child's first mobile phone is the Gabb Phone Z2, which is simple and has a large screen. However, because the phone can only access the 14 basic pre-installed applications, it does not have access to the internet or social media. This is OK for a younger kid, but a high schooler would feel relatively confined in this situation. In addition, while parental controls are available, they are pretty restricted in scope. Conveniently, there is an optional add-on service, Gabb Guard, but an additional $.99 must be paid if you wish to keep spam out of your phone. Gabb Wireless is a small company that is unlikely to notice the general public. Still, it is one of the few small businesses attempting in the children's technology arena. The prospect of purchasing a smartphone for my 9-year-old son is both thrilling and worrisome. To properly expose my kid to mobile technology, I've decided that the Gabb Phone Z2 is the best device for the job.
The phone itself isn't a very impressive gadget, but it's precisely what a small kid should be – except for its lack of water resistance and poor display. It's big enough that touch-points are simple to use, but it's also tiny enough that smaller hands can use it. The battery lasts for a whole day, and the cameras are up to the task at hand. The software does an excellent job of controlling access to applications and websites that may concern parents. However, it may benefit from a few more features to offer even greater peace of mind. The Gabb Phone Z2 is an excellent option for parents seeking the first smartphone for their children.
My Final Opinion
The Gabb Phone Z2 provides a seamless experience for a child's first smartphone, making it an excellent choice. The gadget is simple to use, and there is no clutter of applications to distract you. In addition, a parent's mind might be relieved because there are no games, social media, or the internet available while using the telephone.
Pros
Long battery life is a plus.
Reader for fingerprints
My phone may be located with the companion app.
Apps are being prevented from being downloaded.
A 3.5mm headphone jack is included.
Cons
There aren't enough parental restrictions.
The camera's ability to take excellent photographs is hit or miss.
The screen is not sufficiently illuminated.
There is no water resistance.