Have a look on the following scenario, which is posted by a Mozilla Thunderbird user who is seeking for an approach to convert Thunderbird abook.mab to Outlook :
Hello guys, I am posting my problem on this forum with a hope that definitely I will get solution to my problem. Actually, I am switching my office work from Thunderbird to Microsoft Outlook 2016. It is so because the current trend says that enterprises prefer using Outlook as their email platform. However, I know the way to migrate other mailboxes but, unaware from the measure to import abook.mab to MS Outlook 2016. Can anyone guide me a solution for the same?
Alike the above complaint, many Mozilla email client users are asking for measure to open MAB file in Microsoft Outlook. Therefore, here we are available with solution on how to convert Thunderbird Address Book to Outlook.
Need to Import abook.mab to Outlook Program
It is important to know the points due to which users look for approaches to migrate their address book information from Thunderbird to Outlook. Following bullets will help one in discovering reasons for the same :
Lack of Mailing Functionality : It is true that Mozilla Thunderbird is a free application for mailing purpose. However, when it is compared with Microsoft Outlook, it fails at this stage. It is so because Microsoft provides more business feature than that of Outlook to work with.
Absence of the PIM System : It is easy to manage personal information in MS Outlook email client than the Mozilla Thunderbird. Many elements to save data in Outlook are rendered that enables an individual to use it for mailing as well as personal information management system.
Easy-to-use Mailing Platform : There is a systematic structure in MS Outlook email program, which makes it easy for users to tackle bundle of tactics all on one platform. They will be able to understand each and every thing without any difficulty and hence, reducing time in resolving complicated issues.
Solutions to Convert Thunderbird abook.mab to Outlook PST
There exists manual as well as automated approach for the same. Users can choose any of them as per their comfort and reliability factor.
#1 : Manual Way
The solution involves exporting of Thunderbird contacts to CSV format and then, importing this CSV in Outlook. For this, you need to go through following steps :
Open Mozilla Thunderbird application on your PC and click Address Book button

New Thunderbird window will be opened where you will be clicking on Tools >> Export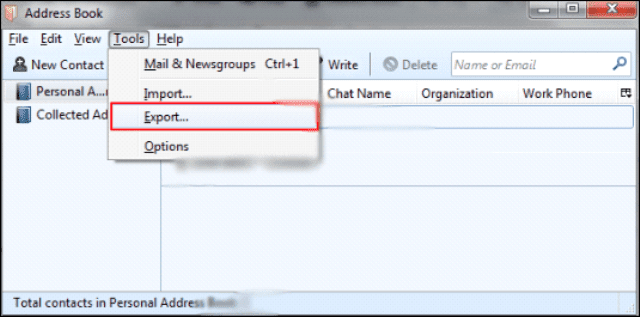 This will open an export wizard where you will be navigating towards location in which resultant CSV file is to be stored. Mention the name of this file in 'File Name' field and expand Save as type menu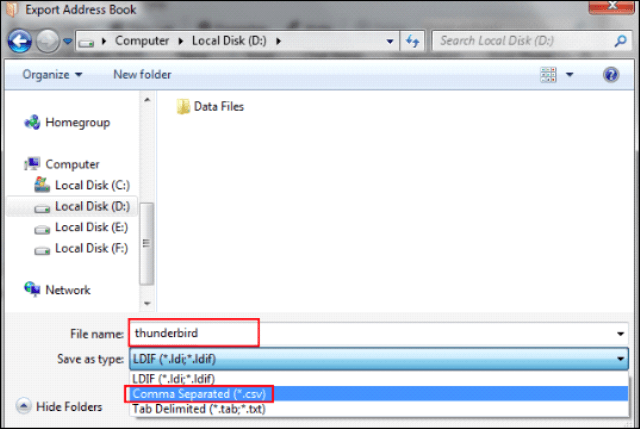 After expanding the menu, you will find an option i.e., Comma Separated (*.csv), select it and then, click on Save
Finally with the help of above steps, you have converted abook.mab to CSV. Now it is the time to import this .csv file in Microsoft Outlook 2016, 2013, 2010, etc. So, let's continue with following steps :
Open targeted MS Outlook email client on the PC and click on File >> Open & Export >> Import/Export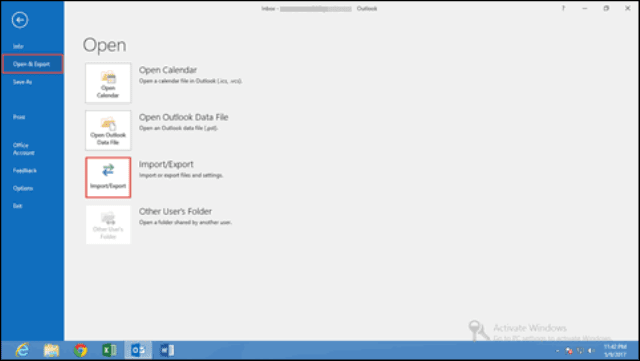 This will open import export wizard in Outlook program in which you have to select Import from another program or file option and click Next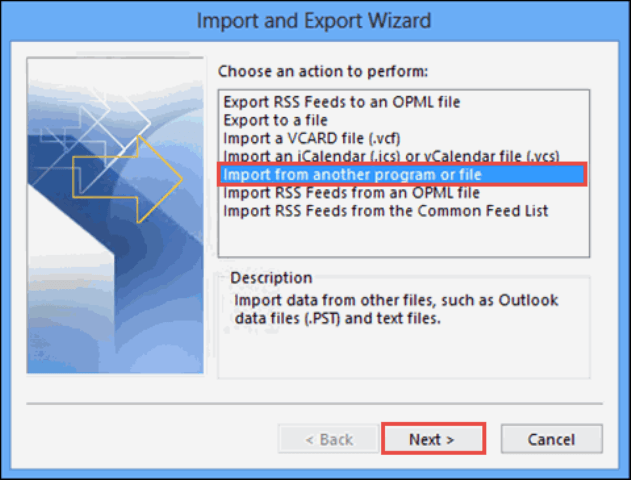 Choose Comma Separated Values and hit Next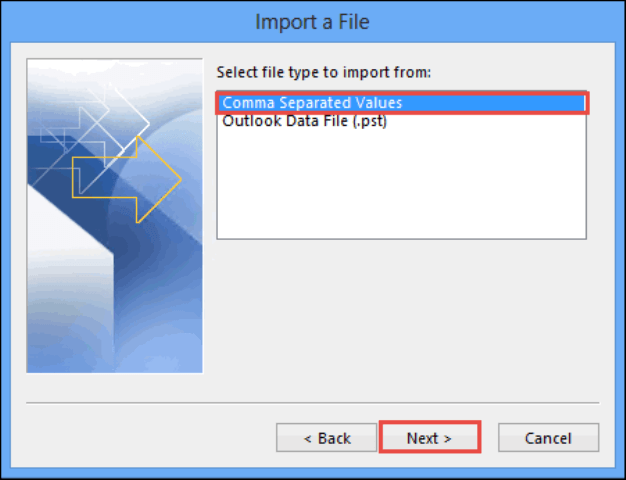 Click on the Browse button to choose .csv file that you have generated from Mozilla Thunderbird application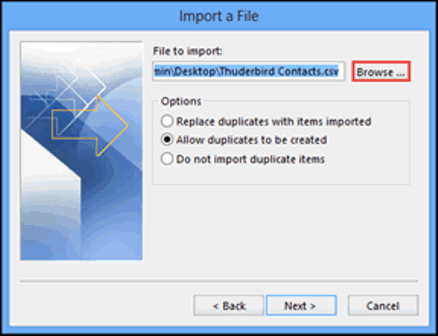 Once you are finished with this, click Next to proceed with solution to import abook.mab to Outlook.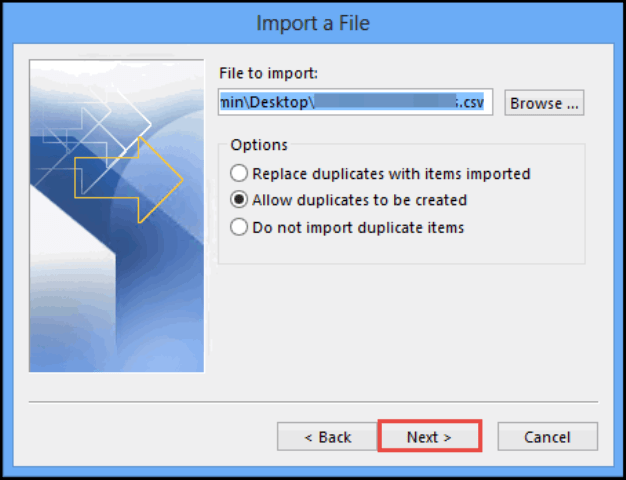 Choose the Outlook folder where Thunderbird contacts are to be explored. Expand the folder, select it, and click Next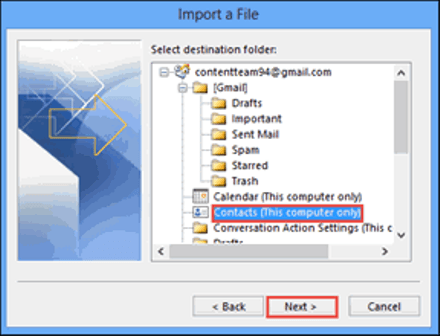 Take the overview of importing procedure details and click Finish to proceed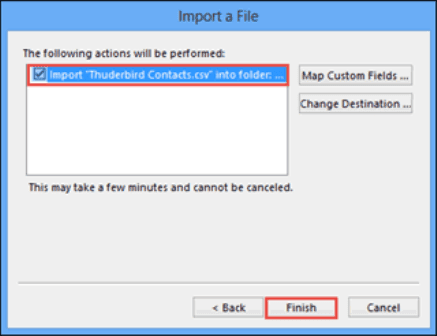 Cons
The solution does not offer any guarantee that it will maintain data integrity throughout. There are chances that the CSV file created from Thunderbird might be blank because of some unknown technical issues.
This approach is workable only when the address book is to be exported from a single account. It is not at all possible to move contacts from several accounts via this measure.
It is mandatory to have Mozilla Thunderbird and Microsoft Outlook present on the machine with a profile configured within it. If any of these things are absent then, you need to opt for the automated measure.
#2 : Automated Approach
It is impossible to avoid the limitations that are mentioned in manual method. This is the reason why here are we with an alternative approach to the problem. The measure involves execution of an automated solution, which involves usage of a software named as MAB converter. This offers independent approach to convert Thunderbird abook.mab to Outlook. The workaround guarantees that it will keep data integrity with 100% assurance.
Conclusion
The manual approach to export Thunderbird address book to Outlook 2016, 2013, 2010, etc., is applicable when it is about less number of contacts. When it comes for professional solution then, the best-suited here is automated. Moreover, the automated approach overcomes all the limitations that were present in the manual technique.