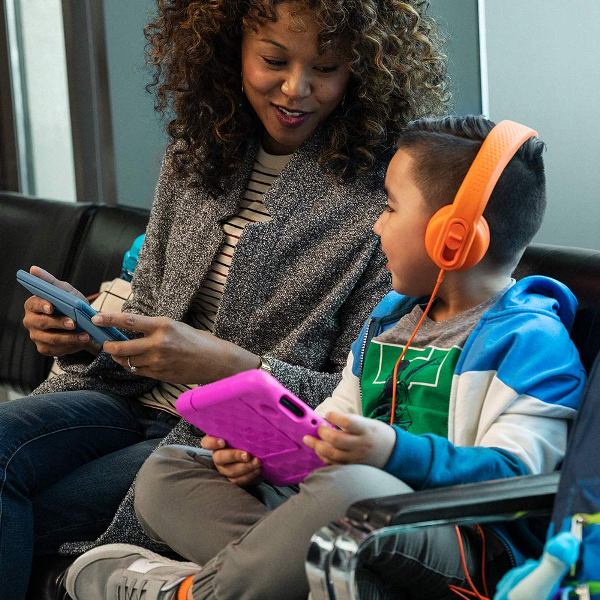 The COVID19 pandemic has brought in social distancing and other abrupt changes in society. Most kids are having online classes at home in a self-isolation mode. In this phase of self-isolation when most countries are in lockdown mode; parents are taking various precautions for their children to keep them happy and safe by spending more time indoors.
The pandemic has affected most kids on the planet, big time. Children are at home watching too much TV and getting bored. They aren't able to go to school during this uncertain time. You can plan to give your kids some smart devices in this pandemic; by which they can learn and also stay entertained at the same time. You can give your kid a tablet, laptop, etc; which will make their childhood less stressful and more entertaining. Boost their creativity levels with the All-New Fire HD 8 kids edition tablet.
About the All-New Fire HD 8 Kids Edition Tablet
It is a sophisticated piece of tech for your kid. It has Amazon's rugged " kid-proof" case that has an adjustable stand and comes in a variety of fun colours to choose from. A common question that arises in the mind of every parent while purchasing it is what is the difference between a regular Fire HD 8 tablet and the All-New Fire HD 8 kid sedition tablet? Actually, there is a big difference. For instance, you will get a year-long subscription to Amazon Freetime Unlimited for just $139.99; in which you will get 20000 apps, games, videos and books which are age-appropriate.
The All-New Fire HD 8 kids edition tablet is a very reliable source of information and entertainment for your kid and comes with good security. It has an 8-inch HD screen with 32GB internal storage and more than 12 hours of battery life. The battery life offered by it makes it perfect for long travel. It is new for kids but far better compared to its predecessor. It has been manufactured keeping little ones in mind.
It has surpassed the old models with its marvelous faster processor, battery life and memory. An additional plus point is that it can support USB C charging. The 32 GB storage capacity offers adequate space for your kid's favorite cartoon videos, games, etc. But if you need more; then you can add a memory card to expand its memory to 1TB. Your kids would love its cool display and other user friendly features. This tablet has been designed to provide entertainment and enhance the kids knowledge.
Features
Its display still remains the same; which is an 8 inch, 1280 x 800 pixel LCD display. The display used in it is not the best but performs according to your need. If you want to view your videos in the sharp bright, gorgeous looking panel then; you can go for the Fire HD 10 Kids Edition.
The feature of USB C is a welcome move taken by Amazon; since every device comes with USB C nowadays. Its bezel is a little bit thick compared to other 2020 standard tablets. But as it is for kids the bezel doesn't matter a lot. There is no compromise in the performance and features; so you can be confident about purchasing it.
The thick rubbery case used in it comes in three colors purple, pink or blue. The case creates a big difference in its appearance. It is designed to take all kinds of drops and knocks that come in its way. The case also helps to prevent sticky fingers of kids off the tablet's hardware.
Amazon also has provided a very generous offer with this new tablet. According to the special offer; if your children break it within the first two years; then they will replace it for free without asking any questions.
The guarantee that you get with it will amaze you and will offer some extra peace of mind to parents. It offers a variety of games, apps and TV shows; which looks like a good deal to have. The kids can enjoy stuff from Disney, Nickelodeon, CBeebies and more. The setting up of child profiles on the All-New Fire HD 8 kid edition tablet is very straight forward; now only relevant content will be shown to kids according to their age.
For switching back to the standard Fire HD 8 tablet you will require a PIN. You can use it on a daily basis; it is a perfect product for that. It runs Fire OS which is based on Android. The software is quite superior and offers a better picture quality and sound. This tablet is robust, durable and is one of the best tablets available for kids. It will make long boring journeys more fun and entertaining without the need to endure unnecessary tantrums for parents. The kid can read, play games, watch movies or shows or even try puzzles to stay active and entertained. If you're still confused about which tablet to get for your kids; then checkout this content on Quora.
Conclusion
The All-New Fire HD 8 kid edition tablet is one of the best kid techs to buy. Its durable design offers great protection against various unfortunate bumps. The robust parental control offered in it gives parents superior control on the usage of this tablet to set educational goals, create time limits and filter content.
The soft speakers used in it is known to offer quality audio pleasure for your entertainment. The tons of free, age-appropriate content that is available on it gives kids the freedom to watch anything suitable for them. The long battery life offered by it can run the tablet for around 12 hours which makes it very efficient. It is a great gifting option for any kid since they will truly appreciate and love its innovative features and user interface. If you want to read more about this product, you can visit https://en.wikipedia.org/wiki/Fire_HD
The Covid19 pandemic has prompted many people to opt for online shopping in Australia. It is also an easy way to get the All-New Fire HD 8 kids edition tablet without much hassles and will make your kids' childhood a way cooler than yours. If you want more information about some other tablets you can check out about some of the best and cheapest tablets here.
About Author:-
Sam Ninan has been specializing in content development since 2005. He currently works as the content development manager at Ubuy Technologies. He is an MBA graduate and loves to write articles about different topics ranging from science, human relationships to the latest technology to share his thoughts, ideas and knowledge with the world.