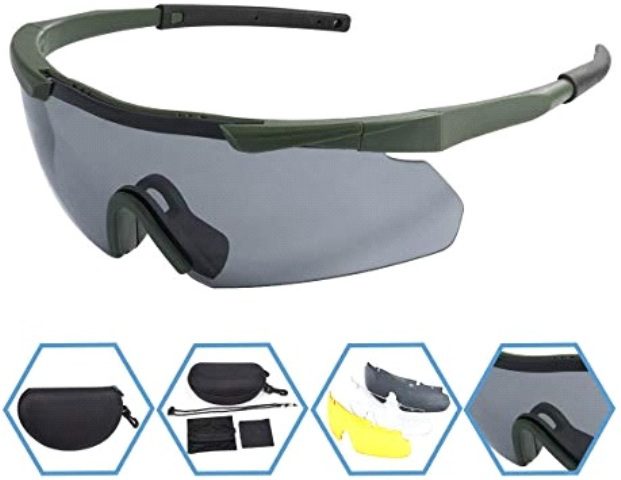 This topic and genre are right up my husband's alley. He is a hunter slash clay pigeon slash dirty crow shooter and loves every minute of it. He is also the owner of every single shooting gear and accessory known to man, so hunting shops, please, give me a break. There is only so much camo or military green one can take.
I look at all his gear and I'm thinking why on earth does someone 'need' all these things? He has fake sitting birds, to pigeons that are connected to a flapper, to even using real ones he has shot as a more realistic decoy. It's never-ending.
What Gear do you Need to Start Hunting?
I would usually ask my other half for advice on these things, but I don't want to get him all excited and hyped up and then I have to endure an hour-long one-sided conversation on all things camouflage. No thank you, I 'll take my chances.
So, for beginners, there is a basic checklist you can follow to have the simple necessities. It's important to have the correct equipment, and that this equipment is kept in the appropriate place. For example, before you even begin to think about anything else, ensure you have researched the best gun safes and chosen one that truly protects your weapons. Once you have sorted this, you can think about other elements of shooting. The undeniable first item would be the clothing, from head to toe. Jackets in patchwork camo to bright orange.
Those of you who have hunted in the wild will know all too well about the must-have orange attire. Some hunts don't allow you to participate if you don't have it.
Then, boots. You are going to need waterproof, weatherproof everything proof. You will be standing for hours on end, sometimes not even pulling the trigger once, and if its winter, you don't want to end up with 2 ice blocks at the end of your legs.
Some of the top boots can come at a price, so do your research before any impulse buying, look at http://www.kicksguide.com/best-hunting-boots/ for a reviewed list on which are the best on the market these days.
A backpack will come in handy if you have a lot of gear and it's going to be a long day, binoculars and my definite recommendation, if you're like me, bug spray. Bug repellent, bug bazooka you name it, anything to keep those irritating flying machines away.
Lastly, if you are in the mountains, an animal call whistle could be handy. Just be ready to aim when they come running.
Men's Hunting Headwear.
There are, believe it or not, a large range of different types of headgear for shooting. You would think you just need a baseball cap or beanie and be done with it, but no.
I was in shock when I went to the shop with my hubby. Flat caps, wide rim hats, balaclava looking get-ups to bright like a diamond neon fleece hood. So many, too many in my opinion, and men say they don't enjoy shopping? The place was rammed.
Eyewear for the Hunting Man.
I see all the men on a hunt wearing some form of glasses, goggles eyewear. Even down the clay shooting range, they wear them. That of course, and earplugs. And don't think they come stock standard either, you'd be mistaken.
What to Look for when Choosing the right Eyewear.
Even though these men would have accumulated quite a sizeable collection of brown and green clothing and accessories over the years, one of the most important is the correct eyewear. I mean they are protecting your eyeballs after all, are they not?
When a shot is fired, which is only a short arm's length from your face might I add, hot cartridge shells are ejected at top speeds, if that hits your glass lens as opposed to your eyeball, well you can thank me later.
And that's if it's a calm sunny day. Change it to windy gusts and tree twigs flying around, the more protection the better.
If a more advanced pair is in your sights, then tactical eyepro is probably what you're after, they will take you to that next level in your shooting and soon it'll be a wild boar for dinner every night.
Look for a pair that is a wrap-around, going past the side of the eyeball for increased safety, and make sure the lens is shatter resistant. There are added features such as adjustable nose pads and foam padding on the frame to catch that loose dust.
My other half also has a pair that has what's known as a 'sweat bar' on the top, to prevent any sweat from dripping in your eyes and interfering with your shot. Who even knew that was a thing?
Besides the protecting side of things, glasses with different color lenses can increase your shooting accuracy.
3 Lenses Colors and What they offer.
It increases depth perception by blocking out any blue light and hazy skies.
Pale purple to soft red rose. It brings out the clay orange tones against a backdrop of sky and trees.
What you see is what you get. The target is made clear just as it is.
Take some time, click here and watch this clip on everything you need to know about any color lens. Research takes a small amount of time compared to buying the wrong thing.
Whether you decide to do shooting or hunting as a sport, as a hobby or as a profession, making sure you have the essential and correct equipment is vital.
If you are just starting in the activity, I'd advise you to get some professional lessons with a trainer, or take a course on, not only correct gun handling, but also the etiquette in place on hunts and at shooting ranges.
This sport goes back to families for generations. Little boys going with their dads and grandads all dressed in green and checks. Having fun cleaning the guns afterward, a fondness that will soon wind down I'm sure, and sitting with the dogs in the back of the truck.
At the end of the day, muddy wellies and soaked puppies are what memories are made of.