In this technologically modernized era, Affiliate marketing has become a major consideration for all e-commerce companies. While this kind of marketing has its own complexities, many network companies facilitating the tracking and online settlement of payments have simplified it to some extent.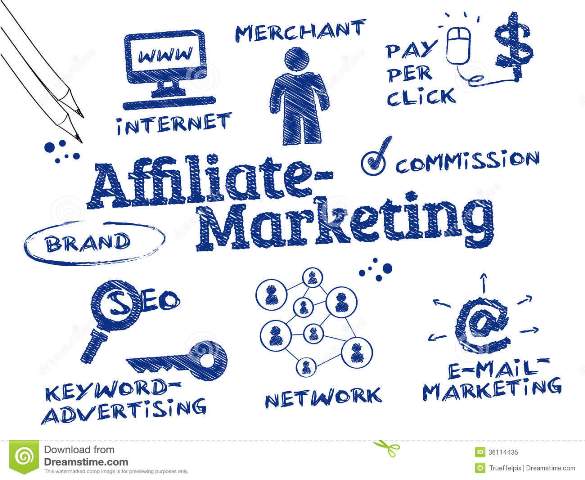 What is Affiliate Marketing?
According to Simon Goldschmidt, Sven Junghagen and Uri Harris in Strategic Affiliate Marketing, "It is an agreement where one firm (the marketer) compensates another firm (the affiliate) for generating transactions from its users."
Some of today's best affiliate marketers are bloggers and social media activists, who are followed by the major chunk of your target audience. So, the entrepreneurs hire them and get their products sponsored through different ways such as links, banners, testimonials, and other promotional content. Precisely, affiliate marketing is something that provides a substantial growth to a business when business-persons involve some skilled group of influencers with them.
Affiliate Marketing and Entrepreneurs
Since internet marketing has grown exponentially in the past decade, affiliate marketing has become a significant tool in bringing new customers to the table. The marketers set their goals and make all possible efforts to conquer them. In this article, we are sharing some of the key points that every entrepreneur must consider to earn the maximum return from it.
Look Out for Online Store Glitches
An affiliate marketing program works well when an online store has been set up. And when it comes to an online store or website, some technical glitches are certain. And these bugs cause entrepreneurs to lose their valuable affiliates that ultimately reduces sales and revenue. Hence, it is very crucial to minimize the occurrence of such events.
The beauty of a well-developed affiliate program lies in the efficient integration with an online store. Both the parties (marketer and the affiliate) must comply with each other for mutual benefits.
Authentication
It is compulsory to build relationships with some authentic affiliate marketers. If you opt for some falsities, you may not only risk your brand's reputation but also the bond will not survive for long. Too often, marketers fail to develop and deliver a desired persona of their brand, which ultimately loses customer connectivity and sacrifices credibility. The success of an affiliate marketing is examined when the intended customer truly identifies your brand. You simply need to offer genuine value; the acceptance and rewards will come to you.
Offer an Appropriate Price
In an affiliate marketing program, it is certain to pay a percentage on the sales and traffic generated through affiliate's activities. Many influential affiliates with a massive online following on their blogs, Twitter, Facebook, and other social accounts may represent your product for a considerable commission per conversion. The price encourages them to enter into an agreement and generate a significant volume of sales for you.
They might place a hyperlink or banner on some website, or post a well-thought article that may drive traffic to your online store.
Partner with the right marketers
Successful affiliates are those who work hard to create an influence. They need to involve with the product otherwise they won't inspire a conversation.
Since different affiliates have different niches, entrepreneurs need to tip-up with the ones who operate within their industry. For instance, if you own a restaurant then the affiliates who are foodies, food consultants, and involved in related fields may help you out. They'd maintain blogs, social media pages, share links and information to spread the brand's name. Engaging with top affiliate marketers get the best results.
Transparency and Honesty
As discussed earlier, the success of an affiliate marketing program relies on the strong understanding and integration of both parties. If the marketer is not properly acknowledged with the products' features, it may harm the reputation of your product. To eliminate the possibility of such event, you must monitor the affiliate and look for every statement he makes about the product in reviews and articles. If necessary, you may guide and train them about the statements to make.
Conclusion
From above content, it is very much clear that affiliates are business people too. They create enormous opportunities for everyone; drive traffic and sales using their online advertising skills. In other words, it is a world of possibilities. With a little determination, knowledge, and authenticity, you are able to capture the attention of your target audience and create an exceptional success story.
Alex Merchant is a household name in the world of blogging. He has spent a decade in the world of digital marketing with exceptional training and leadership skills. His greatest joys are his family and friends as well as helping students with the custom essays and outshine with remarkable results. Plus, he inspires others on how to succeed with their entrepreneurial careers.