In this age of short attention span, infographics have become a vital component in the field of Digital Marketing. Infographics are graphic visual representations of information. This successful strategy employed by SEO Companies and Digital Marketing Agencies is based on the science of cognition. The added advantages of infographics have earned an inevitable place in SEO Strategies. Find out why and how infographics play an important role in SEO Strategy.
Infographics: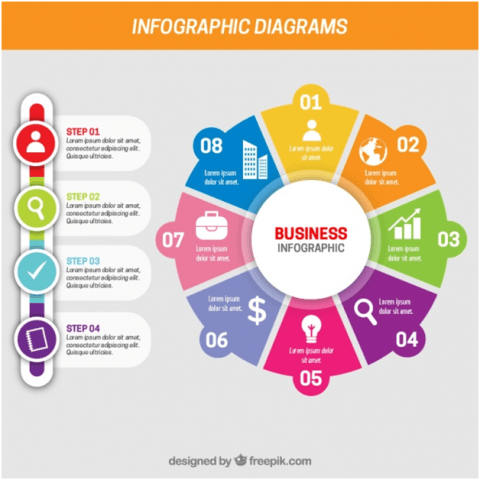 Infographics is the representation of the information or data in a graphic format to make it quickly and easily understandable.
Infographics are designed to suit the age of smart phones and social networks. The short attention span of the users is put to advantage by the infographics. These graphic representations have the ability to turn a complicated or rather boring piece of information into eye-catching graphic and make the viewers absorb the presented information. This is based on the fact that the human brain has the ability to process visual information 60,000 times faster than the textual information.
The visual content presented by these infographics is likely to be shared largely than purely textual content.
Advantages:
Infographics have become powerful tools for Search Engine Optimization and Digital Marketing. The numerous advantages and the suitability of this tool to the current technology-based era have made this field significant. The following are some of the major advantages of infographics.
Eye catching – A single picture can speak a thousand words. People prefer images over words. These attractive images attract readers and kindles interest in them to know the represented information.
Easily Portable – Designing infographics involves developing an infographic code. The publishing of these codes on a website is called embedding. These embedded links are easily portable from website to website. The social networks also have made sharing of infographics quite easy.
Increase Traffic – Innovative and informative infographics will make people share them on social media and they might even go viral. This will surely contribute to the traffic of your website, helping Search Engine Optimization.
Informative – Infographics not only enlightens the readers but they also believe in the authenticity compared to text. The more the infographic is informative as well as interesting, it will showcase your expertise and knowledge in the concerned field.
Brand Awareness – Embedding your logo in your infographics will help in creating brand awareness. The knowledge of your brand will reach the customers through your infographics wherever they might be shared and used.
Creating an infographic:
Creating infographics demands innovation and expertise in your industry. It includes knowing your target audience, identifying their requirements and then using infographics to provide your solution in a rather interesting way. These steps will guide you through the process of creating a successful infographic:
Topics are the first thing that attracts the readers. Make sure to choose an interesting as well as a targeted topic to suit your customers. The topic ought to give the idea of what the infographic portrays.
Select a type of infographics among the three, based on your business requirement. The three types are static, motion and interactive infographics.
Static infographics: This long scrolling format emphasizes on illustration more than text. They are mainly used to deliver straightforward and informative messages.
Motion infographic: These use animation to present the information. They are mainly viewer experience based and concern explanations.
Interactive infographics: These create narratives of quite large amount of data as visuals and engage the audience through interactive enlightenment.
Get data and content for your infographic from reputable and authentic sources. Use easily numeric data and statistics which can be easily visualized. Focus on the intended content.
Designs are vital for infographics as they are responsible to attract readers. Appealing and eye-catching designs ought to be used to represent data. Elements such as fonts, spacing, layout, brevity, icons, colors and the like should be taken care of. Simple yet attractive designs which are relevant to the represented information are advisable.
Establish a clean content marketing plan. The strategies should be for both organic and paid marketing plans. Always have a target audience. Use social media platforms to promote your content.
Identify Promotional Partners:
Find additional promotional partners to make your infographics reach a wide audience. Make sure to consider the perspective of the target audience and identify the promotional partners accordingly. The partners could be relevant blogs or websites, business vendors, journalists and successful bloggers of your industry, etc.
With such immense significance, infographics will always be an effective component for SEO Companies and Online Marketing Agencies. The advantages of infographics in this fast moving technology-based world are numerous which has led to its success. Infographics indeed play an important role in SEO strategy!
About Author
James Tredwell is a Technical SEO at Hopinfirst.com who works with unique problems and advanced search situations. He helps clients improve organic traffic through a deep understanding of Google's algorithm and Web technology.