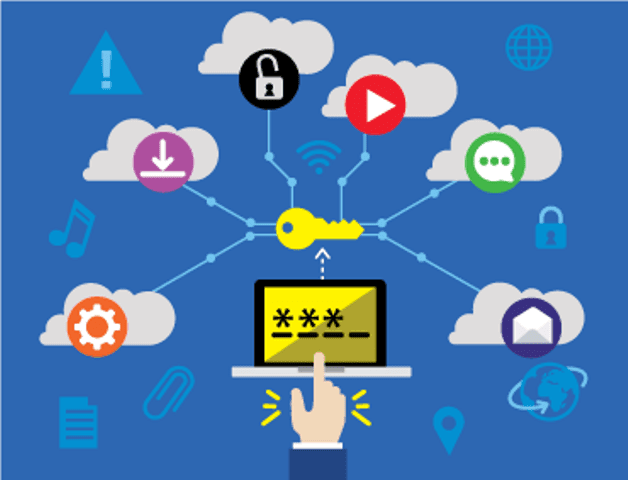 In a technology-reliant workplace, usernames and passwords are abundant — and the bane of many users' existence. With numerous programs and software applications to command, countless logins impede employee performance, cost money, waste time, and lead to security risks when staff resort to simple passwords. Single sign-on (SSO) allows these technology-dependent users to log in with one set of credentials for multiple applications as opposed to remembering a multitude of various logins.
The average person used just 6.5 passwords in 2007. In 2016, a survey conducted by Intel Security determined the average has risen to 27 online logins per person, and though the survey didn't ask, it's suspected that the number of passwords is slightly less but oversimplified for easier remembering. According to the same survey, 37% of users forget a password at least once a week. With an average of 27 logins per person, forgetfulness isn't a surprise, but it is an abused resource of every non-SSO IT department.
When we look at countless logins, combined with the growing use of cloud technology, SSO seems to be a smart step toward eliminating the need for multiple authentication processes. However, SSO software isn't without its own risks. Here is a breakdown of the benefits and threats involved with implementing SSO software for your company.
No two SSO software products are the same, as each uses different processes. However, the general application is quite similar. SSO software utilizes one central domain for users to authenticate within, after which the software sends this login information to all other applications included in the SSO, allowing the user to access all accounts with one single login. This type of service authenticates the user for each application where access is desired and also eliminates further login prompts when different applications are opened.
SSO simplifies life for companies and their employees, but it also has a place for consumers and multi-partner products. SSO makes managing a variety of online accounts or systems a breeze by streamlining authentication into one step and eliminating the need for numerous passwords, usernames, and other repetitive account information. In a nutshell, SSO software is essentially like the "remember my password" option on your favorite browser, only it crosses applications and systems as opposed to simply remembering all the passwords for your most used websites.
SSO Benefits for Companies
SSO offers value to several levels of a business, including users (employees and employers), security, and company budgets. Convenience for users is provided by the single login. SSO eliminates the burden of storing dozens of passwords in your long-term memory or trying to keep track of which password goes with which application. With those aspects eliminated, employees have more time to focus on work and more brain capacity to take on the job. SSO allows users to switch seamlessly between applications while keeping the user's information secured. Convenience and security, combined with increased productivity, makes SSO a win-win for user applications, but how does it benefit a company's security?
One login could mean that potential threats only need to hack one access point. However, with only a single sign-on to worry about, users are able to make that passcode and username more robust and harder to crack. Employees won't be tempted to use simple passwords out of ease. Another security aspect SSO provides is helping users adhere to security policies. For the sake of time and convenience, many employees will skirt around unenforced security policies. Having SSO software in place reduces these security risks by making sign-on simple for each user. Additionally, SSO software has the ability to simplify the beginning of terms of service agreements and keep them safe for future audits.
SSO also affects the bottom line of any tech-heavy company. 30% of help desk calls to the IT department are made by users with login issues, including simple password resets. Help desk calls take IT staff away from pressing matters and put them on password reset duty. Imagine the volume of wasted time, considering the 37% of users who forget their passwords weekly. SSO reduces many issues with authentication — namely password resets. Furthermore, SSO software allows IT professionals to alter, delete, or create user accounts across all applications. Both of these factors save hours in IT workload, and therefore dollars in the budget.
The Risks
The danger of using one password to access a collection of software applications comes twofold. Having only one username and passcode gives potential hacking threats access to all of that employee's information by simply cracking one authentication process. It's simple to see how this would be a huge threat to any company. It's also no secret that malicious hackers target SSO users, but the fact of the matter is that with a good password, this is no simple task.
In addition, loss of productivity is a concrete danger if a user forgets his/her passcode. Considering all applications are accessed from one point, said user cannot access their applications. Because of SSO, not even partial access to applications can be granted. Therefore, this user is locked out until IT can help them get back in, delaying their productivity and putting more pressure on IT to sort out the issue.
Oftentimes password recovery goes through an email service. It is imperative that logins for email services, as well as SSO software and any other information-sensitive accounts, be protected by multi-factor authentication procedures. This means that logging into any of the above-mentioned types of accounts should require more than a username and password alone. Adding in phone numbers, secret questions, and other lesser-known information helps fortify the security of SSO software. Additionally, setting up password prerequisites (such as qualifications for length, numbers, capital letters, etc.) will help users build a passcode that is not easily hacked.
Additionally, SSO software should not be implemented without proper access control solutions and identity management. With the correct protections in place, the benefits of single sign-on software far outweigh the risks.
Additional SSO Software Benefits
Workplace benefits are not the only reason SSO software is successful worldwide in simplifying the management of online accounts. Everyone from consumers to partner companies reap the rewards of single sign-on authentication. SSO makes the end-user experience a positive one in and out of the workplace. Here are two additional benefits of SSO outside a traditional workplace setup:
Customer Benefit
The practicalities of SSO don't start and end in the office. On a consumer level, SSO makes online life a whole lot simpler. You see it daily with online options to sign into X or Y websites using your social media logins. More and more companies are going this route for online services to reduce the number of logins their customers need to remember. Because logging in is often the first step in many online customer-business relationships, customer satisfaction is key. SSO makes that first connection a simple one.
Business to Business
In this day and age, products like smartphones, cars, movies, and computers are made of multiple partnering companies. Within each product, the companies involved must be able to share important information in order for the product to run smoothly and the user to remain pleased. Understandably, the companies must implement authentication and authorization mechanisms in large extranets. Various users need to be capable of coming in and logging into all these shared applications, and it can be a challenging feat.
SSO software allows these businesses to keep management of authentication centralized. Users are able to log in once and instantaneously gain access to all of the partnering applications. In this case, SSO allows those users to perform tasks in a fraction of the time it would take with multiple sign-on portals. A positive further step in collaborating partnerships, this can significantly reduce production time as well as speed up production and keep services on schedule. The consumer impact is also worth noting here. SSO software between partnering businesses establishes a better-, smoother-running product, resulting in fewer customer complaints.
Features Included With SSO
In addition to benefits, most SSO software comes with additional features worth mentioning. You will not find all of these features with every SSO software option, so it's important to research and decide which extendable features are most important to your company and its use of SSO software.
SSO User Grouping
Some SSO software comes with an added perk to employers through the capability of creating multiple security groupings. Employers have the ability to set up different permissions within the software, allowing some employees into specific parts of the entire system — a virtual office key. New hires can be given a different level of permission than someone higher up or in a different role. This organized way of grouping saves time for employers or IT departments when handing out new passwords and usernames per application as users gain more access permissions. These grouping are another benefit that saves the company time and money.
Monitoring SSO Usage and Analytics
The option to monitor or mandate SSO usage is available for some software. Monitoring usage allows employers to ensure that all users are utilizing the single sign-on. Account access can be observed and license usage may be audited thanks to the single sign-on channel. As well as monitoring usage, SSO software can come with the option to report analytics, allowing for wise spending and saving decisions, as well as efficient IT audits.
Customizable Experience
Certain SSO software boasts of an option for users to customize their experience. Users have the ability to hide, edit, remove, and organize various applications to make their set-up ideal. As an advanced option, users may set up frequently used applications that will launch automatically upon login. Bringing forth frequently used applications saves the end users time searching for the app they need to access. Instead, tasks can be handled immediately.
Another feature seen in SSO software is dashboard controls. Users are presented with a customizable dashboard when signing on, but that's not the only use of this feature. The dashboard operation makes it easy for administrators to control user access preferences as well as remove or allow access quickly. This is another perk for seamless IT interaction.
The Future of SSO
Single sign-on software services offer many advantages to a company. From increased employee performance to decreased IT spending and better overall security, SSO is a great way to streamline company-wide access to key applications. However, with the cloud being an ever popular technology advancement that allows users to sign on to office systems from home, the future of SSO software is an unsure one.
Going forward, considering that many people wish to work away from the office as well as in the office, SSO may be best applied through a cloud provider. And considering that standard SSO software relies on an authentication database, and the cloud doesn't have such a database, the important, secure middleman is cut out. Companies must take into consideration their cloud usage and implement an SSO software package that matches with their needs.
Integrating single sign-on into the workplace is a decision that shouldn't be made lightly. There are many pros and cons to the software. Overall, it's undeniable how much more simple one login is to several passwords and usernames, especially in the office. Perhaps the future will mean going back to 6.5 passwords per person, and we can all save a little room in our memory for song lyrics and birthday … er, um, prominent work tasks.
Additional Sources:
http://aspg.com/risks-single-sign-password-systems/#.Wcj_NLpFzIU
http://www.jscape.com/blog/bid/104856/5-Big-Business-Benefits-of-Using-SSO-Single-Sign-On