Agree or not, it is not always possible to include all information in your PDF. That's where hyperlink comes into play. A hyperlink takes your readers to an external site where more details are rendered. When you need to hyperlink a PDF, Adobe Acrobat is probably the first tool which comes to your mind. As we all know, Acrobat only allows you to create hyperlinks in PDF one at a time. So, if you are dealing with a ton of hyperlinks, using Acrobat appears not to be a good solution. But no worry. We have PDF Link Editor that can help you insert multiple hyperlinks to PDF in a hassle-free way.
What is PDF Link Editor?
PDF Link Editor is a small application to process PDF hyperlinks in an all-around way. This application is perfectly compatible with all Windows versions. It provides a fast and simple process to edit hyperlinks in PDF. The following is an overview of its features.
When working with the hyperlinks in PDF, you can see the preview of the file on the right side of the window. This makes it easy for you to check where exactly these hyperlinks are embedded on pages.
Batch add hyperlinks to PDF
You can create hundreds of hyperlinks in PDF at the same time without going to each anchor and embed the link one by one.
Bulk replace PDF hyperlinks
PDF Link Editor has a built-in capability of searching existing PDF hyperlinks automatically. As soon as the PDF is loaded into the program, all hyperlinks will be scanned and listed orderly for selecting and updating. You can change all selected links with different URLs at one go.
Remove hyperlinks with one button click
If you want to delete the embedded hyperlinks, just press one button and then all of them will be cleared. Then, you will get a clean PDF with no URL inserted.
Extract all hyperlinks for storage
You are given the option to extract inserted hyperlinks altogether to a text file for future use. Just press one button and then all hyperlinks will be exported in no time.
Intuitive Graphic User Interface
This piece of software sports a minimalist user interface that can be mastered even by less experienced users. Both rookies and professionals find this program easy to work with.
There is no need installing any Adobe products or plugins for using PDF Link Editor.
Less than 30MB disk space is taken up after installing PDF Link Editor.
Unlike Adobe Acrobat, PDF Link Editor does not cost you a penny for editing hyperlinks. It's a totally free software product.
Now, let's look at the detailed steps below about how to create a URL for a PDF with PDF Link Editor.
How to create a link to a PDF using PDF Link Editor.
Step 1.
Download and install PDF Link Editor.
Step 2.
Hit the "Add PDF" button in the upper toolbar to add a PDF.
Step 3.
Go to the bottom of the program and specify the output path.
You can choose to save the exported PDF in the same folder as the source file.
You also can customize the saving location.
Step 4.
Click on the "Add Links" button to bring forth a dialog.
Step 5.
In the pop-up dialog, enter the text you want to insert URL into and click on "Search".
(Note: Don't type any punctuation marks as the program can't recognize them.)
All text anchors will be marked. "Show me" becomes clickable for you to view the location of each anchor.
Enter the URL and Click on "Insert" to insert it behind each text anchor.
A new PDF with created links will be exported in the same directory as the source file.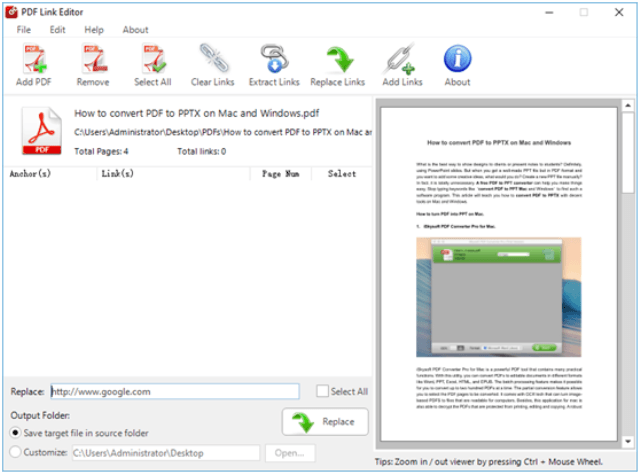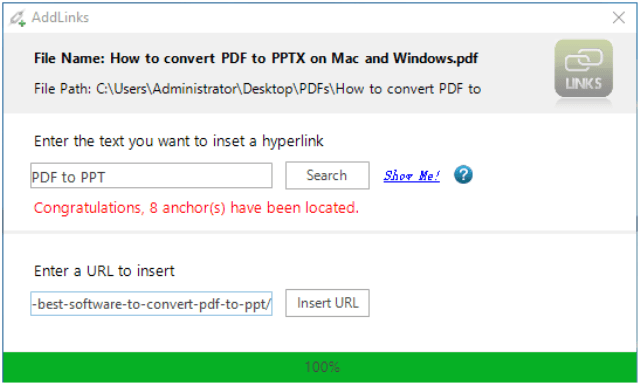 Tests have pointed out that PDF Link Editor carries out the task fast without crashing, freezing or popping up errors. Plus, the overall performance of computer will not be affected because this application requires a low amount of CPU and system memory.
Conclusion
It's plain to see PDF Link Editor is a better choice than Acrobat to hyperlink PDFs. This smart tool gives you the possibility to create any number of hyperlinks in one go. Besides, you can use it to add hyperlink to PDF free since it does not cost you a dime. Other features of this tool will come handy frequently if you are handling PDF hyperlinks on a regular basis. Next time you want to manage PDF hyperlinks, don't forget to give it a shot. Additionally, if you need assistance with anything tech related, BCA IT in Miami is an IT support service that can be of assistance to you. I'd like to hear how you think about it. You might know some other good choices to help you hyperlink PDF files. Share it with me by leaving comments below.