The goal of every digital marketer is to publish content that is not only interesting and relevant, but captivating enough for their audiences to share around in their social networks.
This is what makes content marketing one of the most affordable and effective tools out there. People consume billions of articles, emails, and images every day – but what really holds their attention is viral content. Take a cursory glance at popular blog sites like Buzzfeed and thetoptens.com to realize the true value of viral content marketing.
Here's a domain overview of Buzzfeed and thetoptens.com using SEMrush: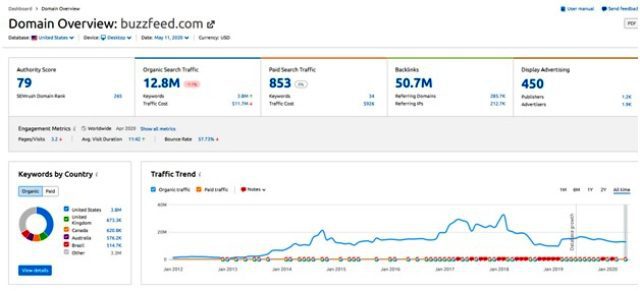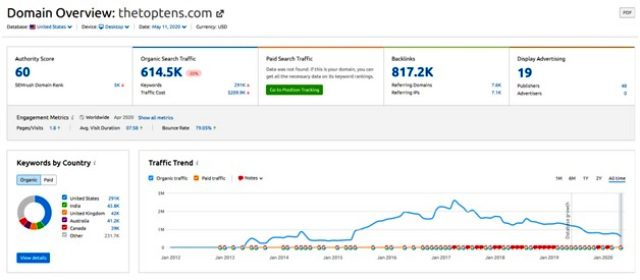 Notice that both these websites generate massive traffic (Buzzfeed generates over 12.8 million in a single day!). Google seems to reward websites that publish viral content regularly with reasonably high quality.
But these websites are at an advantage because the subject matter they deal with is broad and easy to sell. Most of the topics deal in popular subject media, such as "Top Ten Actors" or "Best Call of Duty Games", none of which may have anything to do with your niche or business. But this doesn't mean you can't take cues from them and apply the same marketing strategies on your own business.
Here are 5 tips to create viral content that will drive traffic to your website consistently, attract more clients, and engage prospects.
1. Connect on Social Media
The easiest way to go viral is to make your article easy to share. Make use of Instagram, Facebook, and Twitter buttons to let users quickly share your articles if they like the content. Tools like Click to Tweet are a popular way to bring some serious attention to your articles. Part of your social media marketing campaign is engaging with prospects as and when they post a comment.
Make sure to respond meaningfully. The more you respond early on, the faster you will get traction. We've seen this work with content creators, both big and small, as they keep the barriers of communication open with their prospects.
2. The Content Should be Easy to Digest
People don't have the time to read a thesis that seems to stretch on forever with industry jargon. Most content creators don't identify the importance of user experience when writing an article and seem to go all-out when it comes to using buzzwords. If you take a look at websites like thetoptens.com, their content keeps things simple for the average reader to understand.
It is far easier to remember clear content that resonates with you on a basic level. Your aim with the article should be to get your point across to the audience with as much clarity as possible.
If you're running out of ideas for viral content campaigns, you can always work with professional article writing services to do this for you.
3. Write Listicles
If content marketing was a video game, then listicles or list articles, are like cheat codes. They almost always seem to work and tip the search engine results in your favor. Listicles never fail to impress, unless there is something inherently wrong with your website itself, such as poor SEO in general, slow loading speeds, or being blacklisted by search engines (that also happens!).
Both search engines and human readers alike seem to gobble up listicles because it's so much easier to read them than to read giant blocks of text with no end in sight. Furthermore, listicles give users a general idea of how much more content remains and lets them cut to the good parts. Listicles are so effective that they are likely the bread and butter of websites like Buzzfeed and WatchMojo.
If your competitor has an article on "10 reasons why you need a new mechanical keyboard", you can take it up a notch with "15 reasons why you need a new mechanical keyboard". Hint: replace 'mechanical keyboard' with your product. Google will put you on a pedestal and depending on your website's Domain Authority, you'll quickly climb up the ranks in a matter of days (or months).
4. Use Visual Content Creation Tools
No one wants to read boring and bland texts, no matter how well-written they may be. The truth is, most online users (65% to be precise) are visual learners. It is a lot simpler for the brain to digest information when it is presented with visual cues. Furthermore, visual aids make your argument and presentation much more persuasive.
Images are the simplest visual cues you can use to captivate your audience with viral articles. Thanks to fast internet speeds and smartphones, people have notoriously short attention spans, which makes giant blocks of text a little off-putting. As a general rule of thumb, you should use multiple images the longer your article gets, the more images you should use to explain tough concepts and sustain user attention.
But there is one problem though, finding the personalized visual cues that are compatible with your niche can be rather expensive. We prefer creating our images because it helps us send a more powerful message, but if you're short on the marketing budget, there's no harm in using free source images from websites like Pixabay and Pexels. Chances are, they already have high-quality images designed for your business.
5. User Powerful Headlines
Viral articles quickly become popular because the author makes very precise use of powerful words to trigger an emotional response. This is true even if the subject matter itself is boring, for instance, you could be designing and selling environmentally-friendly pigments.
Here are a few headlines that will work well for environmentally-friendly pigments:
How to create breathtaking artwork with paint
The devastating impact of paint pollution
Avoid common painting problems
Studies show that paint may cause a health concern
Do the same thing for sub-headings, especially if you're writing a listicle. Studies show that people don't always read content unless it truly catches their attention, instead, they scan it.  They're subconsciously looking for power words in your subheadings.
About Author:-
Dave Brown works in the content writing department at Content Development Pros. He works with a team of article writers at the company. He enjoys reading books and playing Indie games in his spare time.