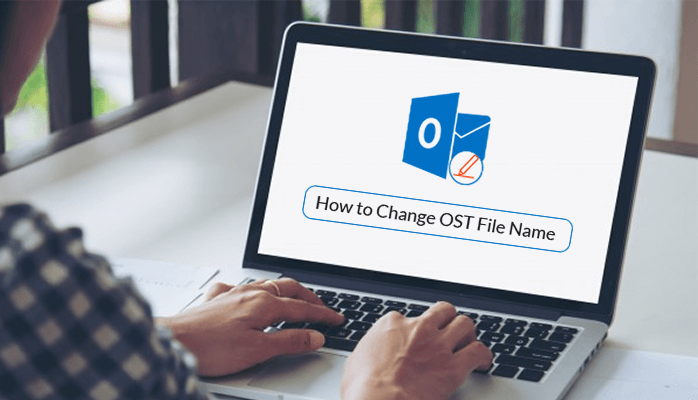 OST file is nothing but the local copy of the user's mailbox data in Exchange Server. The OST file allows you to work offline when the connection to Exchange Server is not possible and synchronize with Exchange Server when the connection is established.
Why do we need to Rename the OST file in Outlook?
Users can fix some issues encountered with MS Outlook by renaming or recreating the OST file.  The following are some issues of MS Outlook which can be fixed by recreating OST files.
When MS Outlook shows disconnected
When Outlook Freezes
Email not sent and receive because mailbox size does not exceed
When the calendar is not displaying the information such as Free or Busy information.
Corruption of OST files, etc.
Thus renaming of the OST file act as effective troubleshooting when the aforementioned issues occur with MS Outlook. Now, before moving towards the methods to rename the OST file let us know some prerequisites before rebuilding the OST File.
Two Prerequisites you should do Before Rebuilding your OST File
Usually, you will find synchronization issues when Outlook is used with an Exchange account. In such a scenario, Outlook users will have to rename their old OST file and build a new one in its place. Before recreating the OST files, there are two things you can do to know more about the issue:
1.    Check if you are working in Cached Exchange Mode or not.
2.    Verify if OST to Exchange mailbox synchronization is proper or not.
Method to Check if you are working in Cached Exchange Mode
If you find that the Synchronization between the OST and Exchange is not working correctly, it is possible that you have not enabled the Cached Exchange Mode. Then you need to verify that you have enabled the Cached Exchange Mode.
In MS Outlook, go to File > Info > Account Settings, and then select Account Settings.
In the Email tab, select the default OST file, and click Change.
Check if the Use Cached Exchange Mode option is checked (if not, check it and click Next).
In the end, click Close (in the Account Settings dialog box).
Now, restart the application and check whether the needed changes have been updated.
Verify if OST to Exchange mailbox synchronization is proper or Not
When you doubt synchronization issues, you can check if the synchronization between the OST file and the Exchange mailbox is working correctly. For this, try:
In Outlook, select an OST folder, right-click it, and select Properties option.
Click the Synchronization tab in the popped-up window.
Click OK to synchronize the current folder. You can check the information under Statistics for this folder to verify the synchronization.
How to Rename the OST file in MS Outlook?
By following below mentioned steps, you can create a new copy of your OST file at any time.
Exit MS Outlook
Navigate to Start and then click on Control Panel
From Mail click on Show Profiles
In the Mail window, select the Profile name and then click on Properties
Click on Email Accounts
Choose Exchange account and then click on Change
Type Server IP address and your Profile ID and then click on More Settings
Click on the Advanced tab and then clear Use Cached Exchange Mode.
Click on Outlook data file settings
Click on Disable Offline use, a dialog box appears Click on Yes on that dialog box. If the Disable Offline Use option is to disable it means Use Cached Exchange Mode Checkbox was not cleared the previous step.
Click on Offline Folder File settings again and then click on OK.
Select Use Cached Exchange Mode checkbox in Cached Exchange Mode Settings.
Hit on the Next button and then click on Finish.
Now, click on Close in Account Settings and Mail Setup dialog box.
If your Outlook issues will not be resolved by this method then you can try the following method to rebuild the OST file.
Rebuild OST file Outlook 2013 and 2010
In this method, you need to delete the OST file and then recreate it.
Deleting an OST file
You can follow the below-mentioned steps to delete your OST file.
Close MS Outlook
Go to the Default location where MS Outlook saves the OST file. In Microsoft Outlook 2010 or 2013 default location will be C:\Users\Computer Login ID \AppData\Local\Microsoft\Outlook.
List of Outlook files will appear
Right-click on the OST file which needs to be deleted and then click on delete
Recreate and Rename OST file in MS Outlook
After deleting the OST file, you need to recreate and rename the OST file. You can follow the below-mentioned steps to recreate the OST file.
Click on Control Panel and then click on Mail
Click on Show Profiles and then click on Add
Type your new Profile Name and then click on OK.
Here from, Manually configure server settings or additional server types click on Next button.
Select Microsoft Exchange or compatible service and then click on Next.
Type IP address of your Exchange Server and your user name. Make a check on Use Cached Exchange Mode.
Now, Click on Finish.
Now you can open your account in MS Outlook.
After that, If the synchronization is not proper of the OST file you may have to rename the OST file and then let the Exchange create a new one. But then you may lose some data saved in the previous OST file (as some data may remain unsynchronized to the Exchange Server mailbox). If you see some information missing in the rebuilt OST file, you can turn back to the old OST file (the renamed one) and convert it to a PST file using Mailconvertertools OST to PST Converter. This PST file will be having all the information, including the unsaved data. After converting to PST, you can import this data to Outlook.
Conclusion
In this article, I have explained steps for recreating OST files. I hope this blog will help you to fix some MS Outlook issues related to the OST file. Also, if you found any issue regarding anything then feel free to contact me. Thanks for Reading.