How to Convert MBOX Files to PST – Get Two Methods
Several email clients like Thunderbird and Apple Mail store their data in MBOX format. For a number of reasons, Thunderbird users might want to switch to Microsoft Outlook. The reasons could be job switching, migrating to Outlook for availing exiting Outlook features, etc. After switching email clients, they have to convert MBOX files to PST for Thunderbird data export. The reason being that Outlook only supports PST file format. Now the question arises how to  export Thunderbird mailbox (.mbox) files to PST. In this write-up, we will learn the answer to this question. This post will address the topic of MBOX to PST export using different techniques. Before that, have a look at a user query regarding this topic.
"I currently use Mozilla Thunderbird in my office. The office administration decided to migrate to Outlook from Thunderbird. The migration process will be done by next month. I need to transfer all my Thunderbird MBOX data to Outlook PST. Can anyone tell me how to export MBOX file to PST format?"
How to Export MBOX Files to PST – Two Methods with Steps
When you are looking for solutions, it is better to learn multiple techniques. Then, you can always choose based on your requirement. Here, we will get two methods to perform conversion of MBOX file to PST. The first one can be called manual method and the second one as alternative method.
Method 1: Migrate MBOX to PST using Google Gmail Loader
This method uses Google Gmail Loader utility. We have used Thunderbird for exemplary purpose. This process is divided into two stages. In the first stage, Thunderbird files will be loaded into Gmail using Gmail Loader(GML). In the last stage, Gmail account will be configured into Microsoft Outlook. Thus the MBOX file will be converted into PST format.
Segment 1: Transferring Thunderbird Files to Gmail
First of all, make sure to compact all Thunderbird folders.
Now, download Gmail Loader(GML) and extract.
Launch Gmail Loader by double-clickingexe.
Click on Find situated under Configure Your Email File.
Find out the Thunderbird folder you want to migrate to Gmail.
Click on Open
Check if mbox (Netscape, Mozilla, Thunderbird) is selected as the 'File Type' in Gmail Loader.
Under 'Message Type', select Mail I Received (Goes to Inbox) to export Inbox data. To migrate sent items, choose Mail I Sent (Goes to Sent Mail).
Enter your complete Gmail address below Enter Your Gmail Address.
Click Send to Gmail.
MBOX files have been sent to Gmail. Now, the Gmail account will be configured in Outlook.
Segment 2: Configuring Gmail Account in Outlook
Launch Outlook 2016 or 2013 that has a File button on the top left corner. Make sure to use desktop version of MS Outlook.
Click on The File button>> Add Account.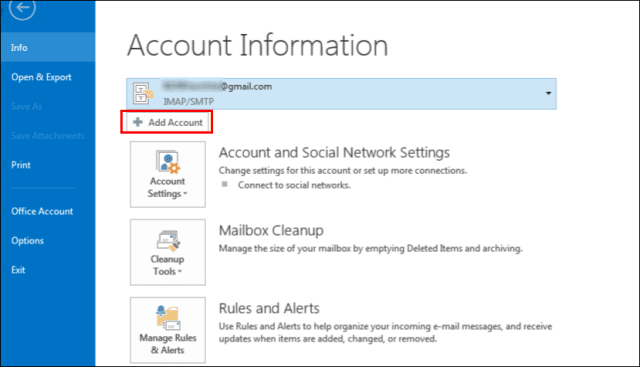 A page will appear named Auto Account Setup. Here, you have to type your name, Gmail address and Gmail password (or the Gmail app password). Click on Next.
Note: Sometimes, the process does not finish and users are asked to enter user id and password for imap.gmail.com server. In that case, click Cancel and re-enter your correct password.
Click on Finish. Your Gmail account will get synchronized with Outlook. You can view all emails from Gmail account in MS Outlook.
Now the configuration is done. The MBOX file has been converted into Outlook PST file.
Limitations of Method using Gmail Loader
There are multiple limitations of this MBOX to PST conversion method. The process of exporting MBOX to PST using Gmail Loader is a lengthy one. It takes a lot of time to execute and contains many steps. Moreover, only people with technical knowledge can perform this method. For novice users, this method will turn out to be a difficult one. Because of these drawbacks, method of conversion using tool is popular among users.
Method 2: Convert MBOX Files to PST using Tool
In this method, we Export MBOX files to PST which is compatible with Outlook 2016, 2013, 2010, 2007, 2003 using a conversion application named MBOX to PST Wizard. This is short and simple program that anyone can operate easily. This software can transfer multiple MBOX files in a batch. It also offers the feature of selected conversion. This tool strictly retains the data integrity of the source file even after export. This software is compatible with MBOX files created in all email clients. It runs on Windows 10 and all other versions while supporting both 32-bit and 64-bit Windows OS. This can be implemented as a trusted method to convert MBOX to PST. 
Here is the stepwise guide to working steps of the software.
First of all, download the software at here – https://datahelpsoftware.com/mbox/pst/ and install the software on your system.
Now add the MBOX files into software. After that file will be successfully loaded into the program. Click OK to continue.
Click Convert to start MBOX files to PST conversion process.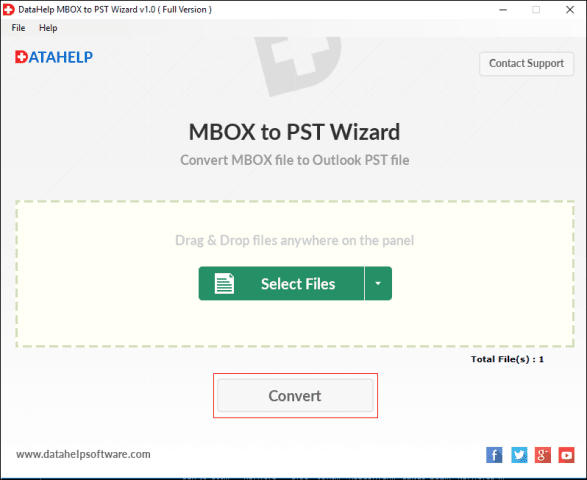 Select Destination Path for resultant PST file storage by clicking on Note that for every MBOX file, a corresponding PST file will get created.
Conversion process starts now. Users can use pause/resume and stop button during anytime of the process.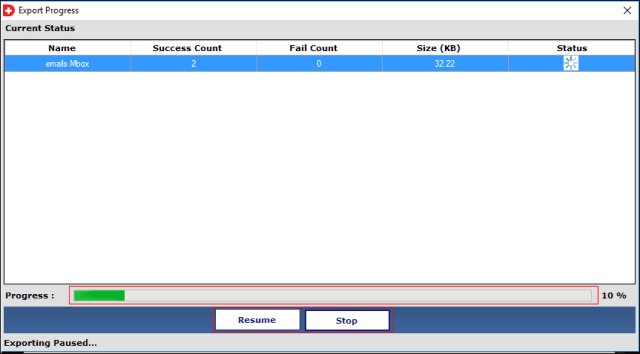 Once migration is done, "Exporting Completed Successfully" message will pop-up. Click on OK.
Conclusion
Whenever there is a need to convert MBOX files into PST format, users can take aid of this post. Here, we have discussed two methods of how to export MBOX files to Outlook PST. Users are free to choose, but they should remember the limitations of using Gmail Loader. On the other hand, the software mentioned here can seamlessly export MBOX files to PST. For this reason, this tool is always the top choice of the professionals.