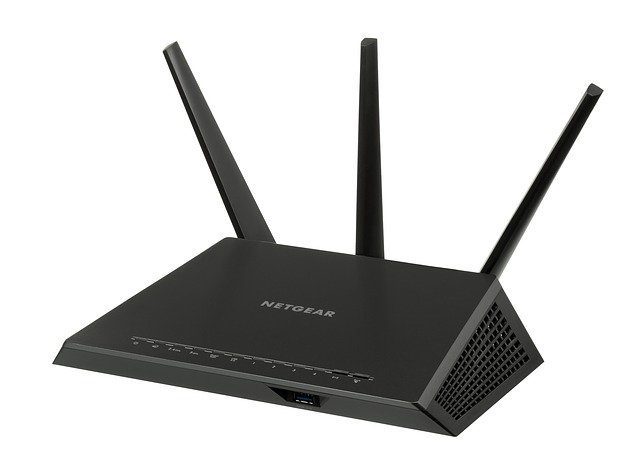 A WIFI router is an automated device that transmits data received from an internet cable to different devices. It also acts as a wireless access point from which it shares data through radio signals. The router changes the data stream given by your internet connection within radio signals. This device is very vulnerable to severe security flaws and leaves its user and devices to cyber attacks. In the modern era, the responsibility and safety for one's own privacy and security are significant concerns. We live in a world where the fear of cyber attacks evolves gradually with the increasing technologies. To protect ourselves from such a disastrous world, the use of new technologies with an up-to-date security system is required. In a modern era, new security updates with up-to-date configurations are needed to deal with threats more effectively and positively. These vulnerabilities are not just limited to the home routers; They can be found in any networked environment such as school or office networks. Check out these Best Wifi Router Under 1500 in India 2021.
Security aspects that should be looked upon for home network include:
Conduction of router connectivity and authentication test.
Routers allow configuration using ports through wireless connections. The router configuration usually is through the web, and you can log in to your router admin page with the help of this 192.168.1.13 IP guide easily. However, it allows some other connections and ports such as HTTP or HTTPS. Blocked port configuration is a default setting that you can change to enable your read's services, blocking out all other activities in your router. Along with this, you should also change the password and admin name from the default set name or password as it can prove to be a help for a hacker to guess your admin name with its password. The use of different passwords with complex characters is recommended to increase the level of security.
Perform a vulnerability test on your home router.
It includes several tests that can define the vulnerability of a router, and it can also help provide a possible solution for the problem. Another distinct advantage of these tests included that an attacker also goes through a similar test to find the negligence in your connection. Test includes
Scanning for port vulnerabilities or Malicious DNS server reputation, default or easy to crack passwords, vulnerable firmware, or malware attacks. Using the weak CWMP implementation, a hacker could do almost anything, such as establishing and knowing the configuration parameters, resetting parameters to their default states, and remotely rebooting the design. The most typical type of attack is to replace DNS addresses in the router settings for addresses of servers managed by the attacker. Then, they separate the web requests and redirect those addressed to investment services to false pages. The fraudulent pages have been created for all modern payment systems, like PayPal, Visa, MasterCard, QIWI, etc.
A critical aspect of this attack is that the browser runs on a stable OS and forwards a request to an ideally entered address of an existing payment system. Checks of system settings on the computer and a virus scan do not show any problems. Furthermore, the effect is the same if you relate to a payment system through a hacked router from another browser and another gadget on your home network.
Since most people infrequently check their router's settings (or entrust this process to professionals from ISP), the problem remains undetected for a long time. It is usually found by elimination after the money was stolen from the accounts and a computer check exposed nothing.
Verification of connected devices in the network.
This is the third most important aspect to look upon. It involves the identification of connected devices. In general use, due to negligence and the use of corrupted protocols, it's possible that a trusted device can be connected directly without proper scanning for authorization. Along with the trusted devices, some untrusted devices can also gain their entrance through the port without adequate scanning and permission. That's why it's necessary to be conscious of all the devices gaining access to your router. This practice can help avoid the network by third parties that can degrade the web or use it for illegitimate use. And the most basic yet essential advantage of this practice is that it can stop your information from spreading or falling into the wrong hands. Irrespective of the choice used for automated or manual verification, the proper thing to do next is to allow only trusted devices along with few specific IP addresses and mac addresses and restrict others through using filters.
Update all devices on the home network.
It is always recommended to update all devices connected to the network once the manufacturers have published the security updates. It should be followed by the installation of firmware updates on the router once the patches are done. Other practices in this type include the configuration of computer network mode from private/Home to public place as it increases the device's security level. Yet, the most important thing that remains is to update all the modalities or devices.
Enable Security options.
Another distinct procedure is to enable the security options that are available in the configuration of the router. It may vary depending on the model and type of device used. Irrespective of the device used in your home network, it is advisable to enable security options. These options are designed to provide more protection of the device and network.
These five practices are just a standard point to improve the security level of the home router. However, it is essential to review the router's security setting and change its settings according To the need. This change in locations can be seen as a part of the overall security system of the network, router, devices, and most importantly, your data. Practicing these will help you to block many of the entry points used by currently prevalent cybersecurity threats.