Contacts or Address Book plays an very important role to make you ease in our daily e-communications, whether we are talking about social media platforms, mobile contacts, or emailing clients. In this digital world to maintain the hard copy of our important client's address, number, email id look like a watching a black & white film in colorful world. Here I am taking Lotus Notes and MS Outlook both are the prominent email client applications widely used for e-communication within the business organizations globally. Both have their Pros and Cons and we can't be partial by saying Lotus Notes is better or Outlook? Both are master in their own way. In this blog I am discovering the ways to export contacts from Lotus Notes to Outlook manually.
In manual method, there are two parts to convert names.nsf to Outlook: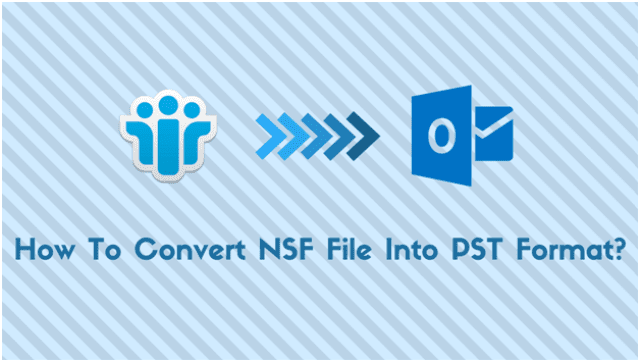 This Lotus Notes to Outlook Conversion divided into 2 parts
Part 1:  Export Lotus Notes Contacts into a .csv file format
Part 2: Then, Import .csv file into MS Outlook.
Let's begin  with the manual process to convert your Lotus Notes contacts to Outlook 2013. The step by step procedure for exporting Lotus Notes Contacts to PST are as follows:
Let's begin this process with the part 1
Part 1: Export NSF file  Contacts to a .csv file
In this part of the blog, all the contacts  will get downloaded from Lotus Notes to a CSV file. You no need to worry since all the steps are very easy to process.
Step 1: Open Lotus Notes Application-> Click on Contacts.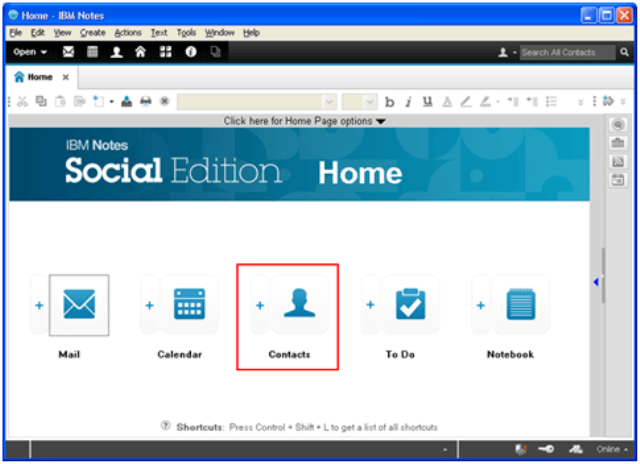 Step 2: Now, Press More in menu  bar-> Choose Exports Contacts.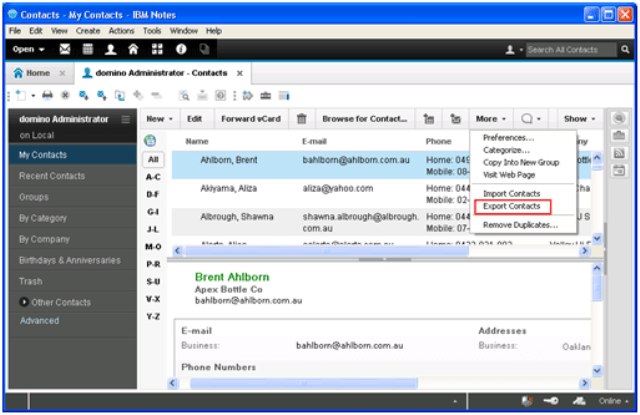 Step 3: A dialog box will pop up on the screen, Click on Change Directory button-> Choose Comma Separated Value or(.csv)-> and then Tap on Export .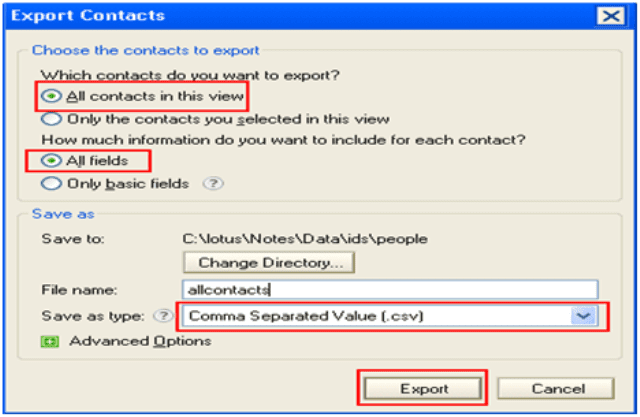 Step 4: The completion process will take some time in proportion to the number of contacts that are exporting and gets saved to a CSV file.

Part 2: Import .csv file into MS Outlook 2013 edition.
In the first half, you learned how to export Lotus Notes Contacts into Comma Separated Value  ( or .csv). Now, in the second half, the steps are mentioned about how to import .csv file into Outlook 2013 version using Import Export Wizard.
Step 1: Open MS Outlook application, Choose File menu-> Select Open-> Hit on Import option.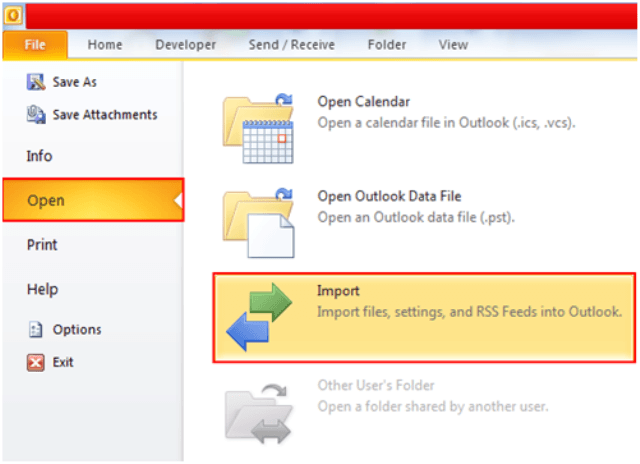 Step 2: In Import and Export Wizard, Click on Import from another program or file-> Press on Next button.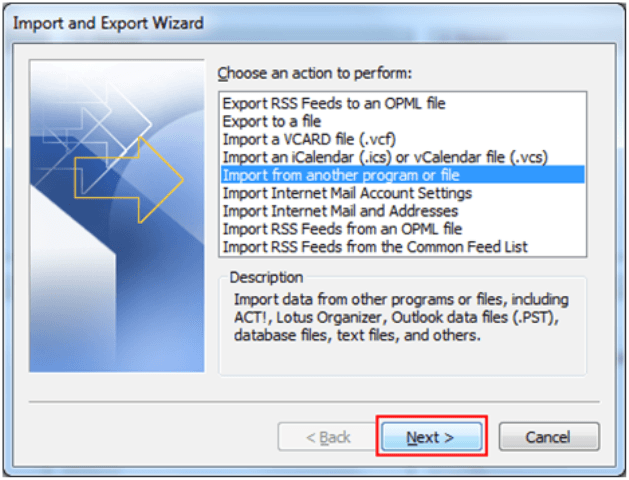 Step 3: In Import a file dialog-box, Select Comma Separated values (Windows)-> Click on Next button.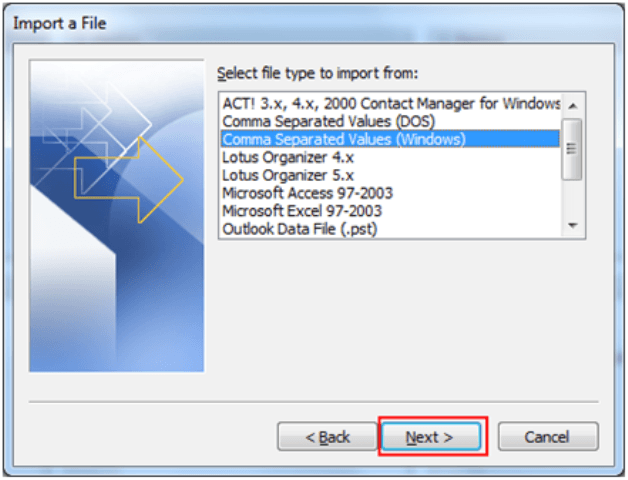 Step 4: Now, Press Browse button and choose CSV file from you device-> Select Do not import duplicate items option-> Click on Next button.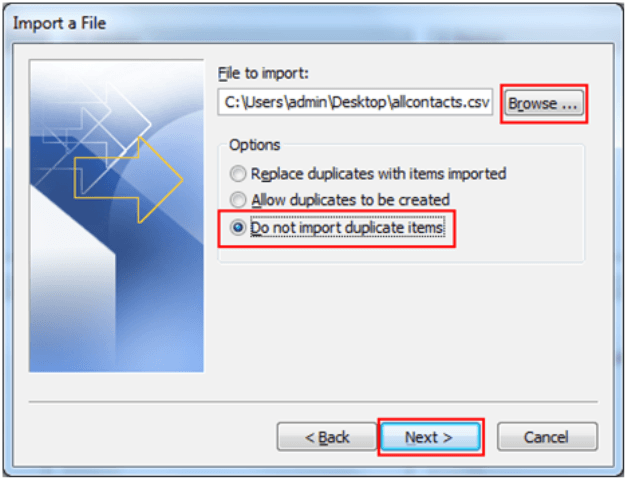 Step 5: Now, Choose a folder that you would like to import your Lotus Notes contacts-> Tap on Next button.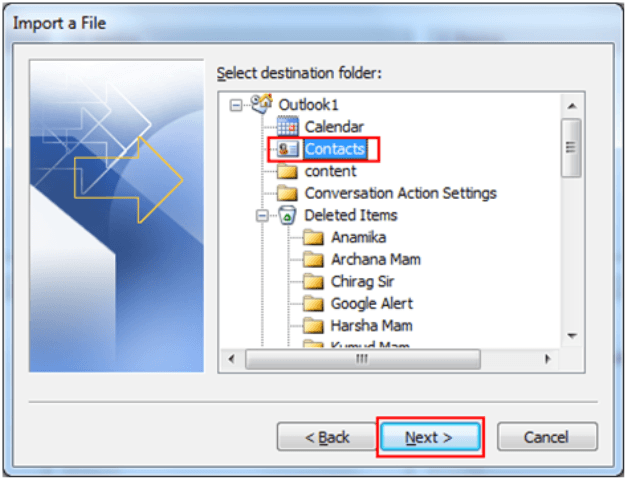 Step 6: A dialog box will appear, Add Map custom fields if needed-> Click on Finish button.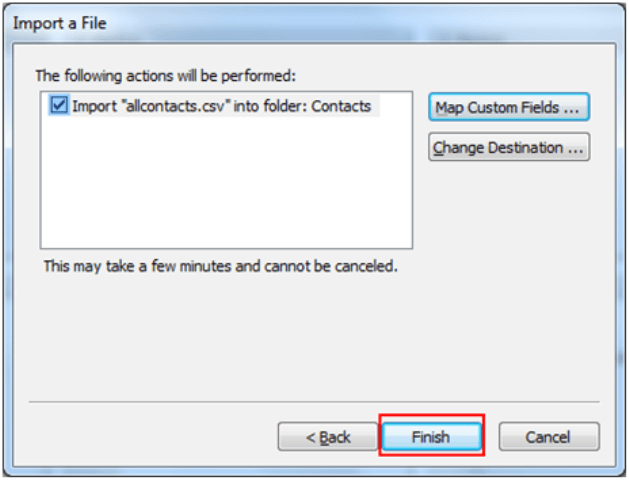 Step 7: Now, you need to wait for few seconds till the Lotus Notes contacts gets imported to outlook from .csv file.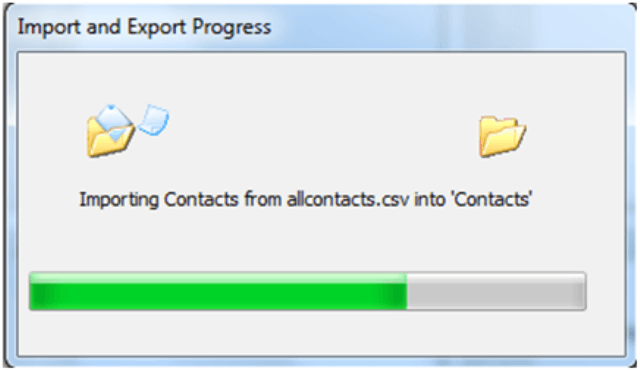 Step 8: After the Import process done successfully, you are permitted to open all the contacts in MS Outlook flawlessly.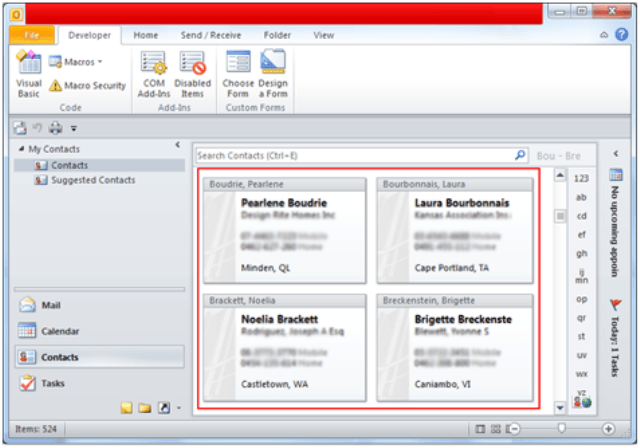 Note: After using the manual process, you don't need to try any alternate option to export Lotus Notes contacts to Outlook manually. However, there are some limitations in converting names.nsf to Outlook by following manual process:
Pictures and logo will not import
Only basic fields will get imported and the specific fields may get modified  or deleted.
The process needs to have knowledge about its technical skills that is nothing but time consuming.
You are limited to import single contact from Lotus Notes to Outlook at a time.
Conclusion:
In the above mention blog, we have discussed about the manual method to convert Lotus Notes contacts to Outlook 2013. If the above mentioned method is not suitable for you, then you can switch to use any commercial application to do the same task. You can try the third-party tool, i.e. NSF to PST converter for exporting Lotus Notes Contacts to Outlook 2013. NSF to PST converter is the is the exclusive solution in order to export Lotus Notes email to Outlook 2016, 2013, 2010 and all its below versions. With the NSF to PST conversion tool, one can export multiple NSF files with their entire Emails, Contacts, Task, Calendar and other default folders into separate Outlook PST format. Download now the free Lotus Notes NSF to PST converter and export 25 emails freely.