In this article we briefly discussed about "How to find a PST File location in Outlook" in different versions and run some manual methods, which are easily used by native Outlook user to detect storage file.
Today, Communication through Emails become an admired medium of Communicate among the people over the world while working within in Organization using Internet to transfer important information in form of emails messages. Microsoft Outlook becomes the popular Email client. Very Efficient and Effective and user-friendly way to communicate. To store Emails messages, Outlook uses PST File format, also, know as Personal Storage Table.
Today people using different Email Client and for each profile different PST File is created. As Number of user increase, a large number of PST File created by a user, Sometimes user not able to locate PST File in their configured machines. As PST not only save emails messages, it also stores other details like calendar, journal and many more information. Then become important to know the  exact location to find Outlook PST File in Windows for backup and other function.
Various Methods to Find PST File In Windows
Some method are listed below, that can help end user search the location of Outlook file in user machines.
Open File Location Feature
To Explain this method, we are using Outlook 2016 Versions, user can easily understand this method and apply on different versions such as Outlook 2013, 2010 and other below versions.
Method 1: Find PST File of Outlook using Open File Location
This is the simplest technique to find PST File in Windows Versions. Just Open Microsoft Outlook.
You can view configured profiles details on the left navigation pane. Click Right on the profile.
In Drop-Down menu select Open File Location option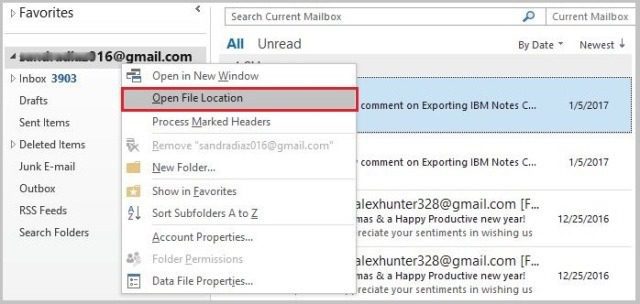 After clicking, a user directly redirects to the location where the PST of configured profile stored.

Note: Alternative Method to Open File Location Feature.
1)  Open Outlook >> Open File Menu.
2) Click on Account Setting.
3) In Account Setting Click on "Data File option"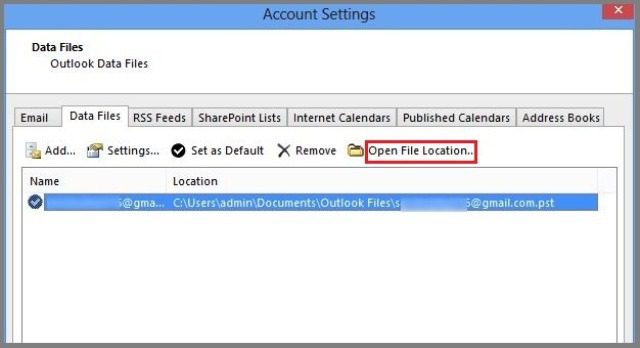 4) Select the Configured file and Click on Open File Location option.
5) From this method, you can also find the PST File in Outlook Application.
Method 2: Using Search Panel
Another method that can a user take help to find PST file in Outlook versions is Search Panel. Just go through the steps to reach out the Outlook PST File.
1) Open Search Panel and just type *.pst this command used to find all PST extension file in the drives.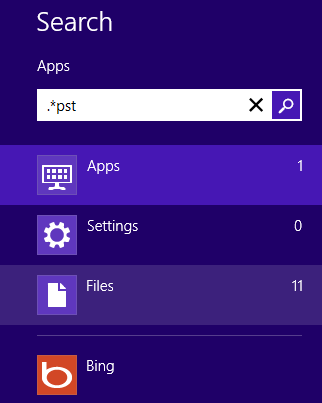 2) As user view a total number of files in Files Section in above image. To View, all files with PST extension, just click on files section to open it.
3)  Now You can find your desired PST File in Search Panel section.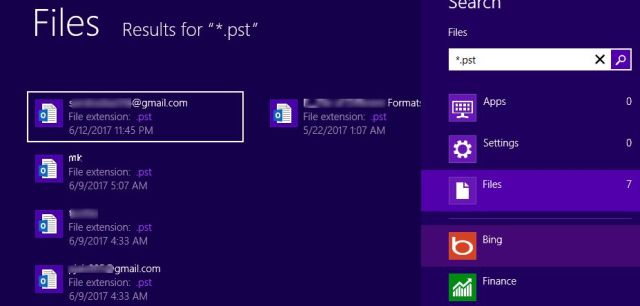 4) To open the exact location of PST File, Click on that file, Now an Open location Folder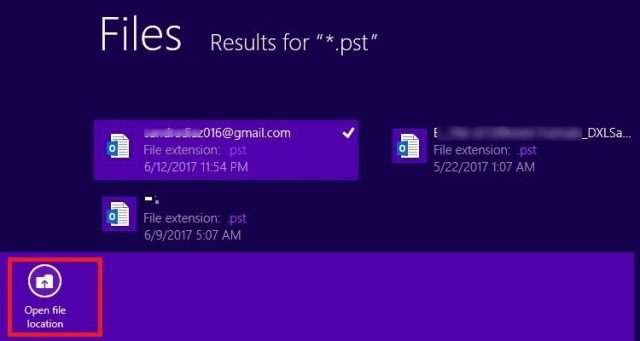 Option appear. Click "OK" on that, it will directly to the location of PST File.
3) Method 3:  Use Command Prompt To Find Outlook PST File in Windows Platform
Here we use Command Prompt Screen to find the solution of the answer "How To Find PST File In Different Windows". The first user has to open command prompt screen.
1) Type "Win + R" to open Run Prompt.
2) Type "CMD"  to work on Command Prompt Screen
3) To Reach specific Directory, a user can type "cd.." to exist from the current directory.
4) Now Type "dir /s *.pst " and press enters to view &  find PST file in Outlook.
5) As you can see all location or directory where the Outlook file stored in Configured machine.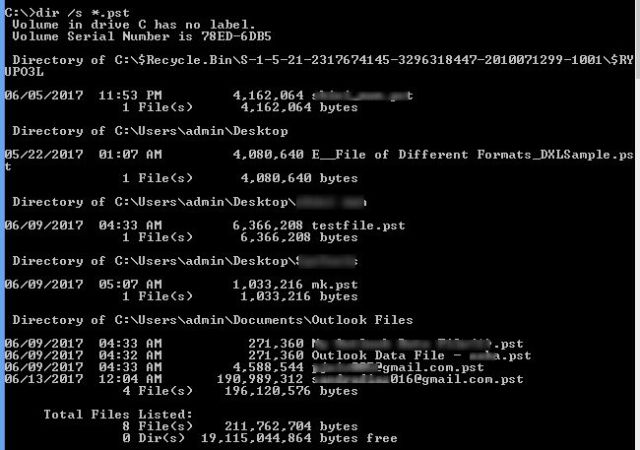 Limitation of Manual Methods
All these methods can help the user to find the PST File of Outlook, but this method has some limitation, sometimes user unable able to find Outlook PST file in Windows using these approaches and orphan PST file not detected properly. If Outlook is not installed or configured on user machines, even than user can't use some listed methods. To Overcome all these kind of issues user go for PST Locator Tool that can find all PST File of Outlook in Windows under same domain, without even installation of Outlook.
Conclusion
As we can see different method are available to find Outlook PST file in Windows. User can take help of Outlook Application to find PST File while different purposes such as creating backup of Outlook file. Search Panel and Command prompt option are also available to find PST file of Outlook in different Windows Versions