Finding the target audience is one of the most important jobs that needs to be done for better response and traffic. Various digital marketing techniques help one in targeting audience of a specific region, in a specific country by understanding their interests and choice. Search Engine Optimization is one such techniques and it can be easily implemented using the tool Google Trends. All information about keywords can be obtained from 2004 to the present day.
Google Trends
Google Trends is an online marketing tool which is available for free and it helps in collecting relevant data along with the change in patterns, demands and trends with respect to time. In a way, historical data is used to infer the future trends and all this is done by tracking the relevant searches made by various users on the Google search engine. Any specific keyword can be put to check using this tool and information can be obtained about region, place and time when that keyword has been searched. Areas or location where that keyword has been searched the most can be found out and the targeted audience can be easily identified. The search category of the keyword is also known and this tool helps in giving suggestions for better, more relevant keywords, thereby acting as an excellent tool for keyword research as well.
Features and Information that can be gathered using Google Trends
Web search can be monitored, be it in any category (entertainment, technology, arts, etc.) and a specific country can also be chosen where the trends have to be analyzed, pertaining to a specific keyword. Google Trends provides the user with an option of comparing every keyword upto a maximum of five search terms in one go. Hot searches, Hot topics and Top charts are shown in the tool, which give a clearer and better picture of the trends, the tastes and interests of the audience and also, every search can be categorized for the same.
All about Keywords
Identification, selection and usage of appropriate and suitable keywords which are profitable as well needs to be looked into for using the Google Trends tool and obtaining effective, desired, useful results. SEO is mostly dependent on and driven by keyword research and search only. Certain features of good keywords include high CPC (cost per click), low competition and huge volume. Keywords having a good stand based on these mentioned grounds can be obtained by using the Google Keyword Planner Tool and these keywords can thereby be fed to Google Trends to monitor the target audience.
 Also Read:- 6 SEO Blunders and How to Avoid Them?

Step by step procedure for finding target audience using Google Trends
Go to the URL https://www.google.com/trends/ and the page of Google trends will open
The 'Explore Topics' search bar is the place where the desired keyword has to be typed to get results. Press the enter key and wait for the results
Results are obtained. For a more specific search, the time period can be changed, a specific category can be selected and the type of web search can also be altered- Image Search, News Search, Google Shopping , YouTube Search
The country can be selected for which the audience has to be focused upon. The keywords research option tells where the specified word has been searched the most, as in, in which country. A list also is present which has names of other countries where that word has been searched, in the decreasing order
The Interest by Region option also provides data as and when you hove mouse over it
The option of Related Queries is what helps the user get more relevant keywords, long tail words are found along with their respective target audience region. Sometimes, when an expected target audience is not being obtained using a specific word, it can be replaced or enhanced using these predictions for a better amount of audience to be targeted
Most of the blogs today use Google Trends to increase their reach, better their insights and also increase traffic. Digital marketing has emerged as a very strong and prevalent practice nowadays and every organization- small or big- has started to invest money for the same. Google Trends improves results and the requirement is met in a better way.
About Author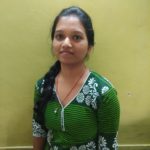 Sejal Parmar is an enthusiastic blogger who has a passion and interest in SEO. She covers topics on SMM, SEO, social media, digital marketing, blogging and much more at Web Ratna!