Currently, Outlook users are searching for a solution to fix the issue of PST file too large to open. As we know that Outlook is widely used application for managing daily activities like emailing, managing contacts & calendars, etc. Outlook shows this error when users have a large amount of data and the maximum size of PST Files is exceeded. In this article, we will resolve this error and know how to reduce Outlook mailbox size by splitting them into multiple smaller parts. So, let's begin the procedure.
PST files has file size limitations in different Outlook versions. Like Outlook 2000 and earlier version, the limit is 2 GB. In Outlook 2003 and 2007, the limit is 20 GB and in Outlook 2010 and other versions, the limit is up-to 50GB.
Users Query
When I try to open my profile in Outlook, it shows that the PST file too large and I need to delete some items. However, I can not open the pst to delete anything. How can I fix this error? I am using Outlook 2016 on Windows 10. Can anyone help me?
How to Get Rid of PST File Too Large to Open Problem in Outlook?
The most common cause of an oversized PST file is excessive storage of data without closely checking the file size limit. You can avoid this error, you can simply follow the instructions that are mentioned below:
Clean Up Mailbox in Regular Basis:- You must analyze your data and delete the data that are not so important for future use. Just press shift+delete keys and save some storage space for new emails.
Backup PST File:- Create a backup of PST file so that you can easily and quickly be recovered in case of PST file corruption issues.
Create Email Archives:- You should create email archives to organize data in different folders and avoid large loses of data in disaster situation.
Manual Solution to Resolve PST File Cannot Be Opened Issue
You can use the Inbox Repair tool which is provided by Microsoft. Follow the steps to overcome PST File too large to open problem.
Open the scanpst.exe application and click Browse button to select the PST file that you want to reduce size
Click on the Start button and the tool scans the file if any errors have occurred
Now, choose the option "Make backup of scanned file before repairing" and select the location to save the file
Click on Repair button to begin the repair process.
The manual process is fine if your PST file contains some data elements. If you have a large number of data files, this method takes a long time. In order to be able to use this method, technical expertise is required.
Quick & Smart Solution to Fix PST File Too Large To Open Error
After knowing the limitations of manual method, it is recommended to go with the professional solution i.e. SysTools Split PST Software. This will allow you to reduce Outlook mailbox size by splitting them into multiple smaller parts. The tool provides option to split Outlook archive PST file without losing any single information. With this software, you can split large PST file into multiple small PST files with all data items like emails, calendars, notes, contacts and so on.
Steps to Split Large PST File into Smaller Parts
The software split PST files in just few simple steps. First, you just need to download and install the software Then Follow the steps given below:
Step 1. Click on the Split option from the top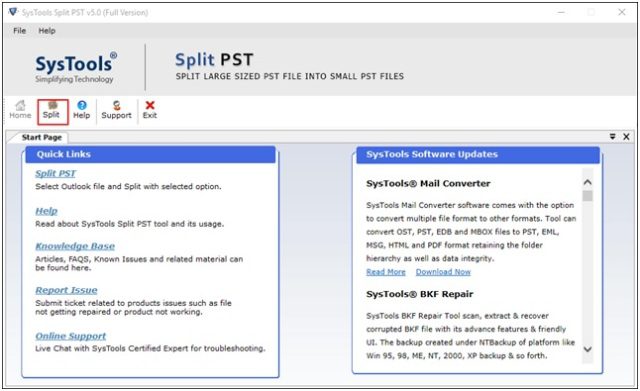 Step 2. Select Outlook format and Split Option according to your need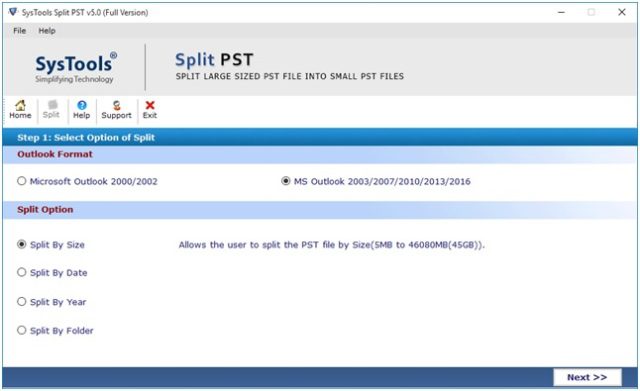 Step 3. Browse and choose the Outlook PST file which you want to split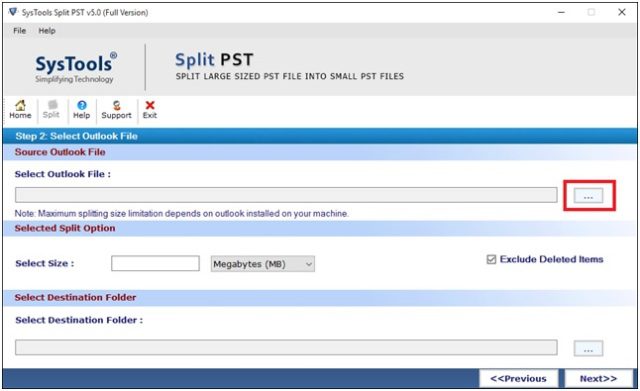 Step 4. Select size as per your requirement in GB or MB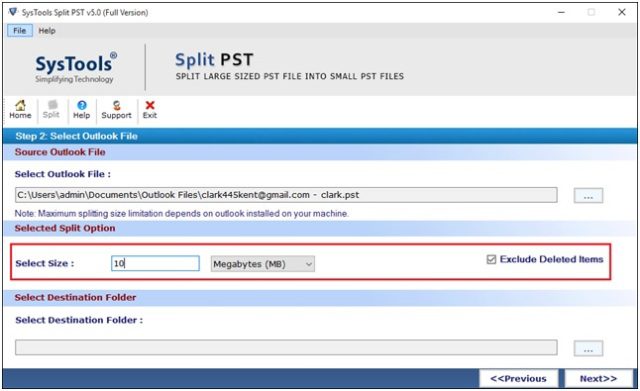 Step 5. Select the desired folder to save output data and click Next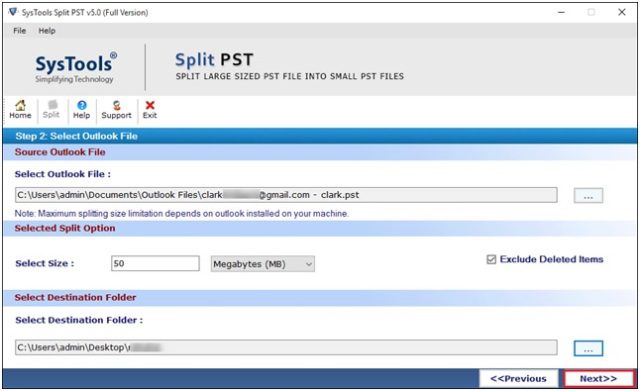 Step 6.   Hit on the Split option to start splitting large PST file into smaller parts.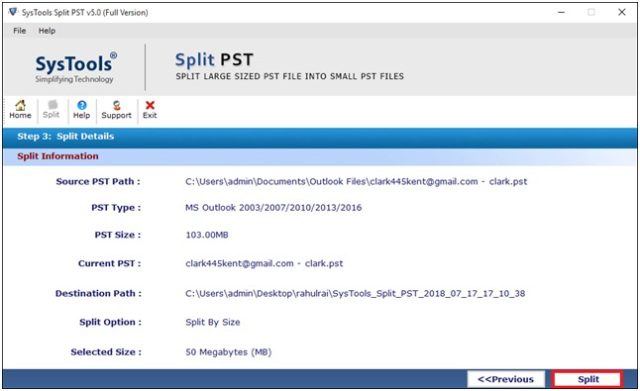 Additional Features of Split PST Tool to Reduce Outlook Mailbox Size
The software offers several features that helps users to split large PST file into smaller parts and resolve PST file too large to open problem. Some features are-
It is very easy to use by technical as well non-technical users as it comes with simple GUI.
Tool supports to split archive PST file without damaging or corrupting any single piece of information.
It provides four split options like Split PST by size, split by date, split by year and split by folder.
Compatible with both ANSI and UNICODE PST file to split into multiple smaller PST files.
Supports all Outlook versions and also works on all Windows Operating System editions including Windows 10.
The software is also able to split corrupt PST file which is corrupted due to oversized PST file.
Conclusion
Here, we discussed the both manual and automated solution to fix the error of PST file too large to open in Outlook. Manual solution is fine in case you have few data items in your PST file otherwise this process is very time-consuming. To overcome all these problems, you can easily use the Split PST software that is 100% safe to reduce Outlook mailbox size by splitting large PST file into smaller parts.