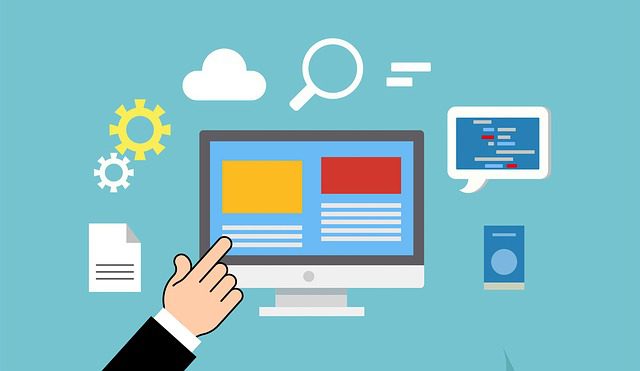 Moving from your old domain to new one can negatively impact on search engine rankings. If not done properly then you will lose all of your search ranking and organic traffic. It is always advisable that do not change your domain name until it is necessary.
However, if you want to change the domain name then this guide is for you! In this post, I am going to show you how to keep your SEO while changing your domain name. It is just like when we relocate from one place to another, we want our entire household thing to be safe while relocating.  So we search for best professional relocation professionals near me to get it done. This guide is for WordPress site:
#1. Transfer your website files and database
The very first step here is to transfer the database and your website files to the new host. You can also ask your new hosting provider to do a transfer of your website if they offer free migration services.
You can also do a manual transfer yourself. Download your website files and export your database. Upload the files to the new server. Create a new database and upload the database to the new provider.
When done, edit the "Wp-config" file and change the database name, username, and password. Change these details with your new database and its credentials.
Whilst if you are completely newbie and have zero technical knowledge then I would recommend you to ask your hosting provider to transfer the site.
#2. Change the name servers
When you are done with transfer of your files and database now you have to update your nameserver. Just login to your domain management panel and click on manage the domain option. Change the nameserver to the new hosting provider.
If you are using Cloudflare then change the IP address of your domain name to the new one. You can find your website IP in Cpanel or you can ask it from your hosting provider. Wait for 24 to 48 hours to propagate the DNS over the internet.
#3. Update SSL certificates
If you are using SSL certificate then make sure your new hosting provider allow SSL certificates. Install the SSL on your new hosting. You can install SSL from your cPanel or you can call your hosting support team and request them to install the SSL on your server.
#4.  Change the URL
When you change the domain name you might notice that some of your images won't work or the links on your website is also pointing to your old domain name. To overcome these situations install the "Velvet Blues Update URLs"
After activating the plugin your can update the old domain name URLS to the new one. Make sure you have selected the options mentioned in the Step 2 in the Plugin. Check the image below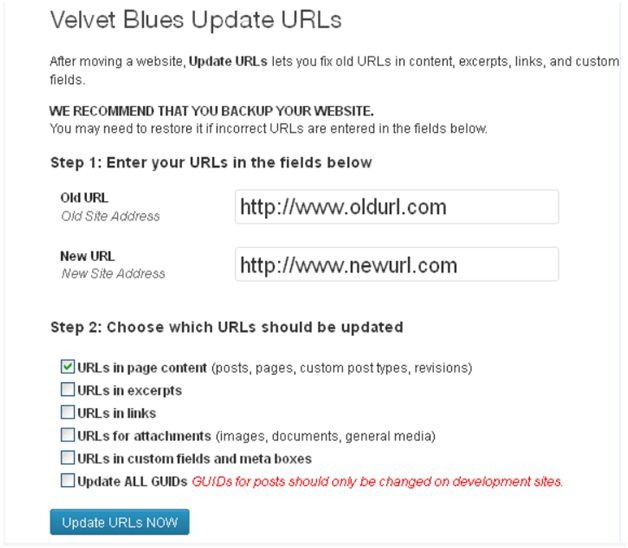 It will change the URL of your old domain name to the new one. Now all of your links and images working fine.
#5.  Submit a URL change request to the Google webmasters tools.
Login to your existing Google webmasters account. Add your new website URL. Make sure you added all the versions of your domain like:
http://
http://www.
https://
https://www
Do not delete the old domain name from the account. Now request a URL change request to the Google webmasters account.  To submit a URL change request, click on the settings button in left side menu of your webmasters account. Here you can submit the URL change request.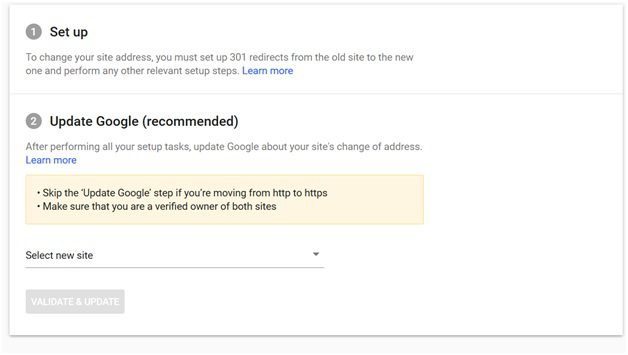 Make sure you have also submitted the sitemaps of your new domain to the Google webmasters account. Google will now start transferring traffic to your new domain name. It takes 90 to 180 days to change the URL in Google search.
#6. Monitor the new Domain:
When migration is completed successfully, it's time to monitor the ranks and organic traffic of the new domain. This is important for SEO factors, which we should not forget, learn more now.  Next, verify your site's backlinks to check whether they point to your new domain perfectly. Some links might still point to your old domain, contact those sites owners and ask them to update the link.
Conclusion
These are the basic steps that you need to do while changing the domain and retain your search traffic. However, you may see some drop in your ranking for a few days. But after few weeks you will retain your search traffic.
You can use these steps to keep your SEO while changing your Domain name. If you enjoyed the post please share it with your friends.