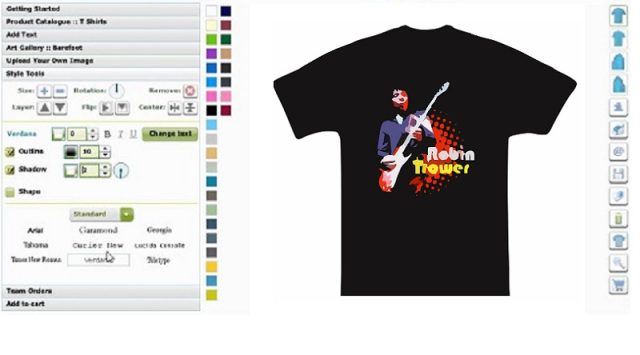 The T-shirts happen to be a hugely popular apparel section that has never lost its appeal across the gender and the age. With the latest trend of product customization, the love for the t-shirts have augmented manifolds.
This is probably because consumers can also showcase the creative bent of mind through the t-shirts and make heads turn. Naturally, this amplified their popularity further.
Moreover, the customized t-shirts can be used for fulfilling a number of purposes. They can be used as promotional products, event souvenirs, casual merchandise as well as for internal company usage.
So if you want to boost your conversions and your sales, integrating your eCommerce with the right t shirt designing software is not only beneficial but also imperative which will offer the coveted edge to your business and enhance your revenues.
Here are some of the ways to make great t-shirt design with t-shirt design software. Just take a look.
Take Time to Explore the Subject – You should sketch the design that you want to put on the t-shirt, create a few variants and go through a complete brainstorming process. And then you can do it all over again. It is quite a rare phenomenon when a design comes straight to you. That is why you should invest more time to design the perfect t-shirt for you.
Start Designing from Scratch with the Software– The online software piece is quite advanced and most of the online companies choose the most innovative t-shirt designer tool for offering their customers with maximum use of designing. So if you want to design your t-shirt from scratch you can make use of the plethora of design templates, options and themes available through the t-shirt design tool. Anyone can use this tool for customizing their t-shirts and this one is ideal for the people with technical knowledge.
Add Colour of Your Liking – Start by choosing the right shade for your t-shirt from the t-shirt design tool. It comes with a plethora of colour options that can be customized very easily. This way you can achieve the exact shade for your t-shirt that you always wanted but never got hold of. However, if you are thinking of adding texts and templates on your t-shirt you should choose the shade of the t-shirt accordingly so that the designs are visible.
Make Use of the Advanced Features of the Software – The online tool is enriched with a plethora of features so that the task of designing a t-shirt can remain hassle-free for the customers. You can make use of the design templates that are already available in the t-shirts. It allows you to upload your own art so that you can get the exact design that you desire. You can add texts, backgrounds or art and can save, cut, copy, paste and conduct as many changes as you desire. You can upload images of the CDR, JPEG, AI, SVF, PDF and many other formats. You can also use the undo, redo, add and align  features for designing.
Add Image Effects – You can personalize the image that you have uploaded to get the best end result with this designing software. The avant-garde designing tools offer that facility. You can also remove the patterns, backgrounds, clipart, masks and personalize your t-shirts just the way you want. You can decorate the t-shirt with rich text effects as well.
Try to Keep Things Simple – Almost everyone appreciates the great ability of drawing and attention to detail. A well-executed masterpiece on a tee is bound to attract attention but the classiest pieces of t-shirt designs are those that are simple. So decide and don't go overboard until and unless you are sure that the design will work.
Get a 3D View After Designing – You can get a 3D preview of your designed t-shirt, which actually makes the t-shirt designing tools integrated with the most successful eCommerce businesses, today, more potent. The best part is that you can get a 360-degree view of your t-shirt once you have completed designing it so that you know what you will get after a thorough look at it from every angle. This is surely going to ease the designing process for you. This way your favourite features are added to the product. The 360-degree view makes the t-shirt designing task absolutely effortless.
Save and Share – After getting a 360 degree view you can edit the design if you want to go for minor changes. The right tool will then allow you to save your artwork and not only that, it helps you to share the same on the social media. This way you can login and pick up from where you left. This makes editing super easy for you.
The above are some of the ways for creating great t-shirts designs with the help of an innovative t shirt design software that is being preferred by most reputed t-shirt businesses these days in order to offer their business the USP that will help it to create its own niche in the industry.
About Author:-
Nitesh Ranjan is a digital marketing expert with keen interest on topics, trends and ideas related to brand promotion and advertising. He regularly shares information on the ways to market businesses across digital channels for better ROI, increased conversions and more sales. His blog can help anyone interested in boosting the online visibility in the digital world and eyeing access to a wider and bigger marketplace without spending big on marketing. Trust his digital marketing knowledge to enhance your brand's presence on the internet.