PDF (Portable Document Format) file is a very popular and smart way of sharing and publishing documents. PDF was created with a notion that it would eventually replace the use of paper. Although, it only led to increase in use of paper, but it did fulfill its purpose. Sharing any document, images, graphs or tabular data has become very easy and simple. PDF also provides us with security and limited editing options so that the document could be shared without unnecessary concerns regarding data loss. But like many other files, PDF is also prone to damage and corruption issues. This is why in this article we are going to discuss some common and easy ways to repair a corrupt PDF file.
Reasons For Damage And Corruption And Need To Repair A Corrupt PDF File.
A PDF file might get damaged or corrupted due to many reasons. Since a PDF file is used a lot for printing, sharing and publishing data through internet, it is prone to the common corruption problems that arise from internet.
Here are some of the common reasons behind PDF file corruption or damage:
Interference while Transferring: Sometimes due to server time out or internet connection failure, partial information gets transferred which may cause PDF file corruption.
System Failure: Many time PDF file corruption might also be the result of System Failure which might corrupt the data stored inside the system which includes PDF file as well.
Incomplete Upload or Download: PDF files are meant to be shared over the internet, but sometimes due to incomplete upload or download, only partial file is obtained by the receiver and this causes PDF file corruption.
Virus Attacks: Viruses are one of the most common and frustrating causes of data corruption. Even if your computer is secured by Antivirus programs and what not, you still run a risk of getting your PDF file corrupt from virus infection over the internet.
The need to repair a corrupt PDF file is quite simple: TO RECOVER DATA FROM ANY DAMAGED OR CORRUPTED PDF FILE. But in many cases of file corruption, proper precautionary measures are able to prevent such a thing from happening and hence in some cases, the need for repairing a corrupt file is not that necessary; and during such cases the data is either restored from backup or a new file is created. But that is not a case for a PDF file, The above mentioned reasons for PDF corruption, point to a particular source that is the Internet. It is impossible for us to  employ precautionary measures that would counter all kinds of threats that may arise from the Internet. Due to such reasons, the need to employ techniques to repair a corrupt PDF file  becomes imperative.
How To Repair A Corrupt PDF File?
As we discussed in the need for repairing a PDF, we must employ certain easy troubleshooting and promising file repair techniques that may help us repair a PDF file and below mentioned are some easy and commonly used technique that would let us recover data from or repair a corrupt PDF file.
Use an Alternative  Reader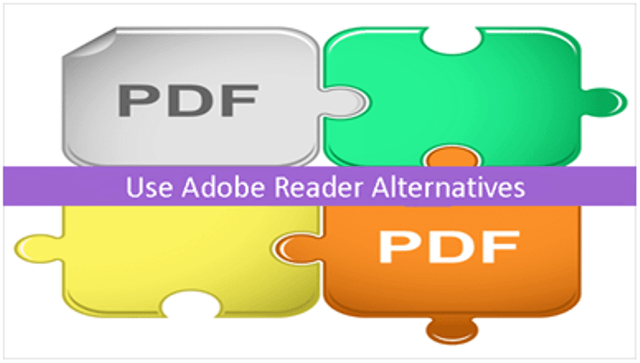 Sometimes using an alternative reader might prove to be useful. Many a time there are certain format issues due to which a file foes not open in Adobe Reader. In such cases an alternative PDF reader just might be able to open your PDF file. The reason for his is that different PDF reader software use  different rendering method to display PDF file, and this might save you a lot of time. There are many free, as well as paid PDF reader applications available in the internet you may look into it.
Extracting From PDF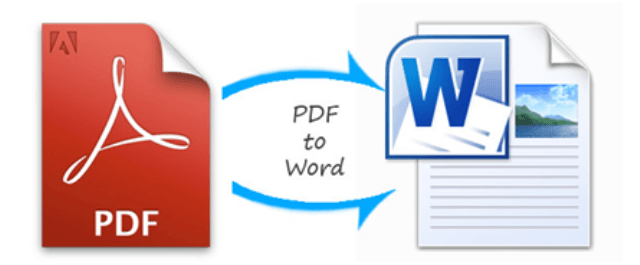 A common way of recovering data form a PDF file is to extract the data from the corrupt PDF file and saving the extracted data into any other file of a different format. In a case where the PDF file contains only text, you can use various free conversion tools available online to convert PDF file into MS Word formats like .DOC or .DOCX. Such tools would extract the data from corrupt PDF file and save it in MS Word format which can be again saved as a PDF file. But the extent of recovery using such tools depends on the extent of corruption. So it is possible that the entire document data might not be extracted. In case of extracting Images, there are many image extraction tools available like Sysinfotools PDF Image Extractor which lets you recover all the images from any corrupt PDF file.
Repair Adobe Reader Installation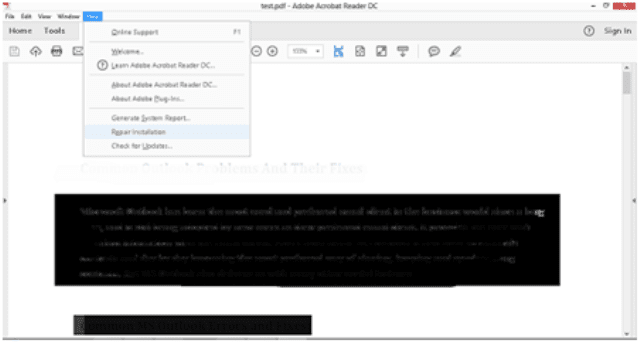 Repairing Adobe Reader Installation might also solve the problem  The reason this technique is not on the top of the list is that although this is a very simple procedure to implement, but the chances of your PDF file not being read by Adobe Reader because of faulty installation are very slim. Still no matter how slim the chances are, this could be the reason you are not able to read  the PDF file using Adobe Reader. Repairing Adobe Reader Installation is very simple. Just Launch Adobe Reader, Click on Help tab and from the drop down menu, click on Repair Adobe Reader Installation. There are also cases where using an outdated version of the software might cause such issues. Hence it is recommended to keep your software updated.
Online Repair Applications
Although this process is not recommended by many experts because of the threat of exposing your PDF file containing sensitive information on the internet. In a case where you need to repair a corrupt PDF file which does not contain any sensitive and personal data that cannot be shared over internet, you may use Online Repair Applications which aim at repairing and resolving PDF corruption issues without the need for you to download an application. These online application can easily fix any minor corruption issues that might have rendered you PDF file unreadable. But again, since the internet is full of various threats, it is advised to use this method at your own risk.
Repair and Recover PDF File
There are specific applications that aim at repairing and recovering any PDF file by fixing corruption issues just the way online repair tools do. But what makes these PDF Repair tools different than the online applications is the security parameter as these tools need no internet connection whatsoever to work hence it is impossible for any chance of sensitive data leaking into the internet. These applications need to be downloaded into your system and these tools aim at fixing all types of corruption issues. Since these tools are not dependent on internet, they can repair a corrupt PDF file much more easily and flawlessly that any online application can do and can recover data from even severely corrupted PDF files as well. One of such tools is RECOVER DATA. This tool is capable of recovering data like images, text, table, graphic etc with utmost accuracy from corrupted PDF files. This tool is very easy to use and can be used to repair a corrupt PDF file by following the simple steps:
Launch SysInfoTools PDF Recovery Tool, and select single or multiple PDF files at once based upon your need.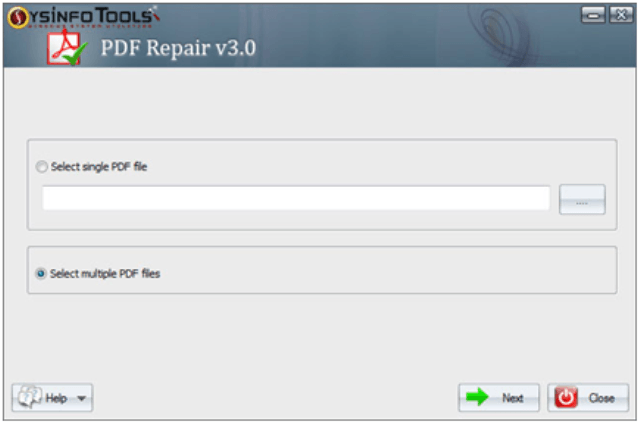 After selecting the corrupt file to be recovered, select the recovery mode and continue with the recovery process.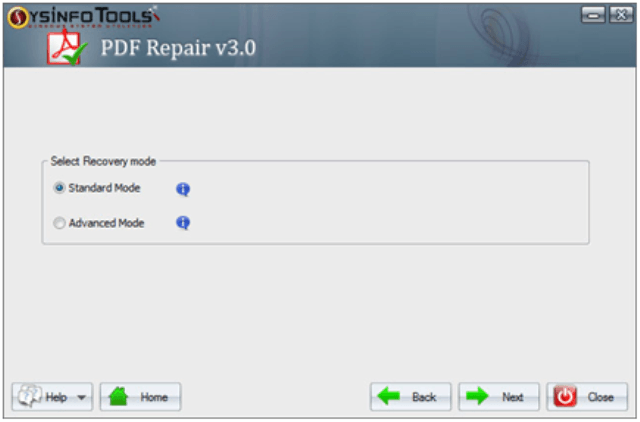 Wait till the tool recovers maximum possible data and upon completion of the recovery process proceed with the saving process. For saving process, select any  destination for saving the new PDF file containing the recovered data as you desire.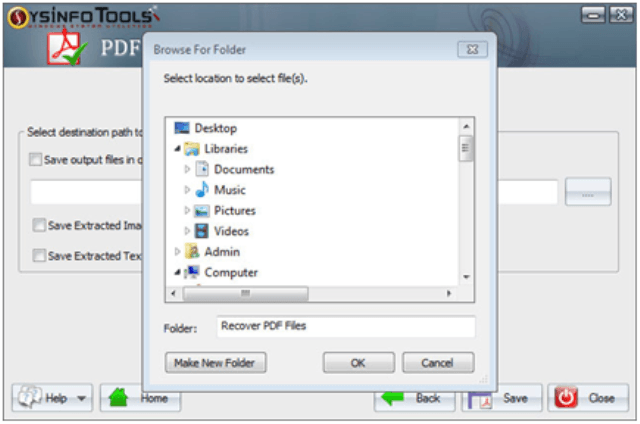 Select options like "save extracted images"or "save extracted text" as per your requirement and click on Save button to start the saving process.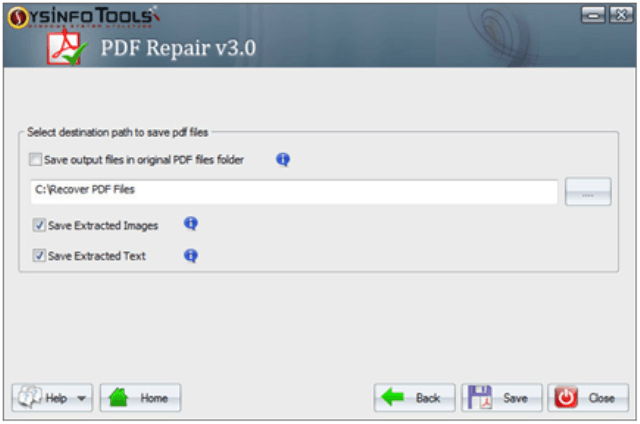 After the successful completion of the Saving process you can access the recovered PDF file data stored in the PDF file saved at the desired location as specified earlier.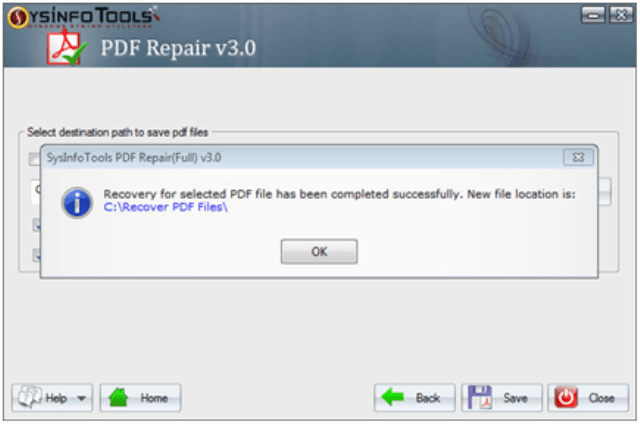 This tool offers you with a demo version for using it first and check if it meets your requirements, and if satisfied, only then pay for the tool and upgrade to full version.
Conclusion:
PDF file corruption is very common issue faced by a vast demographic of varied users. Unnecessary interruptions in workflow due to corruption is both deplorable and unproductive. In this article we have discussed some common reasons for PDF file corruption and discussed some common ways to counter PDF file corruption and repair a corrupt PDF file. These techniques are proven to be useful in many cases and are capable of recovering some data (even if not the entire PDF file) . Still it is always recommended to keep an updated backup of all data.