It is the fact that Arlo security camera has advanced safety points. If you are an owner of your home or office, then no need to worry, the Arlo camera takes responsibility and keep an eye on before the knock. Most of the people prefer the Arlo camera due to Arlo camera is on the Arlo app and ease to use. Arlo features and popularity in the market makes it unique from other cameras.
Arlo camera can be used with the help of a Wi-Fi connection and can keep an eye on your location from anywhere in the world.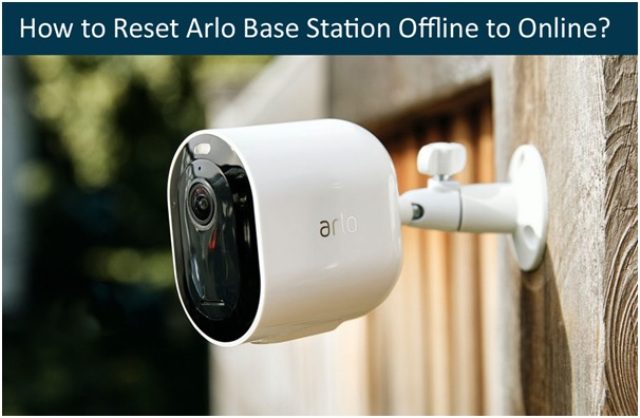 Usually, the Arlo camera doesn't work due to the Arlo base station offline problems. When the Arlo camera goes offline you cannot be connected with your home or office. Hence, no need to worry because every technology has a rectification. The Arlo technical steps to fix the offline camera problems are mentioned below:
Here are the following Advantages of Arlo Security Camera:
Arlo camera is a wireless camera.
Automatic night vision camera.
It has a Free cloud storage (up to 1GB) for up to 7 days
Easily Mobile monitoring with Arlo app (iOS, Android)
Easy to install and setup the camera.
Waterproof IR65 rating for external use
What is the use of an Arlo Base Station?
To take the maximum out of your Arlo camera, you need to have a base station. The Arlo base station combines your Arlo and Arlo Pro wire-free cameras to the base Wi-Fi system. It also benefits in making long-range connectivity simultaneously with a powerful battery life. However, there are sometimes, an Arlo user may face Arlo Base Station Offline problem. This will execute a user from reading or recording the footage as the camera will not be working correctly. The very first step to solve the issue is to bring Arlo base station into online mode from offline mode.
Why my Arlo Base Station keeps going Offline and how to fix it
Before recognizing the fixing steps, we need to learn the reason behind the existence of this issue. There are many possible reasons behind the Arlo base station offline issues. Below explained can be some of the important causes behind the offline problem.
Improper configuration of Arlo Base station: – Arlo base station requires to be configured properly. If you miss any point during configuration, then there are quiet high chances that you will have to face Arlo base offline problem.
Sluggish internet connection: – Sometimes, there may be a low or weak internet connection. Hence, due to the poor or low signal internet connection, your Arlo base station might not be able to connect. Hence, try contacting your ISP.
Router's firmware issue: – Examine if the firmware of your router is up to date or not. If it is not up to date, then update it and connect with your Arlo camera again.
Check the LED(s) on the Arlo base station
Before you start troubleshooting, check your device LED(s) on the front of your system to ascertain whether your system is online or offline. There is LED difference between old Arlo camera and new Arlo camera as new Arlo camera have a single LED, while old Arlo base stations have three or five LEDs.
If you want to be connected with your home or office then you must have a better quality internet connection and Arlo app. Launch the Arlo app on android/iPhone, PC or mac or log in to your Arlo account at my.Arlo.com:
If you can analysis the video feed from each of your Arlo Wireless cameras, then your Arlo base station is connected to the Internet.
Yet, if you see an error message, such as Arlo Base Station is Offline, instead of the video feed, then your base station is not connected to the Internet connection.
Switch off your Arlo camera, then remove the battery, and insert it again. Wait for camera LED operation when the battery section is closed. In case, the LED doesn't light up or get on, check and verify that the battery is inserted in the proper slot. Also, check if the battery is the low charge or dead.
The brownish-yellow color LED light signifies that battery is low.
Insert a fully chargeable battery if your battery is low or dead.
If you still see that LED light is not lighting up, even the battery is full, so it is feasible that the Arlo camera setting turned off. Turn off the LED and then logged out from the Arlo app. Then Sign in to the Arlo account.
In case you find that the Arlo camera offline issue still not resolved, then relocate your camera near to the mobile coverage string field.
Next, reset your Arlo camera login account and then set up your Arlo login account again on Arlo app.
When you notice that Arlo camera LED turns blue, then its signal indicates that Arlo camera is ready to work.
Fix your Arlo Base Station Offline Problem
The Arlo base station, which is also recognized as Central Hub, is necessary device for the Arlo camera. It is important to connect the base station with the internet or Wi-Fi network. Moreover, the Arlo camera and the base station requires to be synced with each other. In case, if you are facing Arlo Base Station Offline Issue, then try some of these troubleshooting solutions steps mentioned below.
Make sure the power adapter is connecting properly.
Examine the power adapter and be assure that it is connected correctly with the base station and to the power switch. It is also required to check whether the adapter is running or it has become out of service. If the adapter is defected, change the adapter or purchases a new adapter.
Check Ethernet cable
If your Ethernet cable is not touched with the base station and router correctly, you might face the Arlo base offline issue. You need to attach the cable properly to get the connection. Contact to your internet service provider or a technical expert if there is any problem in the Wi-Fi network or router.
If these opinions are unable to solve these problems, then Arlo Support team is always here to give you an expert technical solutions.