The Exchange Server allows clients to access & make changes in data files from the client side but sometime it may happen that unknowingly you remove or delete your mailbox from Exchange Server. Thus, it creates a drastic situation where you have lost all your important emails by this act.  So, in this article we will discuss about how to retrieve deleted mailbox in Exchange with easy manual as well as automated solutions.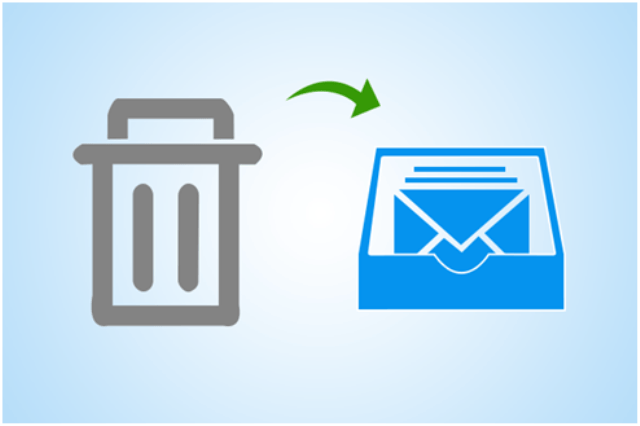 What Happens When Exchange Mailboxes are Deleted?
When email-enabled user account is deleted from Exchange's Active Directory or if the mailbox is deleted using Exchange Management console, then the deleted mailbox is retained as a disconnected mailbox. This is in accordance with the mailbox retention settings. The users can reconnect the mailbox to the original or another account if it is necessary to recover deleted emails in Exchange.
Important Points to be Noted to Retrieve Deleted Mailbox in Exchange
The mailboxes which have been deleted can or cannot appear as a "disconnected mail" as soon as they have been deleted. It can take about 15 minutes or an hour before the mailbox is marked as disconnected. If it still not appear then it is a different issue & users need to look for an alternative solution to recover deleted emails in Exchange 2016.
Sometimes, make sure to connect a disconnected mailbox with a user account but only, if the account does not have a mailbox associated with it already.
How to Connect a Disconnected Mailbox to Restore Deleted Emails
To retrieve deleted mailbox in Exchange the disconnected Exchange server mailbox can easily be connected in different ways. There are different methods like: Exchange Management Console (EMC) for Exchange 2007 & 2010, Exchange Management Shell (EMS) in Exchange Server (All versions), Exchange Admin Center (EAC) for Exchange 2013 & 2016 and also with the help of any third-party recovery software.
Step1: Connecting Disconnected Mailbox with EMC in Exchange 2007 & 2010 
Use EMC method to retrieve deleted mailbox in Exchange 2007 & 2010. Execute certain steps which are stated below:
Open EMC.
In the EMC prompt box, expand the Recipient Configuration node. Then click the Disconnected Mailbox list present under it.
Right-click on the mailbox which has to be retrieved & then click on Connect.
Now, choose the 'Mailbox Type' in the connect mailbox prompt & click on next.
Choose Existing User from the mailbox setting & then tab the Browse button.
Now, from the Select User prompt choose the user account to which the mailbox has been connected. Click OK
In the following Alias box add your mailbox name. Then click Next.
Thus, in this way user can connect with the disconnected mailbox to recover deleted mailbox.
Advantages
This is the in-built utility so users are not required to make efforts to go for it.
Free of cost
Disadvantages
Time consuming task
Requires Technical Knowledge
Step2: Connecting Disconnected Mailbox Using EMS
There is an another way to connect disconnected mailbox to retrieve deleted mailbox in Exchange (All versions supported) is by using EMS method. Here, the users need to use Set-Mailbox. The following is the syntax: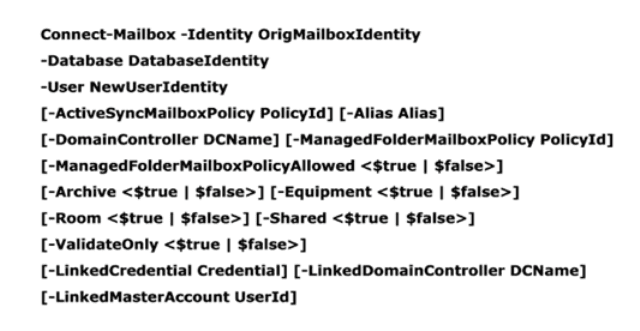 By using these syntax the user can connect with the disconnected mailboxes to restore deleted emails in Exchange.
Advantages
Free utility, thus users don't have to make an extra effort to look for it
Available at zero pricing
Disadvantages
Does not give 100% accurate results
Requires experience to execute the process, as it is lengthy & time-consuming also
Step3: Using Exchange Administrative Center (EAC) in Exchange 2013 & 2016
The following method works by connecting the disabled mailbox to a user account. The below mentioned steps will guide you to connect a disabled user mailbox to retrieve deleted mailbox. With the help of this method you can also connect 'linked mailboxes' & disconnect 'shared mailboxes' again to the account of the user.
Open EAC, go to Recipient then to Mailboxes
Click on More options & then on Connect mailbox option, all the disconnected mailboxes in the Exchange will be shown. The disconnected mailboxes includes disabled mailboxes, deleted mailboxes & soft deleted mailboxes.
Now, click on the disconnected mailbox & then click on the connect tab
Click on the Yes option to reconnect
Step4: Use Third Party Utility to Retrieve Deleted Mailboxes
The another way in which user can retrieve deleted mailbox in Exchange Server is by using third-party utility i.e Exchange Recovery software. This software is capable to recover corrupt EDB file in Exchange easily & efficiently. However, it is the difficult task to select the best one from the bulk of software available in the market. To make the task easy for the user it is suggested that the user can use Exchange Recovery tool by SysTools to easily recover deleted emails.
Features
The software supports to recover deleted emails from Exchange mailboxes
Repairs Exchange private & public folder and even STM files
Recover EDB mailboxes to Live Exchange Server, MS Outlook & Office 365
Supports dismounted & offline EDB file recovery
Maintains folder structure during Exchange Recovery
Allows to export by category: Mail, Contacts, Calendar, Tasks, Journals & Notes
Feature to apply File naming conventions to save Exchange emails in HTML, PDF, MSG & EML.
Conclusion
There is no doubt that the manual methods such as using EMC & EMS do exist to retrieve deleted mailbox. However, it is clear from the above comparison of these manual methods with third-party Exchange Recovery tool that the latter is more convenient to restore deleted emails in Exchange 2016. Thus you can use the software & move ahead with the recovery procedure.