As we all know, Gmail saves all necessary data like emails, calendars, contacts, etc on the Web.  Actually, Gmail is one of the most significant mail client and users do not know when their email account has been terminated or hacked too. For better results, most of the people prefer to take help of an alternate solution named as Gmail Backup tool to create Gmail backup in Outlook and any other email clients. Moreover, backup is considered as a good savior to safeguard the damaged or corrupted data for the future purpose. In this review, we will discuss about the how to take Gmail account backup on PC and other email clients like Outlook PST, EML, MSG and MBOX format
Take Gmail Account Backup using Gmail Backup Tool
Gmail email backup tool is a standalone utility and it allow the end users to take backup of Gmail account emails, calendars, contacts, etc from both single and multiple users account. Create Gmail account back up on PC and any file formats such as EML, PST, MBOX, and MSG. This tool helps to set the internet bandwidth for keeping the reliable and efficient Gmail backup. Also, the interface is really good even a novice user can use it without any consequences. The tool has been designed to work well with Windows 10 operating system & all the below versions.
Specifications of Gmail Email Backup Software
| | |
| --- | --- |
| Windows Compatibility | Windows 10 & all below versions |
| Processor Requirement | Minimum 1GHz |
| Required RAM | Minimum 512 MB of RAM |
| Hard Disk Space | 50 MB Free Space |
Different Version of Gmail Backup Tool
The Gmail account backup Solution is available in two variant editions such as Free and Licensed versions among which users can choose according to their needs.
The Free version of Gmail Backup tool is freely available for users to download from the official website. It will helps users to understand the complete working of the tool in much better way before buying it. It has few constraints over the licensed version that it exports only 100 emails and 25 other items (calendar, contact, documents) from each folder.
After understanding about the software and satisfied with working of the software, one can can order the licensed version of Gmail account backup tool from company's website. It will also permit the user to export the complete data from Gmail account including each and every email.
Noteworthy Features of Gmail Backup Tool
Take Gmail Account Backup on PC for Single User
Gmail backup is the best solution, which permit the users to take backup of a single Gmail account using 'Single User backup' option where users just need to provide separate Gmail account detail and continue with backup information.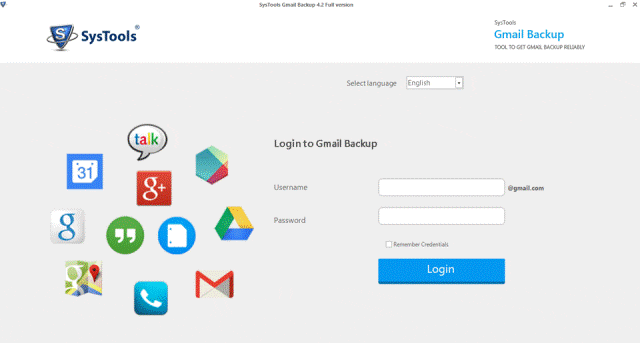 Take Gmail Account Backup in Bulk
Gmail backup tool facilitates the users to maintain the backup of all data items from multiple Gmail account and for this users can save all credentials (username & passwords) in a .csv file format and add it to the desired application
Compatible with Multiple Formats
Gmail email backup software take backup of Gmail account data in PC and different file formats like PST, MSG, EML and MBOX. When exporting Gmail account backup data to Apple, MS Outlook and Thunderbird mail clients is completely depends on the user's requirement on which platform they want to utilize.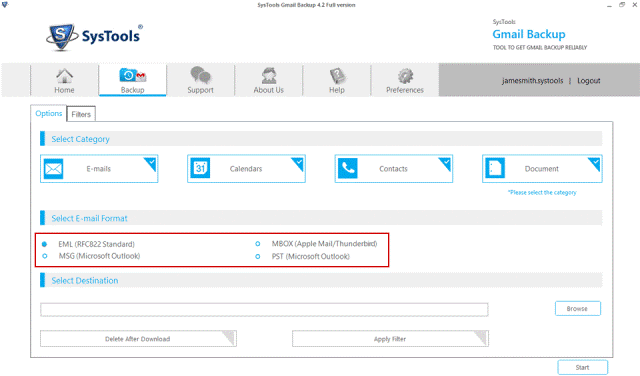 Tool Offers Date Filters Option
This software provides Apply Date filters option by which users can take backup of Gmail account data from the specific date range. Also, renders another option to select any folder from the Gmail email account.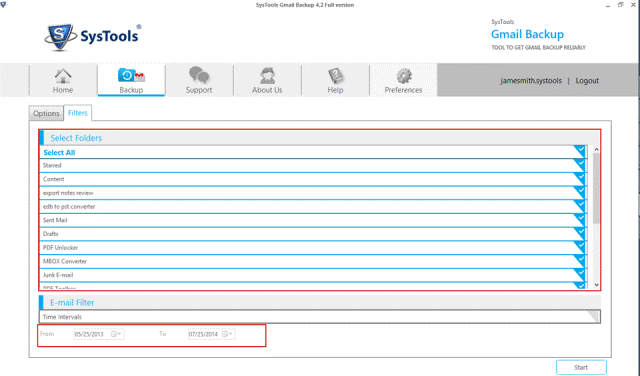 Available Pause & Resume Option
In case, the network connection interrupted or some other prospective users can use 'Pause' option for downloading all emails from Gmail account. Otherwise, users can select 'Resume' so that the process will continue the remaining downloads without overwriting the email data.
Backup of Document in Original File
Gmail backup software allows to create the complete backup of such document available in latest Google drive as the original file type such as Word file as .doc, portable file as .pfd and the Presentation as .ppt and so on in batch form.
Maintain Bandwidth Consumption
With this software, users can easily manage the total bandwidth for consumption by providing the speed of internet and percentage of bandwidth. As per user's choice, they can also decide the time slot and mention the BW consumption accordingly.
Get a Gmail Backup Report
Gmail account backup solution also generates the complete status report of Gmail backup process including details like count, email, calendar count, status and etc. Through which users can analyze the entire process of conversion without any risk.
Pros and Cons 
PROS
Provide backup only for Gmail contacts and calendars as well
Delete option for making the server space free after downloading
CONS
Cannot save Gmail credentials in any other users database
Observational Verdict
The software is capable that supports multiple file format (EML/PST/MBOX/MSG) to maintain the Gmail account backup. Also, it has multiple upgraded features so, we would like to rate this Gmail backup tool as 9.8/10 because it can not save user's Gmail credentials and information in any of database. We can easily say that it is a user-friendly application and can be freely used by technical as well as non-technical users.