Did you know that terms associated with 'price' and 'cost' have heavy search volumes? It is because any rational buyer would want to know the price of anything before making the purchase.
Of course, there are people who hold the view that business pricing should be kept offline. But, in today's Internet-connected world where almost everything is commoditized, pricing cannot be saved for offline discussion. In fact, it is often the first info that most customers want.
That makes the pricing page of your website a gold mine. It is where customers would land before deciding to pay. If done right, the pricing page can also act as a medium to create more leads. The same has demonstrated by HubSpot in their Inbound Marketing Strategy Case Study: The Priceless Download. Launching a price chart helped HubSpot client to garner 223 lead submissions in 4 months.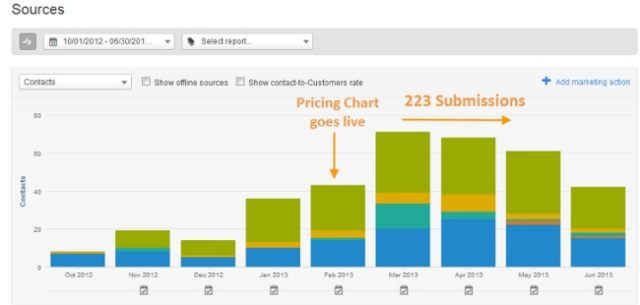 That said and proven, the pricing page is a must-have element for any business website. But, just publishing your pricing slabs randomly is not going to help. Putting together a well-thought pricing plan makes all the difference. There are several elements involved in it, which is what we are going to discuss in today's post.
Price tag
Your customers are coming to the pricing page to know the exact pricing. Don't beat around the bush showing other information or making the pricing ambiguous. It is not going to help them stay longer and will only backfire with high bounce rates.
Consolidate the pricing in easy-to-understand terms. Showcase the different price slabs each carrying a list of features available under each plan. If you have multiple plans, segregate each plan and show what is the rice applicable for each along with the list of features. In other words, the final price tag should be easily understandable by customers. Don't make them think of do calculations to arrive at the estimated pricing.
Billing frequency
Most products and services are billed monthly or annually. The monthly billing cycle is obviously priced higher than the annual plan. A simple toggle button that helps customers alternate between monthly and annual plans can make things easier.
Trust seals
"Earn trust, earn trust, earn trust. Then you can worry about the rest." said the American businessman and author Seth Godin. There are few things in business and also in life that are easily obtained like trust. But, once you have them, the returns are almost immeasurable.
It is not surprising that the PwC's Global Consumer Insights Survey 2018 found that "More than one in three ranked 'trust in brand' as among their top three reasons that influence their decision to shop at a particular retailer, other than price."
So showing that your business is trustworthy and secure to do business with itself is an achievement. And, there is no where other than the pricing page where you can show it the best. One way you can earn your customer trust is by showcasing trust seals and badges relevant to the product you are selling. You can also buy SSL certificates to encrypt data of website where free site seal is normally included with it. All these small things go a long way in making your customers trust your business more.
Multi-currency support
As a global business your business will have to transact with customers from all corners of the world, and also in their local currencies. If you are to display your pricing in a specific currency, it will make the calculation difficult for your customers.
Ensure that there is some provision by which they are able to switch currencies and decide the pricing in their local currency.
FAQs
No matter how hard you try to cram in all info, your customers would still have more questions. These can be easily captured, answered and showcased in the FAQ section. The FAQ section would also help in several other ways.
For instance, it will drastically cut down the number of inquiry calls or support emails your business could be getting. Placing the FAQ section right in the pricing page will ensure that customers are satisfied in all terms and easily persuaded to make the purchase.
Some more tips to make your pricing page highly-converting
Apart from having the above-mentioned elements in your pricing page, you can also use some tips to make your pricing page highly-converting.
Free trial
Everybody wants a sample of the lemonade before they buy the entire carton. Especially if your customers are going to pay a heavy wallet full of dollars for your product/service, they would definitely want to experience a free trial before going all in. Your pricing page could be the right place where they can sign up for the free trial.
Persona-based pricing
Every customers who come knocking at your pricing page has an individual persona. It is possible to group the several personas of your customer into groups. Now you can plan your pricing plans to match the requirements of these personas. This will not only address their needs directly, but will also help increase conversion rates for various price segments.
FOMO marketing
FOMO or fear of missing out a sensation that the millennial generation of customers have gotten used to. They do not want to miss the hottest deal, lowest price or the latest product. You can use this phenomenon to your advantage by integrating limited stock levels, limited period offers, only for first few customers offer and so on.
Exit intent popups
Despite your best efforts, there are customers who might slip between the cracks. For such customers, you can use exit intent popups that will catch them before they leave the page. You can give a special offer like free shipping on the first order, discount, promo codes, etc. that will turn them into customers than random visitors.
Final Thoughts
The pricing page is not any ordinary page. Like I said in the beginning of this article, it is a gold mine of sorts if used wisely. The tips explained above will help you turn your pricing page into a gold mine. Let me know how these tips are working for you.