Enterprises have so many contacts for the cross-interaction. These contacts are stored in an Address Book. Some of the email applications have their own file formats to save the address book. MAB, Mozilla Address Book, is one of these formats, which is supported by multiple email clients such as Thunderbird, SeaMonkey, Libre Office, etc. The format type of MAB file is Binary. Sometimes users face issues to read abook mab files. In addition, for those users who do not have any of these platforms available in the system, it becomes tough and challenging to view Thunderbird address book files easily. Therefore, in the upcoming part of this blog, we will discuss the suitable methods so that a user may view MAB files.
Before that Consider, these queries to understand that what kind of issues a user may face:
Query 1
"I have Thunderbird in my system, but nowadays I am busy in traveling due to professional reasons so I do not have my system with me. I have a MAB file, in the system that I am using nowadays. Therefore, I want to know, how can I view Thunderbird MAB file without installing Thunderbird in the system?"
Query 2
"I am running Windows 8.1 and SeaMonkey in my system. However I can view some of the  address files, but not all. The addresses are very much important and want to view MAB file on an urgent basis. I was searching for the methods and I found that there are so many users who are facing the same issue, but no solution. I do not know what to do in this situation. Please suggest me any method so that, I can read abook mab files as soon as possible."
Two Methods to View Thunderbird MAB File Format
Two methods, which we going to discuss are: one is manual and the other one is by using a third-party utility.
Method 1
Manual Method
When users make a single click to read Mozilla Address Book MAB file, they cannot view MAB file and an error message occurred as "Windows cannot recognize MAB file, thus Windows cannot open MAB file." This common issue arises the need of a method to read abook MAB files. Therefore, a possible method to open and view Thunderbird MAB file is through Libre Office. It provides the access to read Mozilla Address Book MAB file. Follow these steps as mentioned below to open the file:
Firstly, open an application Libre Office on your system
Now, click on the option to File and click on Wizards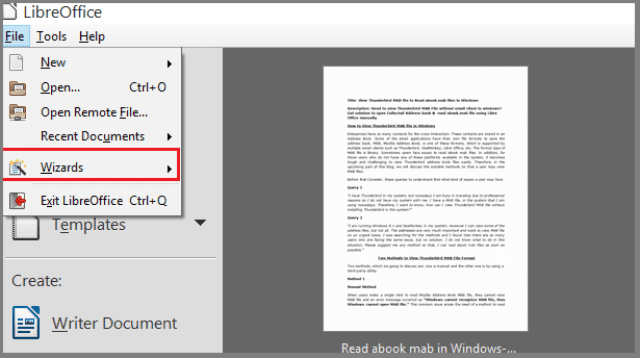 To proceed further, choose Address Book Data Book Source, from the below-listed options.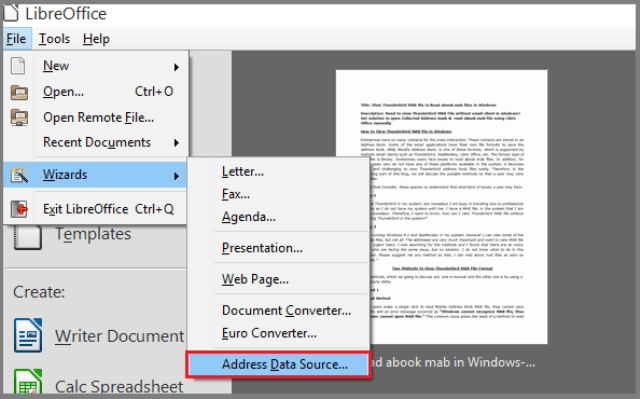 Choose an option of other external data source.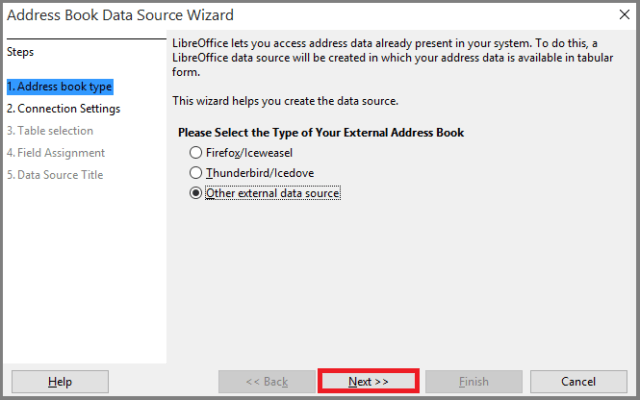 Finally, select the desired .mab file to be opened.
Limitations of Manual Method
There are some limitations, which makes this manual method less popular such as:
This can only be implemented once the installation of the driver for opening a MAB file is done. It is not possible to open and read abook MAB files without the installation of a driver for it.
The entire process is quite complex and time-consuming.
Alternative Method
Considering the limitations of manual methods, users can take the help of a third party tool, namely MAB Viewer. Using this software, user can open, read and view Thunderbird MAB file effortlessly. This tool does not require the installation of Thunderbird to read thunderbird address book files. Users can export details of contacts and search the contacts easily among the bulk of contacts. Moreover, this tool supports all the versions of Windows. All the contacts remain intact while using the software. Follow these steps to read Abook Mab file using this tool:
1: Download & Install MAB Viewer -: To begin the process, install MAB Viewer & Run this on your Windows system.
2: Add File to View Thunderbird MAB File -: Now, click on the option of Add File, which is on the Navigation Bar. After this, you will see two options:
File Option – By this option user can view a single file
Folder Option – By this option allows users can view the entire file within that selected folder.
Note: Choose any of the options as per the requirement.
3: View Thunderbird MAB File Data -: Now, finally, you can view and read abook MAB files in your system.
Conclusion
There is no doubt that MAB files are very important to each mail client users. It is not so easy to view Thunderbird MAB file without the required platform. Therefore, considering the need of the users we have learned two methods to read Mozilla address book files. Users are free to choose any of the method, which seems to be suitable for them. However, the use of a third party tool is recommended for an easy and trouble free way.