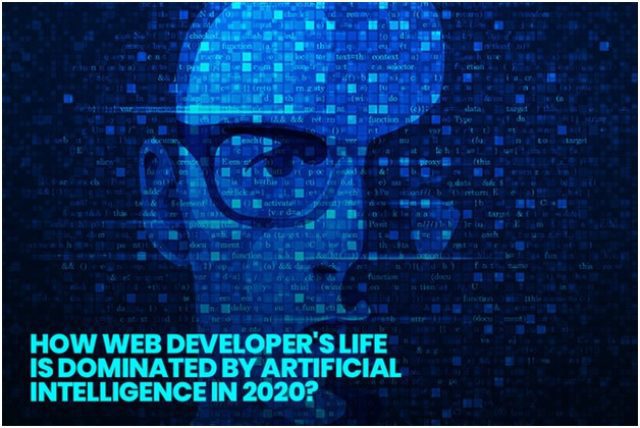 Artificial intelligence is a buzzword in today's digital era. More and more software development companies are reaping the benefit of this latest technology and making their applications more feature-packed and user friendly. Nowadays, artificial intelligence is being used by web developers to add more interactivity and user friendliness. Machine learning powered AI has become one of the best tools for Web App Development professionals, helping them to make their applications more advanced and gain maximum client contentment on the project. Let us first talk about some facts about the advent of AI:
Near approximately 80% of the businesses– small or big– are already investing in AI, a 2017 report.
Top tech companies like Amazon, Facebook, and Google are already investing heavily in AI.
47% of enterprises are already using digital practices along with a well-defined strategy for AI as per the recent report by Adobe.
AI-enabled tools and techniques will generate USD 2.9 trillion in business value in the year 2021.
In this blog, we will look out various ways in which AI is dominating the life of web developers or how web developers are making use of AI in creating feature packed web applications for their clients. Later, we will also see artificial intelligence and the future of web design and how artificial intelligence is changing the world. We will also see how most software development companies are inclined towards AI based design and development. So, let's begin:
How Is Artificial Intelligence Re-inventing Web Design & Development?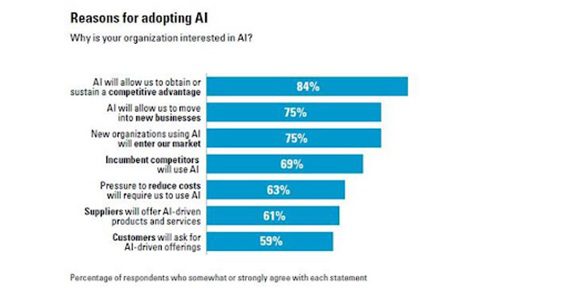 Artificial intelligence & machine learning can help small as well as big companies as well as web developers in resolving various development related issues related to quality analysis, user experience, security, coding and many more. Businesses can hire software developers in order to take advantage of AI-based web solutions for security and testing integration. In addition to this, they can use advanced algorithms of machine learning to improve user retention and user experience.
AI-based web solutions can also be used to enhance the performance of the website and to explore the responsibilities of the website for a plethora of operating systems and devices. So nowadays web developers are making efforts to create AI-based applications and tools that will help the web design community. Here are some benefits and advantages of using artificial intelligence:
Automate repetitive learning through data:
Artificial intelligence is not just about automating the manual tasks of web testing, it is about working with large data that need accuracy.
Adding Intelligence:
Artificial intelligence is widely used by web developers to enhance the capabilities of individual products or applications. AI capabilities such as robots, automation, and smartphones along with data can easily streamline processes in the workplace or at home.
Incredible Accuracy:
Deep learning can easily increase preciseness based on their frequency. Now you can use artificial intelligence technology from deep neural networks, image classification and object recognition in order to find absolute accuracy.
Benefits of Web Developers When They Choose AI As Preferred Technology
When a web developer chooses artificial intelligence, it gives bandwidth to add many features in their web applications. Here are some of the features of attributes a web developer can add when they choose AI for customer website development:
Chatbot: Better Reply Predictions
The primary use of artificial intelligence to improve sales of businesses is ensured with better answers. The first way that chatbots can easily predict user responses. In addition to this, these cars have shown that they are very beneficial mainly to help in the transmission process. The use of these bots is possible for the machine in order to interpret human emotions where communication can be made more general than mechanical.
In a sense, artificial intelligence is widely used to create web applications or networking devices that will effectively enhance emotions. Therefore in the days to come, users will find various easy ways to interact with websites with all the boundaries of systemic communication to relax.
Greater User Experience
For companies, it is possible to create a website with artificial intelligence and reach the website to better understand the requirements of customers. In addition to this, some innovative web applications will be able to find the mood of customers and know their needs easily. Besides, cognitive analytics and the environment – both the best way to influence a website and also statistical analysis where they can be benefited from predicting the best user interface and user experience.
This allows you to minimize errors and provide users with relevant value and experience. In addition to this, the most important thing is that websites have the ability to process information and data on any scale to suit users' interests appropriately.
Voice-based Search- Rise in demand
Web app development requires to think about the growth and evolution of voice search. It needs to look at how customers need data quickly and efficiently as they are doing every single one of these years. In addition to this, artificial intelligence will be a key element in website development in strengthening continuous voice communication between customers and websites.
This innovative technology will be an absolute necessity in the background of all virtual stores and e-commerce needs to see it. All of these recommend how artificial intelligence will be essential for networking, especially in situations where organizations are interacting with users at any level.
Users Store Experience
Today, users have a lot of experience with online shopping. Through them, you can imagine a unique and personal shopping experience with a website that uses AI. In addition to this, every business can hire the best web development agency and create a site that provides customers with incredible networking.
Such websites can take customer engagement and communication to a new level. In addition to this, buyers can understand what it means to shop with humans in real terms as websites can understand their needs optimally. Obviously, customers can increase their expectations and expect to deliver in the best possible way.
AI sparks interest in web development
Custom web app development is a complex area to master. Everybody understands the time and patience that comes with creating a web app that is in the first place. In addition to this, the problem with the step study is that people who might be interested in developing a web site have no idea from where to start.
There are generally 2 types of business owners: that businessman who pay someone else to do coding and development and those who create web apps themselves. Now the 3rd option, known as Artificial Design Intelligence (ADI). In addition to this, ADI amalgamates these two approaches and produces an individual experience for new designers.
AI enhances online businesses
Business owners also profit from using artificial intelligence while building their web applications. An ideal example to describe this item is chatbot technology. In addition to this, before we can use bots to communicate with customers, companies must also hire supporters to help their customers around the clock or risk high yields with low retention.
Now, the owners of the companies can be sure to exactly know that artificial intelligence exists to help their patrons day and night. It's crucial to keep in mind that similar to all artificial intelligence, this does not mean that human interference will finish. Rather, it is designed to cope up with various repetitive tasks & volunteer work in order to help clients with various complex questions and problems.
Artificial intelligence is also able to help companies all across the globe make well-informed decisions about their audience and website. As we know, artificial intelligence is great for analyzing numbers and collecting data much faster than an individual. In addition to this, due to this superiority, most of the companies use artificial intelligence to improve the overall user experience by gathering data from consumers who visit a website or page and turn that data in a clear direction and growth.
AI improves user experience
Finally, let us take a quick look at how artificial intelligence is enhancing web app development and UX from a custom development point of view. When you understand that 70% of consumers search on various online channels before making a purchase, it is no surprise that artificial intelligence can be used on a broad way to help your consumers make well-informed decisions.
The last time when you were doing shopping on Amazon or Flipkart and the product you were looking for, came up with the magic of your recommended services and goods. Here is the thing- it is not magic. Instead, artificial intelligence is hard work.
Artificial intelligence can collect and track consumer data in order to show relevant product recommendations for online shoppers. In addition to this, many of the web app in this group have the ability to tell if the offer was widely useful. In addition to this, your answer to this question extends to the artificial intelligence ​​program, as it gathers the answer along with countless others in order to improve prospects for future customers.
Hulu, Netflix, and similar streaming services use artificial intelligence programs to create show suggestions based on previously watched shows of the users. For instance, if you cannot stop watching action and horror movies, then you are more likely to watch shows with this genre on your recommended list of views. In addition to this, the company takes this information and clearly explains what it should be like on their platform and how to create future playlists.
Future of Artificial Intelligence in Web App Development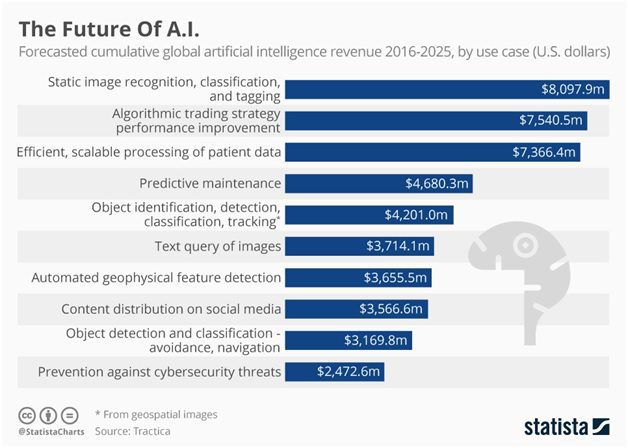 There are a plethora of things artificial intelligence can offer to various industries, and web design has not touched it either. Artificial intelligence can do daunting website design tasks that will help designers create web applications from scratch. It can analyze content and user preferences for website customization. It can help experts and beginners alike, and it can enable a beginner to manage their web applications without problems.
AI devices can be engineered with their advanced cognitive capabilities. In addition to this, machines can feel the environment around with the help of sensors and the Internet of Things (IoT) that can be helpful in stimulating their imagination and using it to create some eye-catching graphics. Like a human, he can easily search for references from the Internet to produce some beautiful graphics.
One of the important differences between the ineffective program and the smart algorithm is that the first will perform the same sequence of tasks without looking at the context. The smart algorithm knows what the user wants and does by looking at the context. Because of the cognitive capabilities of artificial intelligence, he or she can choose the color that fits the tone of the website and the user's choice.
Most websites fail due to design inconsistency. The discrepancies are so low that designers cannot recognize them, but it affects the user experience very poorly. The machines are extremely useful for correcting and capturing inconsistencies. Artificial intelligence can quickly capture discrepancies due to unparalleled cognitive abilities and problem solving using a combination of machine learning capabilities and context understanding.
Modern artificial intelligence can detect slight differences in images. The images are actually made up of small pixels, each responsible for creating a final piece of art. Artificial intelligence can read and mark every pixel in an image. It can identify the object in the image by separating the pixels in the images. Likewise, artificial intelligence programming can train it to define different structures on similar websites.
Let's Wrap Up:
So in this blog, you have seen various ways a web app developer can be benefited from AI or we can say that how AI can help web developers to make their task more unique. No doubt, AI helps web developers to add many good and advanced features in the applications.
So if you choose a web development company, you can make sure that their web developers have good knowledge of artificial intelligence development so that they can add various unique and excellent features in your web applications.