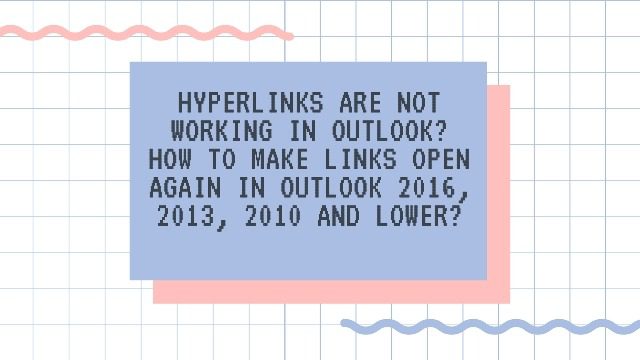 MS Outlook is one of the best Communication platforms for an organization. We are so much indulged in it that we may use to avoid some of the useful features too like Email Hyperlinks not working in Outlook. We all send emails including hyperlinks, to make it easier for the receiver to just click on it and view the output directly because it is very much convenient to open hyperlinks in a web browser automatically.
Here in this blog, we will solve the issue behind the error saying can't open hyperlinks in Outlook 2016, 2013, 2010 and lower. We will discuss the reason and solutions to resolve the issue email hyperlinks not working in Outlook.
Why one can't open hyperlinks in Outlook?
After doing so much analysis we came into consideration that due to some certain activities it may break links from the emails in Outlook because of which you can't open hyperlinks in Outlook 2016,2013, 2010 and lower. Let us see what all are they!
Installing new update of Windows
Install or Uninstall browser
Installing add-on without checking
Installing various plugging and add-ins
Unknowingly installing the disk cleaner
Important Note:- Microsoft Outlook provides one global setting for junk mails which is active by default to disables the hyperlinks. You may have noticed when you have clicked on hyperlinks that the hyperlinked has been converted into plain text and links are disabled. You can resolve these issues by dragging the email from junk email folder to the inbox directly. Let us see some more easy methods to resolve this issue suggested in Microsoft Support.
Method1:- Easy Fix
This can be done automatically just by visiting Microsoft support Site and hit the download button. Just run and open and follow the steps in an easy fix wizard. To make it more convenient for you, we are pasting a link here, just visit the page and get the easy solution to fix the problem of Email hyperlinks not working in outlook 2016,2013, 2010 and lower.
https://support.microsoft.com/en-us/help/310049/hyperlinks-are-not-working-in-outlook
Method2:- Reset Internet Explorer settings
Open IE
Click Tools from Menu
Select Internet Options
Select Program tab
Go to Make Default
Click OK
Now you can test a hyperlink in Outlook to see if the web page opens in Internet Explorer.
Method 3:- Export/ Import the Registry Key
Export>>
Select a computer which is not having the "hyperlinks not working in Outlook" issue
Go to Start and Run
In Open Box type regedit and select OK
Now locate and Click on the following key ie, HKEY_LOCAL_MACHINESoftwareClasseshtmlfileshellopencommand
Now go to File Menu, Select Export
Now locate the destination where the files will have to be saved.
Give any unique name and do Save the file
Exit
Import>>
Copy the key which is exported to your system desktop
Double-click the .reg file
You will get confirmation message, Select Yes or OK
Verify>>
Now you have to verify the String Value "HKEY_LOCAL_MACHINESoftwareClasseshtmlfileshellopencommand" to be as HTML file
Go to Start>Run
Open and type regedit and then Select OK
Locate and click the string again
Make it clear that the string value is in HTML file format if not then right click(default)
Select Modify
Go to value data box and type HTML file
Select OK
Exit
Coming back to FireFox
After getting your Email hyperlinks not working in Outlook  issue resolved you will find that Outlook links are getting open in Internet Explorer. You can change it to your default browser to FireFox. How? Check it out
Set Firefox browser to be default browser,
Open Firefox
Go to Tools from Menu
Select Options
Click Advanced
Click on "Make Firefox the default browser" button.
Method 4:- Using SysInfo PST Recovery Software
Outlook PST Repair tool is the complete user-friendly software to which any computer novice can use it without having the technical background. It is smartly fused with recovery algorithm that it recovers and repairs any corrupt, damaged and inaccessible PST files with a single shot. It comprises of many interesting features including quick scanning, smart preview, auto search, multiple saving options, log file generation, 100% Compatibility with Windows OS etc. It is available online as a free demo version by which you can analyze the software working and its functionality. Free demo version of PST Recovery tool is same as the licensed version but there is only one limitation that you cannot save the file. To work freely you can purchase the licensed version of the software and make yourself fully comfortable and work with it effortlessly.
Hope these simple and smart methods will be helpful to you in solving the error!