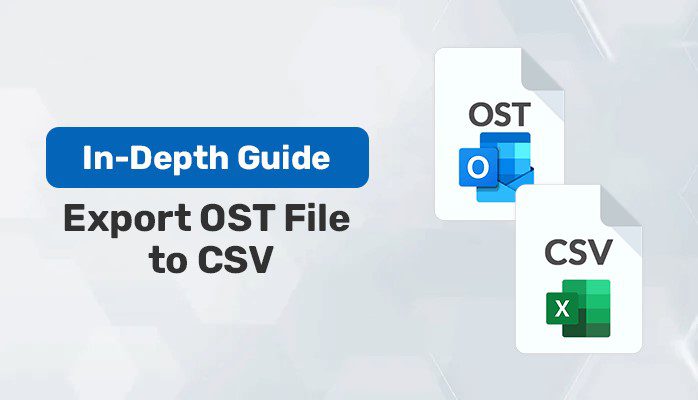 Are you looking for a solution that can help you to export your Outlook Offline data file (.ost) into CSV format? Hold this article you will be provided with the best native methods that will help you to solve your task of exporting OST files to CSV easily. Along with the manual method, we also have a professional way OST to PST Converter Tool, which is a complete solution on its own to accomplish your task without any hassle.
Introduction
A Comma Separated Value (CSV) file contains your email's important information, such as Contacts, Emails, and other types of data. It contains data in tabular form, and every element of data is separated by a comma. As it can be opened by many applications such as Microsoft Excel, Spreadsheets, and others, due to these advantages of a CSV file, many Outlook user wants to convert their OST files to CSV. So stay here in this article, we are going to provide you with some best methods which will help you to export OST file to CSV.
When we talk about an OST file, it is an offline Outlook data file that can be only opened when it has been created. A .ost file contains the user's crucial data in MS Outlook, like Email messages, Calendars, Contacts, Notes, etc. But the OST file is not readable, so at the time, many Outlook users need to export OST file to CSV for sharing, reading, etc., purpose. In the next part, we will see some magnificent reasons behind converting OST files into .csv format.
Why Do Users wish to Export OST Data to CSV Format?
Here are the most appropriate benefits of converting .ost files into a CSV file format, which are as follows.
CSV files are used widely and supported on almost every device, so converting your .ost data into CSV format is beneficial for many purposes.
The OST files are not suitable for sharing purposes. Therefore, exporting your OST file into CSV format helps you to share and read the mailbox data easily.
Taking a backup of your OST data in CSV format saves you from accidentally deleting the mailbox and helps you to recover the data.
CSV is an easy-to-use and standard file format, and it can open with many software such as Google Spreadsheets, MS Excel, Notepad, etc.
The above-pointed are the main reasons why users are excited to convert OST file to CSV. However, In some instances, users also want to convert OST to PST file format through a manual method. Now, In the next part, we will discuss the manual methods that enable users to export their .ost files into .csv format effectively.
Manual Methods to Export OST file to CSV
Here we are providing you with a manual method by which you can export your .ost files into a CSV format. But before performing the manual steps, you need to ensure first that you have installed the Outlook application and an active Exchange profile, there should be the same profile configuration in your Outlook and Exchange Server. Now, follow the given steps in a sequence way to execute the task completely.
Launch the Outlook application and log in with your Exchange account credentials.
Next, go to the File menu, and click on Open & Export.
Here choose the Export to a file option from the given options and hit the Next button.
Now, choose the Comma Separated Values, and click Next.
Afterward, choose the desired folder you want to convert and hit the Next button.
Here, click on Browse to give a location, and filename, then click Next.
Finally, hit the Finish button to end the procedure.
These were some steps to convert OST file to CSV format. But this manual method contains some limitations, which are pointed out in the below section.
Drawbacks of the Manual Procedure
Here are the major limitations that users can face during performing the manuals. Some of them are pointed out below, which is a complete solution on its own to accomplish your task
To use this method, there must be installed the Outlook on your system. After that, he can perform the manual steps to convert OST to CSV.
It does not allow users to convert their .ost files to CSV format in bulk.
The manual method does not permit the users to convert a corrupt ost file into CSV.
The users must have the technical knowledge and much time for performing this method.
We have seen above the major limitations of the manuals, which can create problems for the users and can't fulfill all the needs they want. Therefore, we are here to solve your query with the most reliable and effective professional utility, which will provide a better way to execute the task and export OST data to CSV.
Standard Way of Exporting OST File to CSV
OST to PST Converter Tool is sufficient to convert your .ost file into .csv. Moreover, this tool allows you to export OST files into multiple other file formats like PST, PDF, MBOX, MSG, DOC, and others. Also, it permits you to migrate your .ost files to many email clients such as Gmail, Yahoo Mail, Thunderbird, Office 365, and many more. Now, have a glance at the steps of the tool that will help you to export your Outlook offline file into .csv format.
Procedures to Convert OST to CSV
Follow the given steps to complete the task of converting the OST file into CSV format.
Download, Install, and Run the Cigati OST to PST Converter Tool.
Here, choose Single File or Multiple Files/Folder Options to add an OST file.
After that, click the Browse button, select the OST file from your system, then hit the Open button.
Check the Multiple Files/Folder, and then Select Files or Select Folder.
After that, choose the files or folders from the system and click Next.
Here, in the Mailbox Preview, select the emails/folders to convert into CSV format and hit the Next button.
Select the CSV format from the drop-down menu and apply additional options as per your choice.
Click the Path to Save button to assign a location where the converted file will be saved.
At last, hit the Convert button to start the conversion process.
Conclusion
In this blog, we have discussed how to export OST file to CSV with all the possible solutions. As we have seen in the manual method, there were some limitations, and users wanted to dismiss it. So we have introduced the best tool by opting you can ignore the manual procedures and their restrictions and execute the task without facing any disturbance.