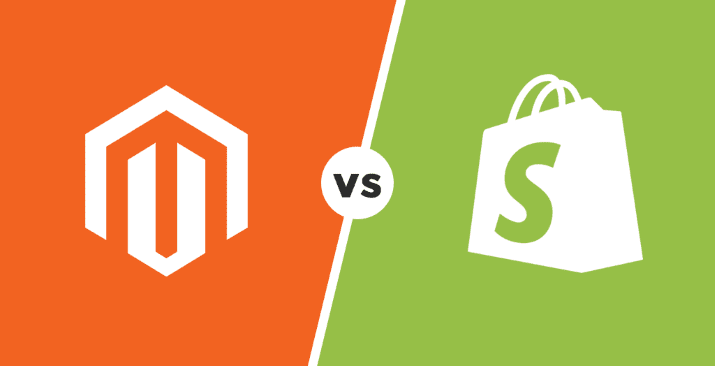 You are not alone if you are having trouble deciding between Magento and Shopify in the year 2022. Magento and Shopify are, after all, two of the most popular eCommerce systems available. And, while it's natural to compare the two, they're pretty distinct and serve quite different objectives. If you wish to create software such as Shopify, then you should contact Shopify Developers UK.
Pros and Cons (Magento) (Shopify)
Pros of Shopify
There are approximately 100 gorgeous, mobile-friendly storefront templates to pick from with Shopify.
This is a full eCommerce website builder with an amazingly strong App Store.
You might get your business up and running in a couple of minutes.
Assistance is accessible 24 hours a day, 7 days a week.
Cons of Shopify
Only ten of their themes are available for free.
Adding multiple apps to your store can make it more complicated.
Per-sale transaction charge
Magento Advantages
It's a very adaptable platform that allows you entire control.
Users have a large community of support.
Because it is an open-source platform, it is completely free to use.
Cons of Magento
If you don't know how to code, Magento might be intimidating.
To get your shop up and operating, you'll need a large amount of time.
Magento might be costly due to factors such as hosting and app charges.
Feature Comparison
Magento has a few fundamental features:
Product management: The platform allows for numerous photos, comments, and reviews for items, as well as a favorites list and inventories, among other features.
It simplifies the process of searching and selecting items by category.
Inventories management: You may also import and export inventory of goods that are still in stock.
Transaction history, account status, favorite catalogue, shopping cart, and other features are available in the client account.
Customer service: It includes a customer contact form, extensive follow-up, and email integration.
Payments: The platform accepts a variety of payment options, including PayPal, credit cards, Authorize.net, third-party payment modules, Google Checkout, and more.
Search technology: The search feature is quick and easy to use, including support for Google SiteMap
It has multilingual capabilities and supports several currencies.
Promotional and marketing tools: These enable you to include discounts, special offers, and more.
Analytics and Reporting: You may use Google Analytics to integrate and create reports.
Shopify has the following features:
All of the essential and advanced features of a shopping cart
A website builder that is accessible over the internet.
100+ professional themes on a full blogging platform
There are 70 payment gateways available.
Option for branding and personalization
Ready for mobile commerce
Your web address
Capabilities for drop shipping
SEO and marketing
Shipping prices are calculated automatically by the carrier.
SSL certificate for free
With Shopify, you may accept credit cards.
Shipping prices that are flexible
Calculation of taxes on the fly
Multiple languages are available.
Fulfillment of orders
Templates for emails
Analytics
Themes and Designs
The theme of your online store determines what your customers see when they arrive, and 48% of visitors say the design of a website is the most essential aspect in assessing a company's legitimacy. With that in mind, you'll want to pick your template carefully if you want to make a strong first impression and gain trust.
Shopify received a 3.7/5 rating in the design study category with 10 free and 64 premium themes whose costs are much cheaper as compared to the theme on Magento. Shopify's are all mobile-friendly, which ensures that they'll look great on any device, including smartphones and tablets. This is significant since 79% of mobile phone owners have completed their internet-based transactions in the recent six months. You may then become wild with modification by incorporating additional web pages modifying the color scheme, relocating and rearranging items, incorporating social network feeds, and much more once you've picked your Shopify template. You can accomplish this without writing a single code. Shopify offers a larger (and less expensive) theme selection than Magento. You don't need to know how to code to alter Shopify's themes, which makes customizing your selected template to your brand's demands a breeze.
Ease of Use
If you choose a platform that is too difficult to use, you will be unable to construct the eCommerce shop you desire, which might be detrimental to your brand's image. Shopify is altogether more easy to understand than Magento. Shopify is a simplified webpage building platform that permits you to easily modify your business by relocating objects across the page.
Shopify got a 4.1/5 in the convenience study, though Magento got a 2.5. Generally, Shopify is intended for clients of different specialized ability levels, though Magento is planned solely for web engineers. In contrast to Shopify, the training curve for Magento is rather high. To establish the internet store you desire, you'll need to decipher the language and apply code or pay a web developer to do it for you. Magento is hard to work with as compared to Magento is substantially more adaptable than Shopify because it permits you to customize your site utilizing code, but on the other hand, it's undeniably more hard to utilize – making it hard for most clients to make a business they're fulfilled of.
Costs
Basic Shopify Plan: about 22 pounds Plus 2% transaction costs
Shopify Plan: about £60 per month + 1% transaction costs
Advanced Shopify Plan: per month about 227 pounds) + 0.5 percent transaction costs
Lite Plan: about £7 per month + 2% transaction costs
Shopify Plus Plan: Request a quotation from Shopify.
The basic package simply allows you to advertise on Facebook, on a current site, or in person. The Shopify + plan, on the other hand, is designed for high, high-volume webshops. The Shopify POS plan helps retailers sell offline. It's important to note that the POS strategy isn't self-contained. The plan must be purchased as an add-on to a current Shopify plan.
Performance and Speed
The success of your online shop hinges on its ability to respond quickly. Customers won't stay on the website if it's sluggish, and even a second wait can reduce conversion rates.
Magento: If you're self-hosting your store, you're in charge of keeping it fast and responsive. If you use hosting services, the speed of your site will be determined by the hosting provider's site optimization methods. So, if you have a team, you could be okay. However, if you don't have any experience with Magento, you may seek expert assistance from Magento developers.
If we're talking about Shopify in the fact that it is a comprehensive solution that promotes site quickness and efficiency. Shopify businesses are quite quick, and until you introduce a lot of items and plugins, you shouldn't have any problems.
Security and Hosting
Hosting and security are important considerations that must be addressed. Your hosting company should be able to give you a scalable, user-friendly, feature-rich solution that will allow you to easily develop and manage your site while maintaining security.
Magento: As previously said, Magento may be self-hosted or you can use a third-party hosting provider such as Nexcess. Depending on the price levels, it might cost a few dollars each month. You also have the option of changing hosts if you are unhappy with the services. Magento has several security features, including protection against cross-site scripting (XSS) and clickjacking. They also provide fixes and repair vulnerabilities to ensure the highest level of security.
Shopify: You don't need to locate a web hosting solution because Shopify is a fully managed e-commerce platform. They provide all of the functionality you'll need to manage your site smoothly. You do not, however, have the option of changing the host. Shopify is in charge of security, including patching, updating, and installing security certifications regularly. It protects private data using SSL encryption and PCI compliance. However, if you want advanced protection, you'll need to contact Shopify; you won't be able to do it on your own.
Final Takeaway
There is no clear winner in the Magento vs. Shopify dispute. It's totally up to you, your company's requirements, and what you're searching for.