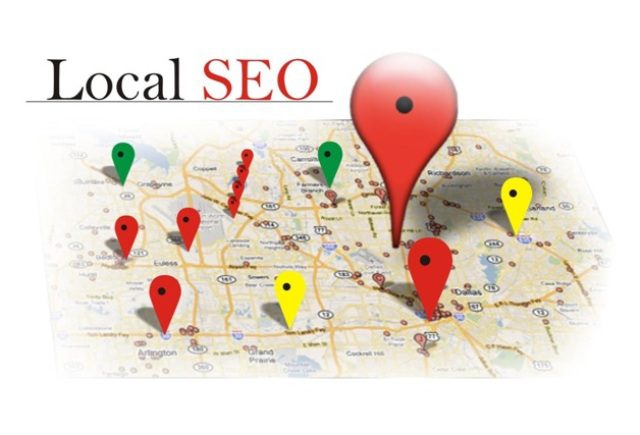 A lot of people have made the mistake of thinking that SEO and the internet are only for those who mainly have their business operations online. Well, there was a time when this was largely true but that has changed.
The internet can now be used to promote physical companies and products, and even local businesses that do absolutely no business online. A restaurant in Miami can now use the internet to direct people to its physical location. Same goes for a cake shop, a flower shop and any kind of business you can think of.
All these are driven by what we now know as Local SEO.
What is Local SEO?
Local SEO is a type of search engine optimization that focuses on a specific locality. The internet can be borderless, meaning that a person can advertise their business to the entire world from a small office in Miami. However, with local SEO your advertisement is focused on Miami alone.
This is very important for one very obvious reason. In the example we gave above, we looked at a restaurant, cake shop and flower shop all in Miami. Now imagine that the restaurant in Miami advertised to the entire world, what sense will that make?
You cannot order their meals online and have it shipped across the world. You cannot even order it, and have it shipped to another state. This type of advertisement therefore amounts to a waste of resources. The restaurant's target audience is based in Miami, so the advertisement is targeted with precision at them, providing them with information such as address, time of operation, phone number and other useful information.
Why is Local SEO Important to Miami Businesses?
Every business wants to grow so to put this discuss in proper perspective, let us look at why every business should take local SEO seriously. Local SEO is a major factor in determining local business growth because of the massive increase in local searches, also known as "near me" searches.
Here are some important stats. Almost 50% of all searches conducted on Google are local searches. So, if almost 4 billion searches are conducted daily on Google, we are looking at about 2 billion local searches daily.
It has been found that about 86% of consumers find the local businesses they patronize through local search.
72% of consumers who conducted local searches eventually visited a local business within a five-mile radius of them.
About 78% of local searches resulted in sales made offline with local businesses.
Are you aware of the massive increase in the use of mobile devices as the primary means of accessing the internet? Well, this has also had a major impact on local searches as about 89% of the people that carry out searches on Google carry out a local search on their mobile devices.
It gets more interesting.
About 87% of the owners of smartphones carry out at least a search on them daily. Of these searches, about 50% are local searches and of these local searches, about 50% end up visiting a local store within 24 hours.
In fact, about 60% of American adults search for local services, products or information on their smartphones.
Most consumers are now checking for direction, reviews and recommendations before visiting a local store. What all the stats above and others not shown here point to is the fact that local or "near me" searches have become a major tool for driving traffic to physical business locations.
It certainly is something that every small business should take full advantage of. Read this article here to get more benefits of local SEO.
How Can You Implement Local SEO?
There are certain steps you can take to ensure you begin to get as much traffic as you can from local searches. Your ultimate goal is to appear in the Google 3-Pack (shown below). This is the first 3 organic results that will appear in a local search.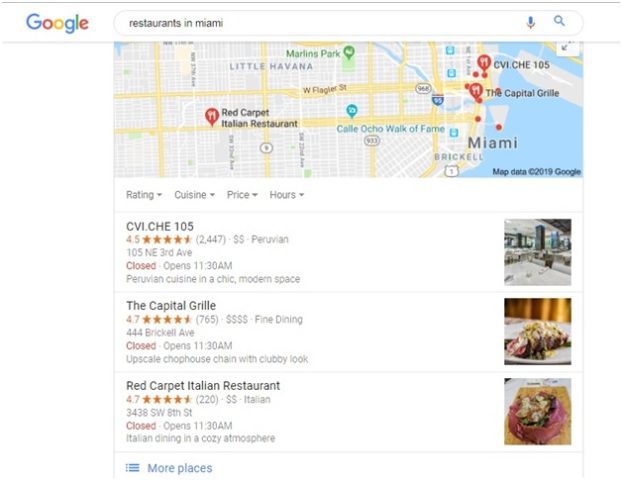 The businesses in the 3-pack receive almost 50% of the traffic for each local search. That's the reason why your goal should be getting into this elite group. So, let's look at how you can get into this high traffic generating club.
There are a number of things you need to do, and these are divided into on-page and off-page activities. On-page activities include all steps that will be taken on your business' website while off-page activities refer to steps that will be taken outside of the website.
On-Page Activities
Optimize Your Site for Mobile – This is critical to your success with local SEO. With the statistics we have seen above, it should be pretty clear that any website that is not optimized for mobile devices will by default lose a huge chunk of local searches. Besides, Google penalizes websites that are not optimized for mobile, so you will also be losing out on the general SEO front.
Optimize Your Meta Description and Title – It's not enough for your website to be listed among the 3-pack. The title and description the searcher will see will determine if they will click on your link or not. Make your description precise and catchy.
Add Clickable Phone Number and other Contact Information – What's the point of appearing in the 3-pack if the visitor cannot immediately get in touch with your business? Since a lot of these local searches will be done from smartphones and other mobile devices, it is important that your business' phone number is clickable. This increases the chances of the visitor getting in touch with your business immediately.
Add a Site Schema – This will make it easy for search engine crawlers to go through the different pages of your website.
Off-Page Activities
Register on Google My Business – This is a very important step to take if you want to rank your local business on Google. Register your business on Google My Business and while you are at it, register also for Bing Places for Business.
Register on Online Directories – Registering your business on Yelp, Citysearch and any other online directories will help. You should also consider your local directories as these won't harm your cause at all.
Improve Your Social Media Presence – Social media is a very powerful tool today. Improve your presence on relevant social media as a way of helping boost your local search ranking.
Get Reviews – On the Google 3-pack, you can see that each of the listed sites include reviews from users. These reviews help your ranking with Google and potential customers. There's hardly any customer today who does not rely on reviews from previous customers to decide whether or not to try a new business. You can use services like Reputation Loop and Trust Pilot for getting reviews.
Build Links – Inbound links help your site's authority ranking with search engines. The more quality inbound links you have, the higher your authority ranking with search engines will be. This will also help your local search ranking.
Conclusion
The steps listed above may look like a lot to handle considering the fact that you also have your business to run. Note that these do not actually cover everything you need to take care of. Rather than get overwhelmed by the different things you need to do to rank your business, allow professionals like those you will find on http://miamiseobitch.com/ handle these SEO strategies for you.
You will be better off focusing your energy on serving the customers that will start flooding in as a result of professionally handled SEO strategies. Grow your local business today with the right implementation of local SEO strategies.