In order to manage our PC's disk Partition job, Windows provides a built in disk management utility. But it does not have adequate features. Thus, in order to split, merge, copy, extend, or resize one of your disk partitions, you should not settle for less than a professional partition management tool which has all the features and functions needed to get the job done securely. Now you might think among the Partition Software's available in the market which one is the best.
MiniTool Partition Wizard is the pioneer of all partition software available. This Lightweight utility comes with an attractive and easy to use interface and plethora of partition and disk related utilities and tools. This software offers free and paid versions, while free version has many features, but it lacks batch operations and other features found in paid version. I will explain you more about the features of MiniTool Partition Wizard but before that check the requirements needed to run the software in your PC.
Also Read: AOMEI Partition Assistant Review – Safely Partition Your Hard Drives.
Recommended hardware and supported File systems and operating systems:
Computer processor: 1Ghz 32-bit (x86) or 64-bit (x64) processor
System memory: 512 MB or more minimum hardware requirements
Boot firmware: Bios-based, UEFI-based
Computer processor: modern processor, 800 MHz or faster
System memory: 256 MB
Installation disk space: 150 MB
FAT16, FAT32, NTFS, Ext2, Ext3
All editions of Windows XP, Windows Vista, Windows 7, Windows 8/8.1, Windows 10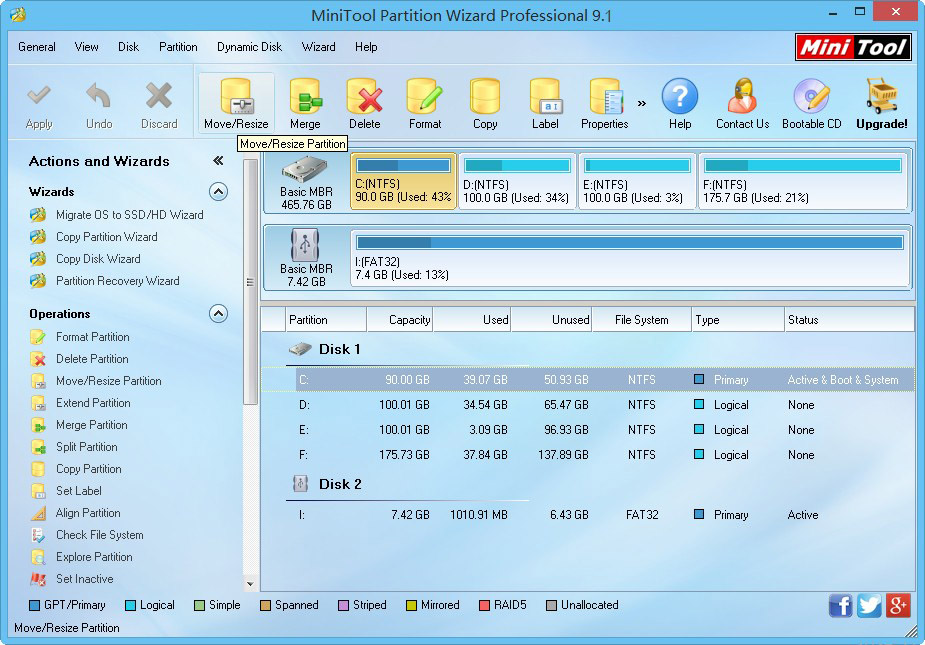 Feature List of MiniTool Partition Wizard:-
Basic Partition Management (free and Pro Versions)
Create Partition, Delete Partition, Format Partition, Hide Partition, Change Drive Letter, Set Partition Label, Convert FAT/FAT32 to NTFS
Advanced Partition Management (free and Pro Versions)
Move/Resize Partition, Extend Partition, Split Partition, Align Partition, Wipe Partition, Explore Partition, Convert NTFS to FAT 32, Set Partition as Primary, Set Partition as Logical, Copy Partition Wizard, Partition Recovery Wizard, Migrate OS to SSD/HD, Windows Storage Spaces
Basic Disk Management (free and Pro Versions)
Disk Copy, Delete All Partitions, Align All Partitions, Recover All Partitions, Rebuild MBR, Wipe Disk, Convert MBR Disk to GPT, Convert GPT Disk to MBR
Additional Functions (Pro Versions Only)
Merge Partition, Change Cluster Size, Resize/Move Dynamic Volume, Delete Dynamic Volume, Format Dynamic Volume, Change Dynamic Volume Letter, Change Dynamic Volume label, Wipe Volume, Change Dynamic Volume Cluster Size, Convert Dynamic Disk to Basic, Copy Volume
Pros:
The software has Intuitive and attractive interface
Quickly scans and finds all the major partition
Full support for both FAT32 and NTFS drives.
The software is safe to use.
Cons:
None, but need more feature in future updates
Conclusion
Won't it be easy for you to compare all the versions. If you are looking for a simple professional partition tool that you can easily and safely use to partition your hard disk go for the free version of MiniTool Partition Wizard gives you so many features. But if you are a professional and want more utilities and tools go for the paid versions available.