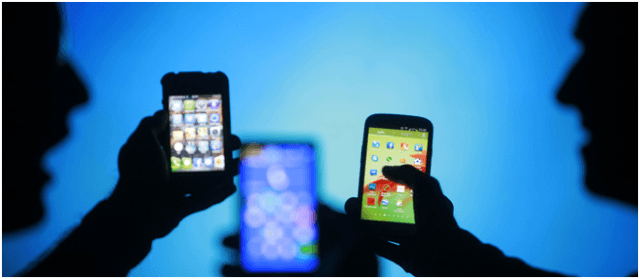 Let's imagine the life without mobile phones for a while, May be you will feel like there is nothing to do and even nothing to survive. Mobile phones are not just communicating devices anymore, they are much more now. It has become our basic need or we can say a world. It will be very difficult to find a single person without a mobile phone. It's like having your own world in your hand. If you are sitting in the public place, you will see more than half of them are using mobile phones.
How were the lives without mobile phone?
It is hard for us to remember going through life without mobile phones, but there was a time when we all used to memorize phone numbers and use calling cards. Millennial can't even imagine the efforts that people used to make calls to their best friends. People of that era schedule their time to talk relatives. Kids had to beg their parents for a phone line so they could talk for hours to their friend, making prank calls to annoy their friends, getting lectures on phone calls, writing phone numbers on the text book of their friends, they used to honk when they arrived at their friend's home to pick them up. People used to get photos on disposable cameras and get super excited to develop them. That time has its own value and memories that are unforgettable for them.
How mobile phones have changed our lives?
Mobile phone has totally changed the way we communicate, the way we live, the way we think. It's like a small personal computer in our pockets, we don't need a table and a chair and a room to use computers. It has brought revolutionary influenced in all over the world. Finding a person without mobile phone is like finding the humans on mars. Mobile phones made our lives much easier than ever. It covers distance in seconds, you just need to have smart phones and internet access on it and the world is in your hand.
It is the most convenient device of this time. It made our communication easier and effective. Parents feel secure when their kids leave home because they know they can easily call and ask them at any time.
Mobile phones are not just phones. They are more like portable computers. You can send and receive email. Download games and videos, browse websites, transfer money to bank, book flight tickets and chat with your friends. With a mobile phone you are connected with everything, you can run your business easily while using social media through same device.
Multiple uses of mobile phones
Mobile phones make everything convenient; you can do a variety of work with this device. You can shop online, listen music, watch movies, take pictures, make videos, store notes, set an alarm, and even use as a remote to control other technical devices like; Television, air conditions, etc. it is like your personal assistant that assists you in your daily life.
Deal with an emergency situations
It even works in emergency situations, although it does not guarantee safety. It has become necessary to travel with your mobile phone. So in case if you get any problem when you are out, you can contact someone who will help you.
There was a time when communication was very limited. But the technological advancement has changed everything and more innovations are being added. Mobile phones are the most important and reliable device because of its feature and capabilities. It could be true if we say that mobile phones are ruling the world.
AUTHOR BIO:
Mark Jason is a ppt expert. He Provides ppt services in UAE since 5 years and his company is the best PowerPoint designing company. He is expert in making a business presentation, sales presentation and presentation designs for every level people. Mark also writes contents for presentation and he writes blogs in his free time.