Shot brief on MBOX
MBOX is commonly used in email as a plain text format, which supports a large number of email clients such as Eudora, Entourage, Apple Mail, SeaMonkey, Sparrow Mail, Claw Mail, Netscape, Evolution etc.  It holds the messages of 7 bit ASCII code (128 characters) and starts with "From" in the heading section as well as an attachment is saved in the encoded format.
The weak point of MBOX
MBOX is not supported by the MS Outlook and Office 365 or Exchange online. Which is widely used worldwide?
Very old format &Not much stable then PST file format.
Encryption is not so good
Why Need to Migrate MBOX to Outlook or Office 365
As everyone knows, Microsoft has always been better served than ever. It is very useful and safe for industrialists and business people because they should have secure, reliable, accurate data. Everyday users are moving one by one to Microsoft Office product. But the sad news is that MS Outlook or Office 365 does not support MBOX file format then "How can we migrate MBOX data to Outlook or Office 365".
We have few methods to transfer MBOX data to Outlook or Office 365
For Outlook
Manual way (using Eudora mail client)
Straight way
For Office 365
Microsoft network upload method (with PST file)
Accurate & Direct way
Manually export MBOX to Outlook
You can follow a few simple steps to easily move MBOX data to Outlook. It doesn't matter, which email you are using.
If you have MBOX mailbox then install Eudora and paste your MBOX data into Eudora mailbox (because Outlook allow you to import Eudora mailbox)
Change the extension of all MBOX data like this:-  .mbox = .mbx (.mbx and .mbox formats have similar structure)
Open MS Outlook then choose file tab
Choose import & export option
Select "Import internet mail and address" option from selection menu then Next
Choose "Eudora (pro and light) 2.x, 3.x, 4.x" then hit on Next button.
Browse Eudora mailbox and select your data
Save in your desired location
At last finish
This method takes a lot of time to conversion, in a way; this is a hard test on MBOX data. If you have few amounts of MBOX data then you can adapt it. Otherwise, it is difficult to do when you have a large amount of MBOX data. You may damage your picture/attachment or you may lose file structure.
Best & secure way to export MBOX to Outlook PST format
As you see the above method is not fully secure to migrate MBOX data so use MailsDaddy MBOX to PST converter, which has been fully developed to convert MBOX data into PST. The tool is 100% secure, reliable and it gives an accurate result. With this tool, you can perform multiple MBOX to PST conversion process and it supports 30+ email client's MBOX data such as Apple Mail, Entourage, Thunderbird, SeaMonkey, etc.
Look its steps
Download MailsDaddy MBOX to PST converter and Install it on your window PC.
Run the tool. Click Add file button
Choose one way to load MBOX data
Here, you can see the preview of email and attachment as well as you can save these mail on the spot into given formats
An export button allows you to import all data at once.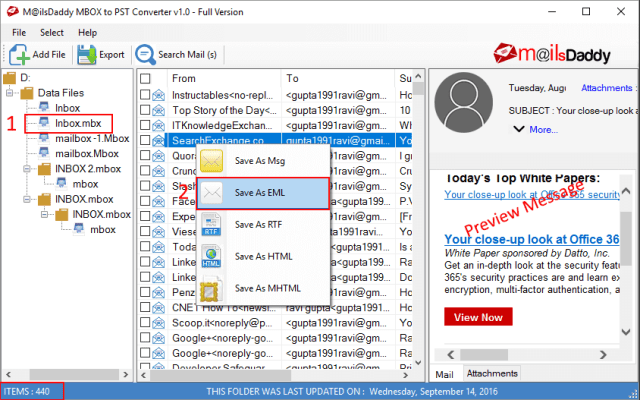 Select PST format (By default set)
Choose single or separate PST file for all MBOX data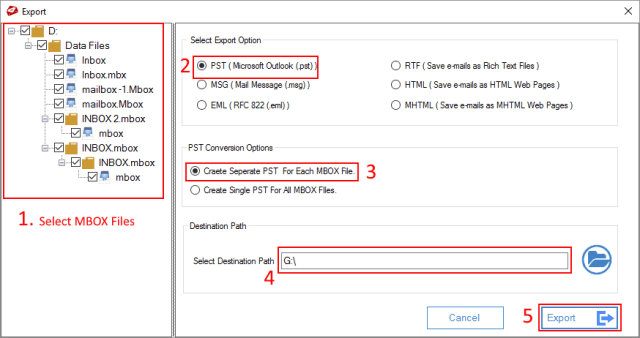 At last click Export and wait till the conversion end.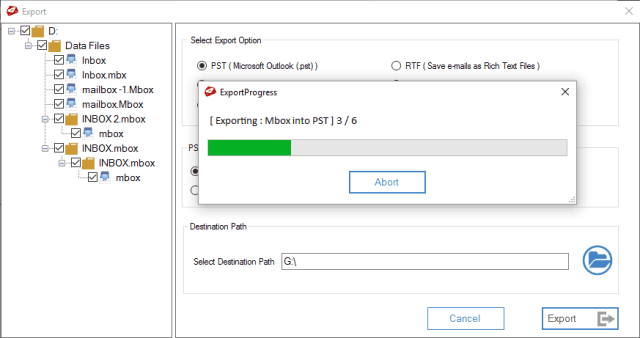 After that, your MBOX data successfully converted into PST format then you can easily import PST data into MS Outlook.
Why choose Office 365
Office 365 is the best platform to keeps your precious data as well as its provide many advanced features like
Easy configuration with online email
Cloud storage
full data security and maintenance
Easy access from anywhere
Support PC (Window & Mac), tab, Mobile and many more….
How to upload MBOX data to Office 365 or exchange online?
It is impossible to upload an MBOX directly to Office 365 cloud, so if we have MBOX data into the converted PST format, then we can import it with the help of Microsoft Network method.
Here, you can explore the all step of Microsoft Network upload method here: https://docs.microsoft.com/en-us/office365/securitycompliance/use-network-upload-to-import-pst-files
An accurate way to upload MBOX data to Office 365
If you have not converted PST format of MBOX, then you have only one way, that you should use a third-party tool because this is the most accurate and obvious method to import MBOX data to Office 365.so if you want to transfer MBOX data to Office 365 instead Outlook then Download MailsDaddy MBOX to Office 365 migration tool and ready to migrate your data without any error. It also supports 30+ email clients MBOX data such as Netscape, Evolution mail, Poco Mail, Entourage, Apple Mail, etc.
Look MBOX to Office 365 migration steps
Download the tool and install the tool in your system
Run the tool
Click on Add file button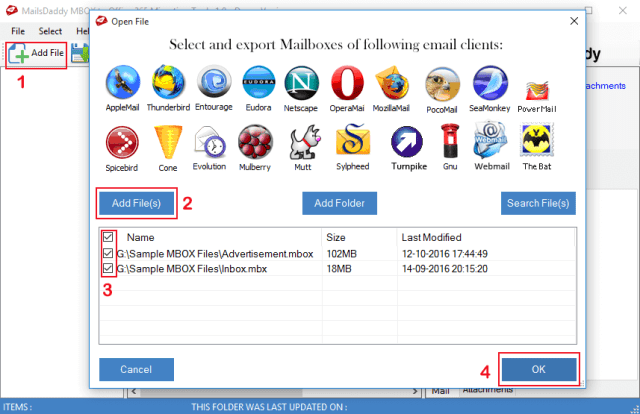 Select one way to add MBOX data then Next
Here, you can see the preview of each selected email and also save them into given formats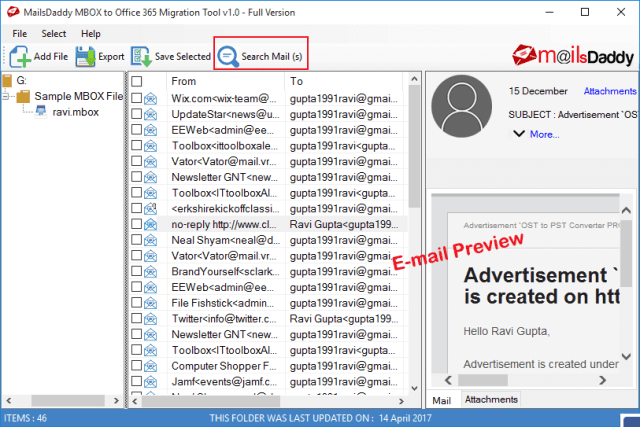 You can search the email by its Name, To, From, and date wise using the Search button
Export Button allows you to import all data at once
Select Office 365 and click on export button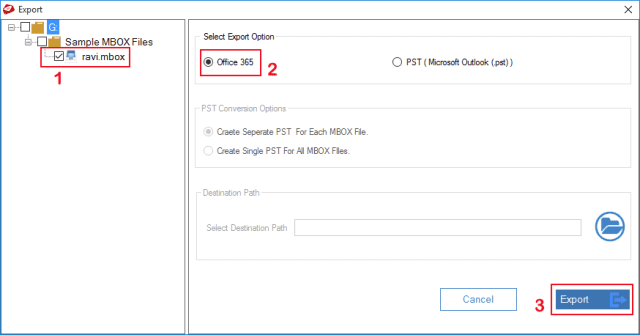 You land on Office 365 login page fill your detail and hit the login button
It will take a few minutes, so wait till the conversion finish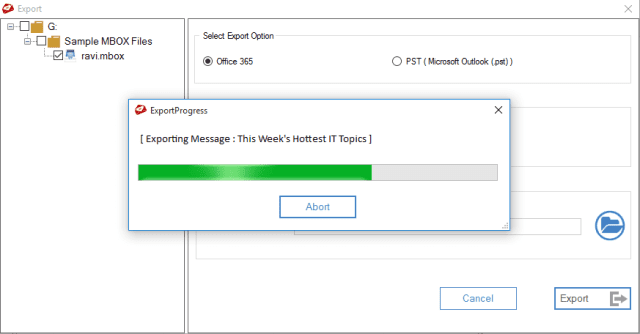 Conclusion: I showed you each possible solution to import MBOX data into Outlook or Office 365. As it is in the trend that people are choosing Outlook and Office 365. It is better than we export our data without any damage with the help of a suitable tool. If you have any doubt or question then you drop a comment.