In this digital world, Cloud storage infrastructure becomes a secure and smart way to store data items. One of the best and famous cloud platform for data storage is Google Drive. Many times users wish to copy the data between two Google Drive account. The reason behind this can be anything, maybe user require a bunch of old files from one G Drive to new Google Drive account.
Currently, there is no utility provided by Google that can import your files successfully. So, we found a third-party tool named as Google Drive Migrator Software. It is an outstanding and result-oriented technique to export files from Google Drive to another account. So, in this technical review, we are going to discuss about this utility in a detailed manner.
A Quick Note on Google Drive Migration Tool
G Drive Migrator is a secure way to transfer Google drive storage to another account. It covers migration of all the files such as MP3, MP4, images, PDF Documents etc. Apart from this, the software provides an Incremental Export feature to import only new data while performing migration process again. Furthermore, it can be easily downloaded on latest Windows Operating System, including Windows 10, 8.1, 8, 7. Below, all the salient features of Google Drive Migrator software are mentioned below.
Striking Features of G Drive Migration Tool
Move Google Drive Files to Another Drive
The software is capable to transfer the files of one Google Drive account to another account in least time with full data security. It provides the facility to migrate all types of data items like images, video, documents, and much more. Afterwards, in the targeted drive account, it stores all the exported data with the date of exportation. Furthermore, the software is able to provide an incremental type of migration approach. It means the tool will not migrate the same data when the export process starts again.
Option to Add Source & Destination Account
A user can type the source Google Drive account and destination account credentials in the software with the help of following three options:
Add User: This option allows the user to add a single source as well as destination account ID at a single time.
Add CSV: This feature has the functionality to upload a CSV file that consists of details of multiple Google Drive accounts. By choosing this option, tool can perform the Google Drive to Google Drive migration in bulk.
Remove User: This option use to delete the already added user ID from the tool interface.
Customize Migration Option
The tool offers four unique options that help to customize the entire Google Drive migration procedure:
Migrate Permissions: In such a situation when the users wish to transfer all permissions such as read, write, and comment during the migration task, then it can be easily done with the software.
Migrate Deleted Items: A user can select the option labeled as Migrate Deleted Items and move all the deleted items into a single folder.
Migrate Shared Files: With the help of this feature, one can migrate the shared data files into a separate folder.
Maintain Folder Hierarchy: With this option, the users can preserve the original folder structure after the Google Drive to Google Drive migration task.
Migrate Google Drive Files Via. Two Ways
With the help of Google Drive Migrator Tool, users can copy their data from a Google Drive account to another account in two unique ways:
User Login: If user login as a single user, then you are able to perform Gmail to Gmail, Domain to Gmail, and Gmail to Domain migration task.
Admin Login: If you sign in as admin then you can easily accomplish Domain to Domain export procedure.
Selective Data Migration Option
The Google Drive to Google Drive Migration tool allows the users to apply date filter on the data items. With the help of this feature, only a selective date range of data will export from one Google Drive to another Google Drive account without any error.
Facility of Pause and Resume
The software provides an outstanding feature named as Pause & Resume. With this option, one can stop the running process in case of any disaster like loss of internet connection. After that, the user can resume the procedure that was stopped from the point where it was paused.
Simple Working of Google Drive Migrator
Download the software and open it after the installation.
On the welcome screen, select either Admin User Account or Individual User Account. Here, we choose Admin User Account option.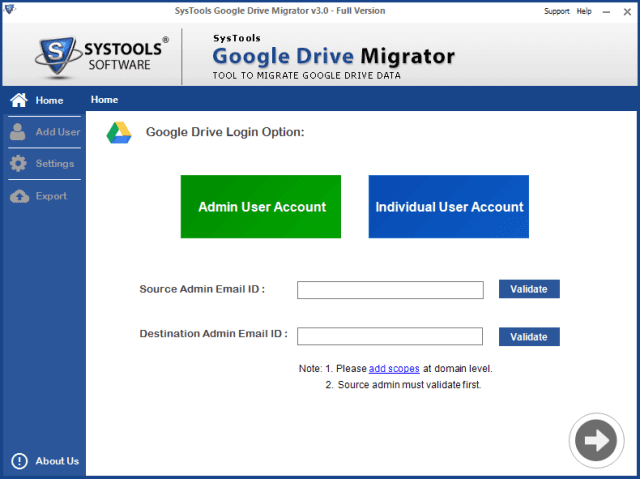 Note: It must to add scopes at the domain level.
After that, add the Source and Destination Email ID in their respective boxes and click on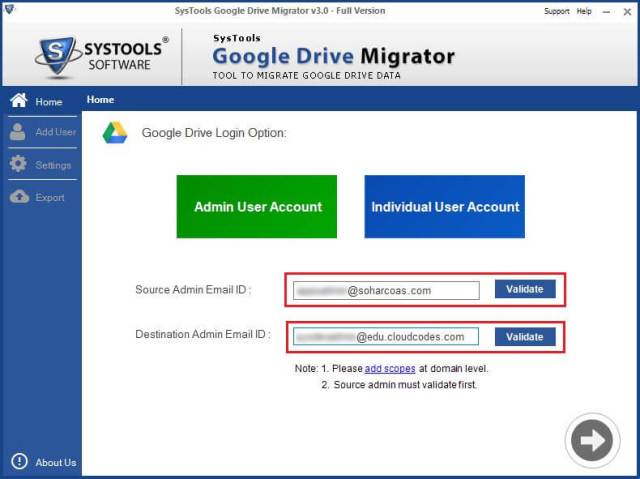 It will redirect to the browser and you need to log in as Admin. Then, click on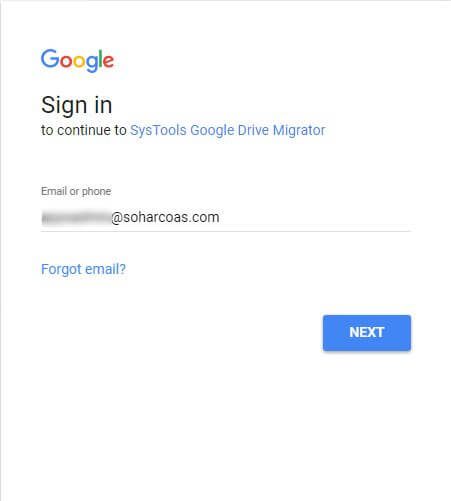 The following screen prompts and asks you to provide permissions to Google Drive Migrator software and click on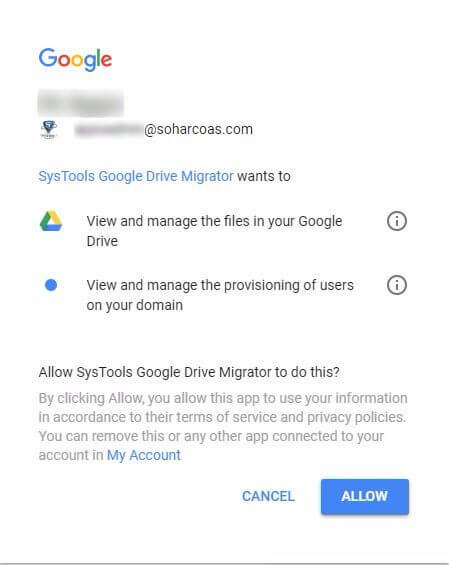 Once both the email ID gets validated, click on arrow icon present at the bottom left corner.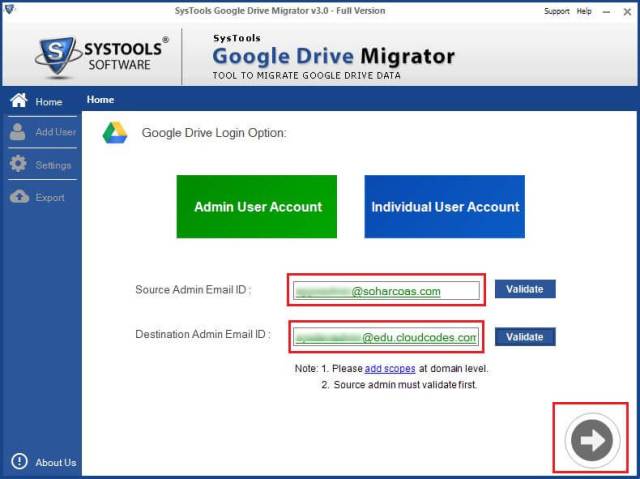 After that, click on icon shown in the screenshot and add the user IDs.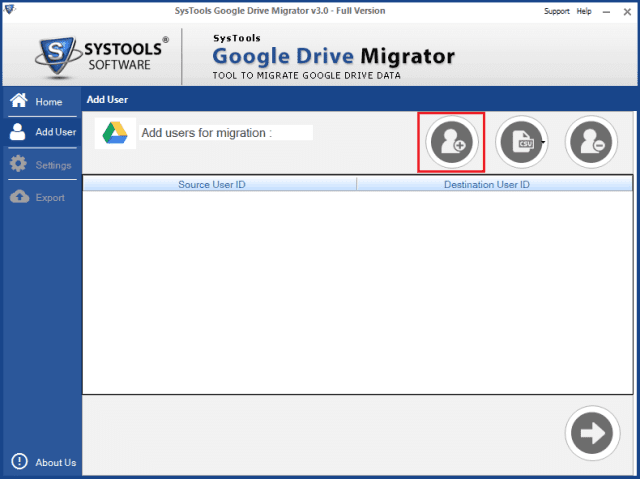 In this window, you can choose any of the options as per requirement. Then, hit the Migration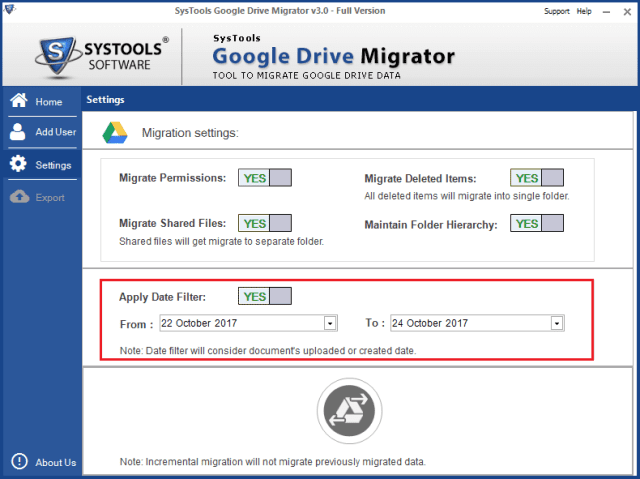 The live status of the process will display on the software screen. Here, you can pause and resume the process in case of trouble.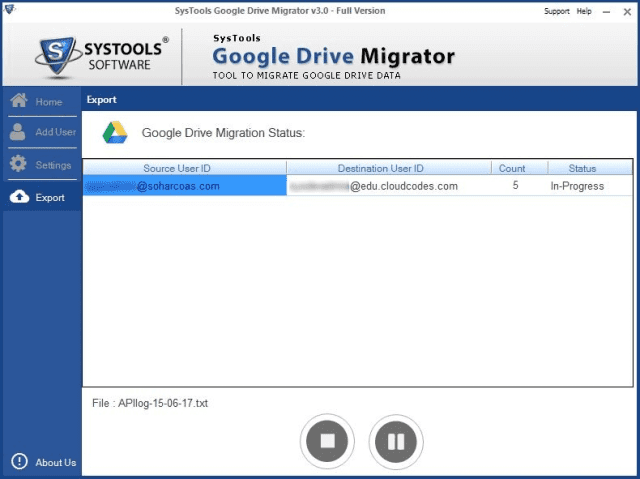 Once the process gets completed, you can save the summary report in CSV format by clicking on Save Report.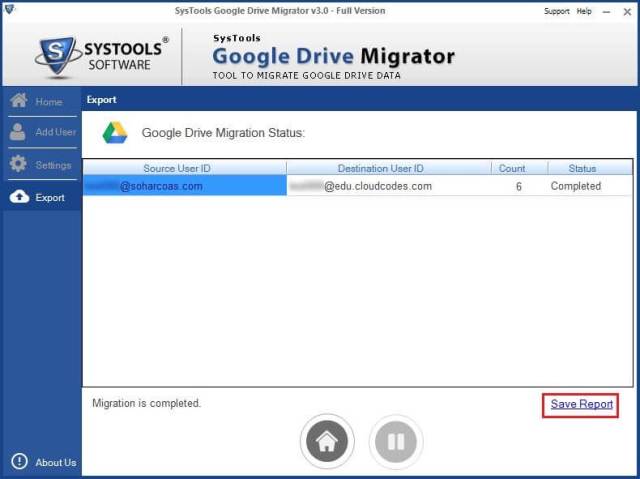 Observational Verdict
In the end, Google Drive Migrator is an excellent data migration software. It migrates all the data items from one Google Drive account to another domain by preserving the folder hierarchy. The demo version of software is also available that can migrate 50 items only. A user can download the free version of tool and once they satisfied with the functionalities, then go for the full version of software.