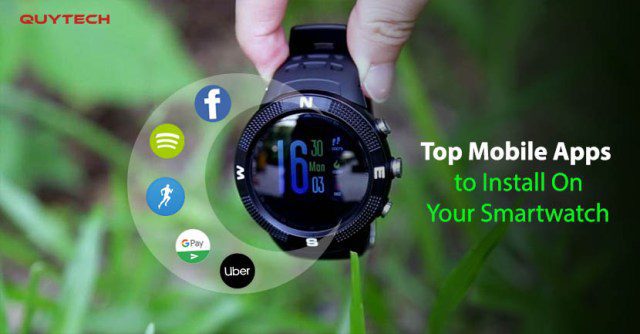 Smartwatches are becoming a vital part of our life. These smartwatches are more than just a watch. From picking up a call to health tips all is included in the smartwatch. It is like a smartphone on your wrist. Smartwatch is available with apps such a fitness tracker, a wallet and even a phone that makes it complete.
Smartwatch focuses on how users can stay active without checking the smartphone again and again. Therefore, there are several apps available to give a pace to modern life. These apps help to ease the daily based targets to make the user smarter and spontaneous.
There are some useful apps that are great with simple UI/UX that deliver the information needed without touching smartphone. Users select those apps that hold their own on the small screen in the smartwatch and fulfill their purpose hassle less. The market is full of a useful app from games to health apps for smartwatches.
Mobile Apps for smartwatch
The trend of wearing Smartwatches kept users active wherever they are. The availability of the apps for smartwatches offers functionality such as reading messages, checking the weather, the news, calendars, and lot more. Therefore, there are a lot more applications for users to stay connected to the world.
Telegram
Telegram is used for business communication, promotion, personal chatting, and a lot more. Telegram is more than a messenger app. A platform that offers the opportunity to text messages as well as record voice and video messages. The UI of the app offers appropriate chatbot that makes the work easy. The best part of the app is that it is highly secure. There is no interference of ads due to the end-to-end encryption security methods.
Slack
Slack is a perfect solution dedicated to the support of the teamwork of an organization. It acts as an internal messenger built for discussing and sharing the different types of files. It gives an opportunity to companies from small, to enterprise level to complete office tasks in a few taps. Slack offers a platform to stay in touch with your colleagues and customers. Apart from that, Slack offers many services such as Dropbox, Gmail, Google Drive, and others often used for work.
Uber
Uber a renowned ridesharing app that helps passengers find a ride from one place to the other. Uber is a worldwide accepted app used in a smartwatch. The UI of the app is magnificent that enhances the user experience. The services offered by the app include the map visualizations, notification and a lot more. Users can reach the destination quickly and in a few taps via the smartwatch.
Google Pay
It is the built-in system capability designed to help the user to pay for purchases.  User with a few moves of your wrist and finger can make the shopping purchase more seamless. It is simple that requires certain authentication in the initial phase. After that user can go for routine payment processes without any hurdle. From grocery shopping to the cloth shopping user can this app can take the user experience to the new heights.
Runkeeper
For smartwatch user, Runkeeper is an appropriate app among all the fitness apps in the store. This smartwatch app allows the user to stay aware of fitness. Runkeeper allows users to stay updated regarding the health information in person.  Thus, without looking at smartphone users can take a look at the notifications and healthy tips. With a simple press Open the app and start running without getting interrupted. Users can check health stats including overall steps, time, distance covered and pace. This is the revolutionary movement in the health industry.
Spotify
Spotify is one of the world's most famous streaming music app for the smartwatch users. It offers service to navigate and listen to a music playlist. Though it's not the full Spotify version it is music streaming app made its way to the wearable app. User can browse through a list of songs that are recently played or added. Users with a simple tap of the screen can experience and listen to the song again and again.
Google Maps
Google offered a smart platform of direction for smartwatch users. Without touching the smartphone user can ride for miles. Get directions to different places right on your wrist. Set new paths/directions using Google Maps. Google Map guides the user with step-by-step instructions and complete the journey hassle-free.
Final thoughts
Smartwatch is beyond the imagination of indicating the time and date. These watches are like a dear friend or your own private assistant 24/7. The smartwatch became a real breakthrough in the field of new technologies. More and more popular apps get introduced every day to make user experience hassle less. Smartwatch apps make life easier in order to achieve specific goals.
About Author:-
Colleen Jansen is Business Marketing Specialist at Quytech, a leading Android App Development Company. You can hire android developers to develop an app for your business.