Today PDFFixer.com launched their new freeware utility PDF Fixer, which fixes damaged and unreadable PDF files by restructuring the corrupt PDF data, rebuilding XREF tables and then recovers these PDFs back.
PDF is a very common file format on the internet of everyone's daily work. It is a binary coding format created by virtual printing of various documents. Since most of PDF content is compressed, editing PDF documents with a text editor will cause data corrupt, or lose part of the data due to network instability during internet transfer, which will cause PDF documents to be damaged with errors. PDF reader programs cannot open or fix those damages PDF files and would prompt a lot of errors.
PDF Fixer is a free PDF recovery utility which fixes the XREF table by reconstructing the corrupt PDF data, and then restores these corrupt PDF files into readable PDF documents.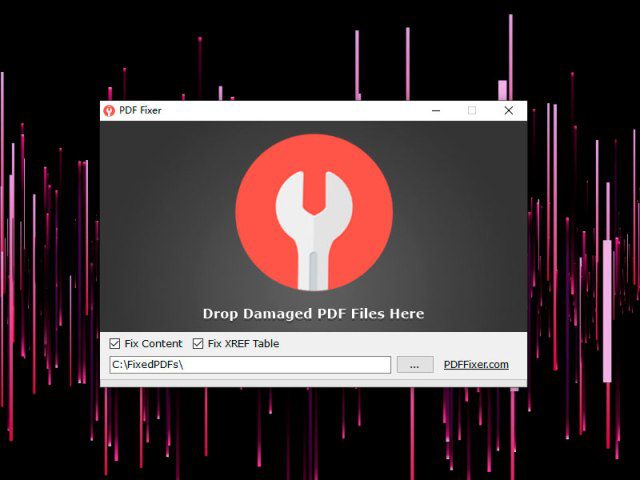 Some open source command-line utilities such as Ghostscript and PDFTK both have PDF fixing functions, but PDFTK can only fix PDF metadata and information issues, while Ghostscript can only recreate XREF tables. Once users require fixing a really corrupt PDF document, they will find that neither Ghostscript nor PDFTK can repair the PDF data, and they will keep prompting analyzing errors. Unlike these two utilities, PDF Fixer checks the data that still exists in the whole corrupt PDF doc, then combines all objects and data to fix it. PDF Fixer can fix a lot of PDF documents which cannot be fixed by Ghostscript and PDFTK.
Why do PDF documents become corrupt?
PDF documents may display error alerts occasionally and fail to open in Adobe Reader, Acrobat or other PDF reader and viewer programs. Such problems occur due to various reasons, and a few of those causes/reasons are listed below:
Downloading issues
Incomplete and failed PDF doc downloads could break PDF files, and this happens because of the unstable Internet transfer. Improper downloads disturb PDF structure and corrupt the file.
Hard disk or storage media failure
Hard disk failures and USB storage device issues can cause PDF document corruption and inaccessibility problems. The hard disk or storage device failures can occur due to many reasons such as a suddenly electrical short circuit, excessive hardware device heating, and exposure to water, etc.
Broken issues during PDF transfer
While transferring the PDF from one computer to another via a USB drive or cable, the chances of PDF doc corruption exist due to reasons such as direct ejection of storage device from the operation system without initiating the eject command or sudden removal of transmission medium before the transfer was totally complete. As a result, the receiver may receive an incomplete or useless damaged PDF file.
Improper Windows shutdowns and system power failures
Improper Windows shutdowns and system power failures can interrupt PDF transfers and downloads and can damage PDF docs. The sudden program that quits also can cause such problems.
These are some common cases which often considered as minor problems and issues but when they occur they damage or break PDF documents a lot. Any single reason is quite enough to totally ruin the PDF docs. Once a PDF document gets corrupt it would not be opened or read anyhow. But yes if the PDF data has been fixed then only users can utilize their PDF documents otherwise nothing could be done. They can use this PDF Fixer tool that enables them to recover all maximum possible content from their damaged PDF documents in just no time!
PDF Fixer Review
This PDF Fixer software application is a very easy to use Windows PDF recovery software tool designed to fix corrupted or unreadable PDF files. And during our testing it runs smoothly, we really mean it, and you shall notice the extremely fast document repair speed from the first run.
This excellent tool relies on a very neat and intuitive user interface that offers immediate access to the two main features, namely "Fix Content" and "Fix XREF Tables", both with only a simple checkbox. With support for all versions of standard PDF documents, PDF Fixer doesn't display a lot about the repairing process, providing instead dedicated tools to repair PDF files already stored on damaged storage devices, such as scratched hard disks of broken USB flash drives.
While the "Fixing" tool only prompts users to input the corrupt PDF file and then fix it, the "Batch Fixing" feature adds drag and drop and support for repairing multiple PDF docs, being capable of fixing all of them at the same time. There is no "Options" or "Settings" window is available, but it's nothing to worry about, as PDF Fixer only processes the PDF repair by its own algorithm and doesn't require users to set anything else.
PDF Fixer is very fast for most of broken PDF files, but it doesn't mean that it's 100% effective for every damaged PDF file. It can repair most of corrupt PDF files, but it doesn't do wonders, so it's still worth a try even you got a badly broken PDF doc.
Overall, PDF Fixer proved stable and reliable, working pretty well on all Windows versions currently on the market. It doesn't comprise a deep help manual or doc, but chances are that you don't need one since everything's so intuitive for all types of users who need to repair broken PDF files.
Highlights of PDF Fixer
– Fix unreadable and damaged PDFs
– Fix XREF tables of PDF
– Save recovered data and content to PDF documents
– Automatically preview the repaired PDF
– Auto verifying & detecting corrupt PDF files
– Batch fixing multiple corrupt PDF docs at once
– No required Adobe Acrobat or Reader installed
– Portable ZIP version available
Availability
Homepage: https://pdffixer.com
File Size: 16.5 MB
Portable ZIP Version: 19.2 MB
OS: Windows XP / Vista / Win 7 / Win 8 / Win 10 (32/64 bit) and Servers