Nvidia formally launched the latest GPU in its absolute top-of-the-line consumer product series, the GeForce GTX Titan X. Graphics cards based on the new GPU will cost $999 (approximately Rs. 62,623) and are available in the US from today.
The GeForce GTX Titan X is the first Titan series card to be based on the company's current-generation Maxwell architecture, which reduces power consumption while boosting performance. It supersedes the GeForce GTX 980 as Nvidia's highest-performance consumer GPU, but unlike previous Titan products, is not also suited for double-precision mathematical operations. This was one of the key selling points of the original GeForce GTX Titan and its successors, which were billed as affordable home supercomputers.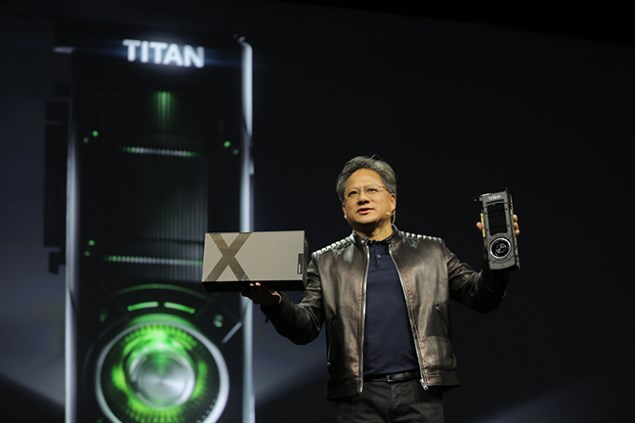 Nvidia's GeForce GTX Titan X reference card is the new fastest single-GPU graphics card in the world. Titan X cards will be outfitted with 12GB of GDDR5 RAM. The Titan X GPU is codenamed GM200 and has 3,072 shader units and a 384-bit-wide memory bus, compared to the 2,048 processors and 256-bit bus of the GeForce GTX 980. The Titan X has an estimated 8 billion transistors and is fabricated on the now-mature 28nm process node. Its peak power consumption is rated at 250W.
Nvidia also revealed new details about its upcoming Pascal architecture, which will be the successor to Maxwell. Pascal will introduce a new mixed-precision computing mode for greater efficiency in non-graphics tasks involving parallel computing. Pascal will also introduce high-bandwidth 3D stacked memory, which will allow for higher density and speed improvements without any tradeoff between the two design goals. Pascal GPUs will be the company's first on a new 16nm node, and will not ship till 2016.
The announcements, made at Nvidia's annual GPU Technology Conference event, dovetailed with a new company-wide push into deep learning, a computational process that involves developing "neural networks" through accelerated pattern detection. Deep learning means that computers constantly get better at tasks by adapting to experiences and incorporating new data to base decisions on.
One of the applications of this is the new Nvidia Drive PX computer developed especially for autonomous self-driving cars. Drive PX is based on two Tegra X1 ARM processors, and a development kit will be available later this year for $10,000. One of its biggest challenges will be reacting to irrational and unpredictable urban traffic patterns.
Nvidia Ceo Jen-Hsun Hwang was joined by Tesla CEO Elon Musk on stage, where the two talked about the convergence of cars and artificial intelligence which will see the debut of autonomous vehicles in just a few years.
News Source:- http://gadgets.ndtv.com/laptops/news/nvidia-geforce-gtx-titan-x-launched-at-999-drive-px-for-self-driving-cars-unveiled-671826