The Ola is an Indian online transportation network company started in the year 2010.It provides different types of cab services ranges from economical to luxury travel. Ola cabs are booked through the ride sharing app also known as mobile app. This service is convenient for both business people and middle class family.
Ola cab service supports both cash and cashless payment options. Ola also started on demand auto rickshaw service on its mobile app. The other services offered by Ola Company are Ola cafe, Ola store, Ola shuttle and Ola corporate. Ola shuttle announced that its service is available for corporate customers who sign up through Ola corporate. Ola has introduced a new price point for its customers in Mumbai called Ola Micro.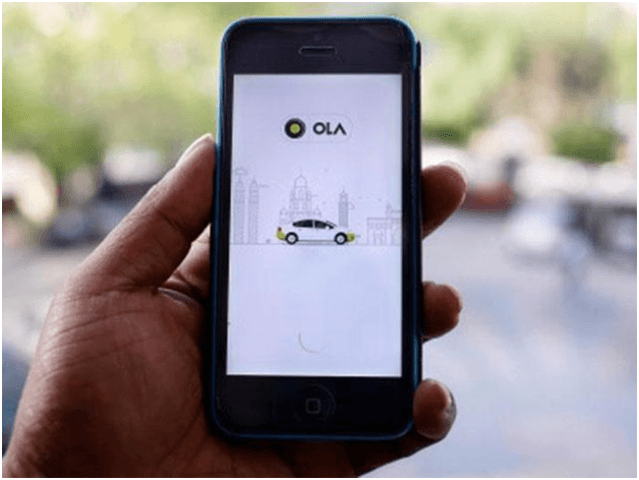 The famous two services provided by the Ola are outstation and rental. To travel between the cities the outstation service is used. Ola car should be booked in advance of two hours before the commencement of the journey. Rental service is based on the hourly package instead of the traditional Ola car service.
Regarding the security of the OLA app is under review due to the criticism. About lakhs of people books OLA call taxis per day. A recent survey says that OLA Company rules about eighty percent of the market share in India. It is the most popular cab booking service in India. Ola cab services get Google Maps integration on Android.
In the wake of demonetization of five hundred rupees and thousand rupees, Ola motivated people to use cashless payment option for the rides. Recently Ola started charging their drivers three hundred rupees a week. This charge, which applies regardless of usage, is being attributed to phone, mobile internet connections and other services provided by the aggregators.

PROPOSAL OF OLA'S NEW SHUTTLE SERVICE
The Ola has launched a new shuttle service to broaden its taxi services at a cheaper price. Recently the Ola shuttle bus service is also in Bangalore and Haryana. The vice president of Ola Company says the shuttle service targets the travelers. Ola shuttle bus services cost less than one dollar, which equals Rs.66 (according to Indian Rupee).Whereas for a traditional call taxi it costs three hundred rupees.
Passengers will have to share the shuttle bus with other people. The total number of seats accommodation is around twenty in Ola shuttle bus service. Facilities of air conditioning, WIFI access, on demand entertainment with press play, reserved push-back seating and real-time GPS tracking are available in the Ola shuttle buses.
Millions of people use personal modes of transportation for travelling to their offices. Instead of using bikes, auto rickshaws, cabs people can use the shuttle bus services; hence the traffic congestion will be reduced. The relevant routes are displayed in the Ola's app. Users can book their seats, track the shuttles and pay for the journey using the app. This service enables adaptability, portability and flexibility at higher scale for the people.
Ola Company's target is to expand its services all over India. At the initial step, Ola introduced only hundred shuttles. But now about five hundred shuttles are launched all over India. More regions can be expected to be added later on. This Ola shuttle service is directly available from the Ola app as a separate option.
PROPOSAL OF OLA'S CAR POOLING SERVICE
Ola has started the service of car pooling in Delhi, which allows people to travel from one place to another using their private cars through Ola's mobile app. The Car pooling comes under the large umbrella of shared economy. Ola's car pooling service is a spontaneous one and uses a route matching algorithm. This algorithm focuses on the customers looking to travel on the same route. It also allows the customers to create a friend list by adding friends with their contact numbers.
The category head of Ola said that the company has introduced the car pool, Ola Share and Ola shuttle aimed at controlling the air pollution in India .Many safety features are available in Ola car pooling service such as Track your ride, Share Ride details, Emergency contacts and SOS-an urgent appeal for help. Passengers can also choose to share their journey with anyone outside of their friends. In-trip feedback option is also available in Ola's car pooling service.
Ola's competitor Uber has also launched this car pooling service in India and also foreign countries. Ola's taxi services transports both people and goods. Ola is expanding its taxi services to new markets and concentrating in its technological development. Ola started accumulating tourist data and charted buses on its app.
TECHNICAL INFORMATION ABOUT OLA APP
A feature called number masking is accessible in Ola app, where the user's number would not be revealed to drivers. The calls made by the drivers would be recorded and stored by Ola. Ola has integrated a cloud telephony program which sends an encrypted number to the driver. All communication process is expelled through the cloud number.
To integrate the platform's services on their apps, Ola opened up its Application Program Interface for the developers. API would allow platforms to integrate ride availability, booking, tracking and time estimation services based on Ola's data. The famous ride sharing service Uber has also launched its API.
Ola lofted a cab leasing program for drivers which would let drivers lease a car for a deposit and monthly lease payments, with an option to own the vehicle after three years. The company said that it governed the program with thousands of vehicles in Bangalore, Chennai, Hyderabad and the other three cities.
Ola added free Wi-Fi, superior cars, best rated drivers through its selection program for riders taking Ola prime rides in Bangalore. Ola prime is available in Mumbai, Bangalore, Delhi, Pune, Chennai and Jaipur. This service launched the rewards and fidelity program called 'Ola Select' for its frequent customers. Customers would be able to use no-cost upgrades and discounts.
HOW DOES OLA SHARE WORKS?
Ola share works in a communal ride-sharing method. With this service, passengers can now choose to share their rides with users from their own social groups. To make this easier, riders can create groups in the Ola app with colleagues, friends, relatives and neighbours. Once the share ride request is placed in the app, you are matched with other riders taking the same route in your groups. With the social grouping feature, the in born feature of safety and security is removed. The call masking feature connects you directly to the police control room and an internal response team as well to assure passenger safety.
SCALE FOR THE FUTURE
The company raised its fund  about six hundred and eighty million dollars for its growth and development. Currently Ola's app covers traditional taxis, auto rickshaws and other private vehicles. Ola  says that it serves around eight lakh rides each day with three lakh vehicles registered on the app and including some thousand five hundred per day on average.
A recent survey says that Ola's total share of vehicles on the streets today works our around eighty percent. Meru, TaxiForSure (owned by Ola) and BlaBla Car also offers shared-riding services. Redbus targets on rides between cities, but could also probably look to expand shuttle services. Ola's move to broaden shuttles comes at a key time for the company. The company started online service that connects private car owners with commuters for long distance travel.
An average office goer spends more money(Rs 75,000 to Rs 90,000 per year)on fuel. With car pooling, it can be reduced by 20 percent. Car pooling solves major problems related to commutation, which are traffic, high pollution, insufficient transportation options and high transportation costs. In the future, India will get a good share of market projection.
Author Bio :
Anand Rajendran is CEO and Co-Founder of Zoplay, best PHP scripts development company located in India. Zoplay is a part of Casperon Technologies a leading social and mobile development company. I'm a Tech geek, Digital marketing expert, Entrepreneur, and Atheist who loves to write everything about PHP Scripts and mobile application development. Cabily script is a clone of Uber, which developed by the tech gigs of his company.