Fifth-generation networking will increase the capacity of remote learning, virtual reality, and robotics.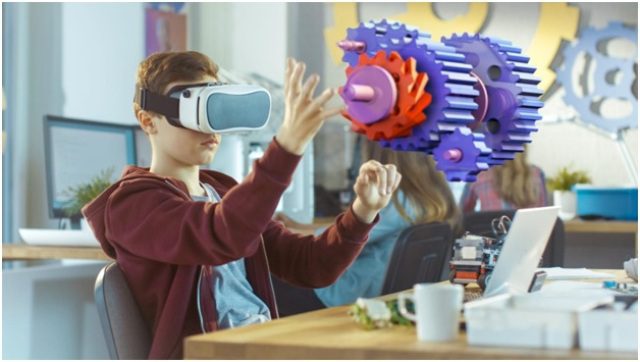 5G is one of the most talked-about topics this year. IT specialists claim that the fifth-generation wireless network will permanently change multiple industries and alter the way we operate. One of the industries said to be amped up is the Education Industry.
The following article will give a brief overlook of the impact of 5G on the Educational Industry.
What is 5G?
In the simplest terms, 5G is the fifth generation of mobile networks. This version is developed to give the user a seamless experience. The fifth-generation wireless network has low-latency and high download speeds hence no connectivity issues.
5G is the latest creation in the mobile network world. It promises to transfigure the wireless communication world into something never seen. It is a unified and more capable interface designed with an in-built capability to adapt to future inventions. It is the fastest version of all its predecessors, it is extremely reliable and has minimal latency.
What does 5G mean for Education?
5G is the fastest wireless network as of yet and has limitless possibilities. Consequently, educators and software developers can work together and improve digital teaching tools while developing new ones to move beyond the bland two-dimensional lesson plan.
Just imagine a classroom where students will learn via virtual and augmented reality. Immersive experiences such as observing the bottom of the ocean or following the human circulatory system will leave an impression on students hence making learning easier.
Sanyogita Shamsunder, Vice President of Technology Development and 5G Labs at Verizon said, whether children are learning in a classroom or at home, new digital tools need to be discovered to increase engagement in educational content.
The fifth-generation of the wireless networks includes both speed and both speed and simultaneity improvements, meaning that more devices can connect at once while also enjoying better download, data transfer, and upload speeds. This will ensure students, as well as instructors, focus on the learning rather than connectivity issues. Students will be able to explore different mediums to learn such as videos. It has been reported that YouTube single-handedly generates more than 1 billion visits per day in learning and education videos.
Virtual and Augmented Reality in Classrooms
5G will alter the way students and teachers interact. A plethora of new ways to learn will be available and one of them is immersive learning. 5G is a high bandwidth, low latency network which will allow significant processing and rendering to be done potentially off of a VR headset and into the cloud, enabling users to have longer battery life, lighter hardware, and—eventually—lower cost, which could help increase the accessibility of these devices. This would result in these devices being used as a teaching tool. 5G will remove the limitations of the hardware and allow developers to make adjustments according to the educator's needs.
This will be a breakthrough since students will not be limited to two-dimensional lessons but will be quite literally living in it. From viewing great wars to wandering through ancient ruins from the comfort of the classroom will be possible.
Students will be actively-learning, which research has proven is the most effective method of learning since it invites students to collaborate, solve problems, and develop two-way communication with their instructors.
Digital Teaching Tools
The impact of 5G does not end with VR and AR but it could completely alter the way we interact with one another. Research has proven that when students work in collaboration their ability to cooperate and empathy builds up. 5G Ultra Wideband could make teamwork—both in and out of the classroom—an influential instrument in an educator's arsenals.
5G has low latency which will allow students to have seamless communication with one another; it could be as natural as talking. Students from different classrooms or even schools could work together on a project in real-time without connectivity or speed issues. This will potentially develop even more teaching tools. Furthermore, while using these tools students will not only learn how to use advanced technologies but also how to enhance and eventually develop them.
Overall, a more uniform and seamless environment will be created where the only limitation will be one's imagination.
Learning beyond classrooms
Living in the modern tech era does have its advantages. Almost everyone carries a device with them at all times either it is in your pocket or on your wrist. These devices can be used for learning as well and have the ability to make education easily accessible.
Instead of a student being confined to the walls of a classroom, just imagine students scanning QR codes and instantly learning facts about any monument or place. The information could be presented in a three-dimensional interactive model with instructors at stand-by for any questions such as "The Smithsonian Open Access program".
Robotic Applications made possible
Using Robots in a classroom is still a rare thing but 5G tends to change that.
Ana Galindo-Serrano, a research engineer with Orange Business Services, writes in a company blog post that 5G may revolutionize robotic control. At present, the robotic mechanisms do not run efficiently on 4G and are only synchronized however 5G might erase that issue. Thanks to 5G, we might be able to focus more on adding features to robots rather than putting all our efforts into increasing synchronization.
Who knows the year 2021 might be the year robots in the classroom become a thing.
At-Home Learning
Among the pandemic, even the most mundane tasks have moved to the virtual world even schools. It is difficult for students and teachers alike to communicate seamlessly due to multiple connectivity issues however the induction of 5G will fix that issue and make this remote learning much more convenient.
What Next?
If we truly invest in integrating 5G in the educational industry then the possibilities are endless. Students will be learning as never before and learning at home will be made much easier. 5G network ensures users have a seamless experience due to its high speed and low latency. This would ensure that the main focus is on student-teacher interactions and the material taught in class rather than download speed and connectivity issues.
Digital tools such as VR and AR will be part of the immersive learning experience whereas robots could aid instructors. The potential uses can only grow once these tools are used, developers can work from the feedback from educators and students and develop tools as needed. The only true limitation is your imagination.