The online data sharing and collaboration environment have developed in wide terms in the last couple of years. It has exceeded expectations and innovation limits that centuries of improvement have not brought forward. With the new age come worth new problems, bugs and errors. There are frequent troubles like the SharePoint Online storage quota exceeded issue. Some of them can be resolved with simple techniques. There are manual fixes for every difficulty. Here in this post, there are instructions provided to solve this situation. Any user can follow the steps and resolve by implementing the methods in their own personal computer. Repeat the steps properly to avoid data loss. The user can even try a third party utility i.e SharePoint Migrator for SharePoint to SharePoint migration.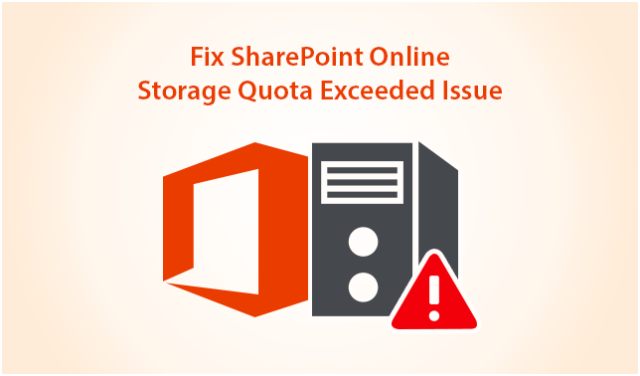 Overview of the SharePoint Storage Quota Exceeded Issue
There is a threshold limit of 85% after which an email is sent out to the user. This limit can be adjusted by the administrator as well as provides the option to receive the message. The e-mail is sent to the site collection admin and contains the site URL that has the most data. It has the detailed report and storage metrics for that website.
Possible Steps to Manage SharePoint Online Storage Quota Exceeded Issue
Following are instructions to adequately manage space on a company website:
Method#1 Pooled Storage Model
This is a new feature of SharePoint Online. According to this, users can auto set their storage limit. This allows them to better manage the service. The default value is set to 1TB. This facility allows an individual to change the value to any limits on the site collection. This is a new feature offered to all customers of the Office 365 cloud. Here are the steps to adjust this quota:
First, log in to Office 365 admin account to manage SharePoint Online documents and lists.
Then, go to SharePoint Admin Center.
Then, select Setting option to increase Sharepoint storage – Office 365
Then, go to Site Collection Storage Management and choose Automatic option.
Finally, click on the OK button to manage SharePoint Online.
Method#2 Adjust Limit for Each Site Individually
There is a facility to modify the storage space of each site. There is a manual configuration option to manage storage space. Here are the steps to manually adjust the steps to specify the site collection storage limits individually. This will help to manage SharePoint Online documents and lists:
First, sign-in to Office 365 admin account with SharePoint Online login
Then, go to Admin Centre>>SharePoint. This will help with SharePoint Online increase storage quota.
Then, select Settings>>Site Collection Storage Management and choose a Manual option.
Finally, click on the OK button to increase SharePoint Online storage.
Steps to Set the Storage Limit
After signing in to office 365 SharePoint Online admin account, go to Admin and select SharePoint option.
Then, go to Site Collections and select the one having that needs to increase SharePoint Online storage.
There is a message that is sent when the maximum threshold limit is reached. A user needs to define that limit between 1 to 100 in percentage.
Finally, click on the Save button to increase SharePoint Online storage.
Another Way to Manage SharePoint Online Documents and Lists
There are vast loads of data stored on a local website of a company. It is shared daily with employees and other users. There can be lots of problems in a life cycle of working with Microsoft products. There are some bugs and errors that can always create problems for an admin team. There are professional applications available that are specially designed just for this purpose. One such third-party tool is the SharePoint Migrator. It is a useful utility that works on all the latest versions of Windows 10/8.1/8/7/XP and earlier ones. It has multiple options to map mailbox data while migrating it to the destination format.
Conclusion
The data stored on any server i.e on-premise or cloud is important for any organization. It is the primary focus of the company to maintain their information in an efficient manner. There are compliance and regulation standards to consider as well. There can be no shortfalls and chances where SharePoint online storage quota exceeded can be an issue. There are enough policies in place to make sure of that. If an system administrator faces such a situation, they can implement measures such as the ones mentioned in this post. If this is a frequent issue, an alternative workaround is also suggested which can be beneficial to the business. There is a trial version available for free which can be used before making any decision on trying unreliable manual means.