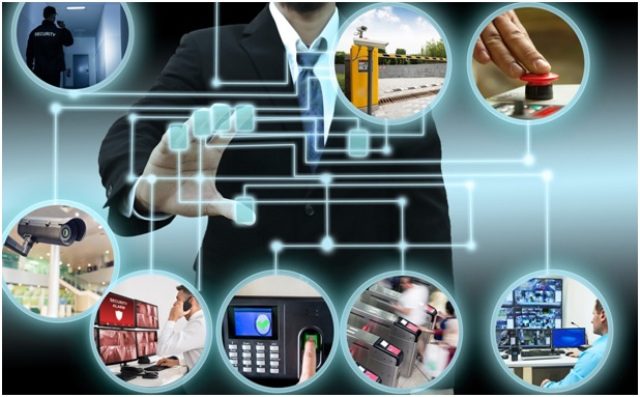 One of the biggest challenges that businesses in this era have to deal with is security. We are not only talking about the physical kind but also the virtual kind that has to deal with data which is the blood on which today's businesses run. We can see some of these challenges discussed here.
To ensure that businesses can handle all of the different security challenges that they are likely to face, certain proactive steps must be taken. These steps can be summarized under two headings and we will be looking at them in the next section.
Security Installations
This describes systems that are designed to either prevent or monitor access. They cover both physical and virtual security. Examples include: camera networks, biometric keypads, computer firewalls and many others. The ideal system should incorporate all these different aspects to form a single system that works in perfect sync with each other.
Access Control Systems
This is usually an integral part of today's security system. It deals with the regulation of who in an organization gets access to certain level of information or even location. You can learn more about it here: https://searchsecurity.techtarget.com/definition/access-control.
Given the reality of today's security demands, every business that wishes to protect itself must strategically invest in securing it internal structures. To do this, these businesses and organizations will usually have to outsource these tasks as many may not be able to setup viable internal security departments.
What this therefore means is that businesses must know how to go about choosing the company to which they will entrust the securing of both their facility and vital information.
Choosing the Right Company
There are a number of things that any business must consider when choosing a company to which they will hand over the task of securing its operations. Properly putting these factors into consideration will help ensure that the right company is chosen.
Define Your  Needs
Different businesses have different security risk factors to consider. These risk factors should be the determinants of that company's security needs. Once this has been clearly identified, it is then easy to move on to the next stage.
Check for Proper Expertise
Based on the risk assessment you have carried out and having determined the areas of possible threat, you should then focus on finding a company that possesses requisite experience in such a field. Expertise is critical because the best way to secure your operations is by being proactive and not reactive. It takes the right kind of experience to be able to pre-empt and address issues before they even become issues.
Company Reputation
Given how important the subject matter is, you do not want to hand it over to just any company. Just understand that anyone that is handling your organization's security has everything they need to seriously hurt you or even put you out of business. The company you choose must therefore be one that has earned for itself the highest level of reputation. What they will lose should their reputation be tainted must be far more than whatever they can gain by undermining your operations.
Cost
The last thing to look at is cost. We understand that this is something very something and not where you want to be looking for the cheapest quote. That said, it is still possible to get great service without having to go bankrupt. With companies like ASE Telecom, access control and camera installations can be done at very competitive pricing without compromising on quality. Take some time to compare quotes before making a final decision.
Conclusion
Every company must ensure that every aspect of its operations is fully secure. This has become a critical function of today's management team. While this task may not be handled in-house, all efforts must be made to ensure that only the right hands are allowed to take care of this critical aspect of today's business setup.