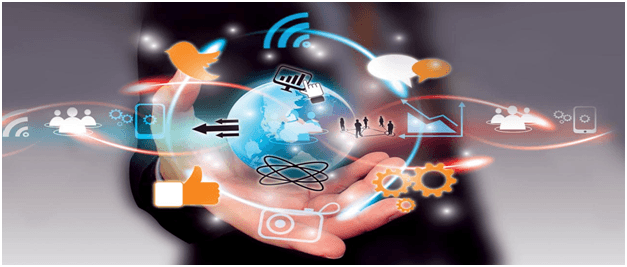 We call this world a global village so what does a village do? It keeps its connections active, and almost everyone is somewhat connected, acquainted or friends with each other. And by calling this age a global village, we mean the same thing. An average social media user contain almost 1000 and above friends at only on Facebook. This counting could easily become countless if the person is on multiple social networking sites and is a regular active member.  We have a population which is below thirty years old and they could not even imagine the world without internet that too without social media interactions.
Now the question arises that how is this thing beneficial regarding education? Well, let's have a look. The world is becoming hyper-interactive and connective with more people and few options. The world which is portable, mobile and with a better sense of knowledge than ever before. To prepare students for the world like this resources must be created and use as per needed. This is the reason why even parents have agreed to the point that social media is not an entirely useless thing. How? Here are some factors.
BUILDING 21ST CENTURY SKILLS:
Like a built-in program humans of this era have developed some skills according to their need and environment which includes;
Preparing an intellectual thought and converting it into reality are the main beliefs of critical thinking. The exposure of minds to a very vast world and to even those areas also where it was impossible to reach before has increased a sense of critical thinking in students.
Today even a four-year-old knows how to operate gadgets, where your mother can suffer from not knowing it. Media literacy is great as it increases confidence and independency in students.
Not only for gossips but to study also today students like to stay connected. They can get informed by each other about the current events of school or related to school. Share schedules and even can help each other in solving problems. There are even some websites that allow you to share your screen , create a server for online group study and allows you to have video chat so that you could communicate well and can understand each other.
COLLABORATION & INFORMATION LITERACY
How to coordinate and collaborate with each other and make it bendable for each other's need is what this age has skillfully taught us.
Social media networking has made us creative on so many platforms, whether it be writing or learning and even creating
AVAILABILITY OF CONTENT
Back then the only source available for notes and study was what your teacher has taught you in class and written on board. And if you were absent then you have to beg your friends to let you borrow their registers for a day or so. But not anymore your school class content could be available to you on several sites and platforms in several ways. Some of them you can edit or correct also. Availability also makes it easier for students to get lazy in copying notes but even this can be a good thing as they have the opportunity to spend more time learning and less time copying.
PORTABLE EDUCATION
As discussed above availability is also the key to portable education. Portable knowledge allows the concept of "education can happen anywhere and everywhere" which is kind of an achievement of this modern age. In a busy world like this a lot of people can't afford the luxury of regular schooling, this is their chance and opportunity to get quality learning and education that too in an informal home-friendly way.
COUNTRIES THAT SUPPORT THE IDEA
South Korea is making it possible to globalize learning by providing a Wi-Fi service for the whole country.
Denmark is also offering platforms which promote faster learning in effective ways.
The USA offers a lot of online formal and in formal education programs.
Australia is also investing in this concept. And other countries as well.
ATTRIBUTE IT CREATES AMONG THE YOUTH
In a world like this, opportunities are immensely massive with careers some of which haven't invented yet. It also creates qualities like lifelong learners, creative problem solvers and fantastic communication skills.
About Author
Andrew Jason is experienced and skilled writer and providing his online Dissertation Writing Services at Private USA-Based writing company for the university and college students and he is continuously contributing to his infinite set of skills.