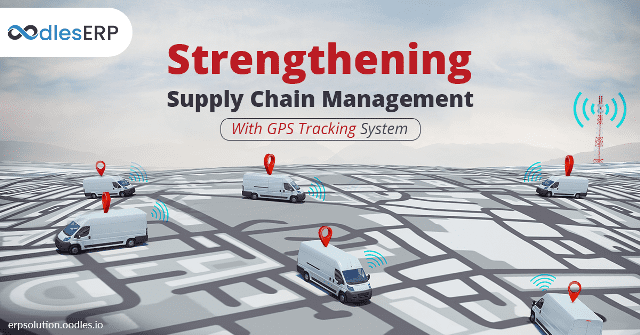 The unpredicted demand and global complexity of supply chain management make it challenging for organizations to deliver goods on time. It's important to improve the reliability of supply chain and increase the visibility of goods scattered across the network. GPS Supply Chain Management solutions can increase data visibility for accurately tracking delivery products. GPS devices and fleet management software enhances a company's product quality, speed of delivery, ensures efficient routing, and maintain overall transport visibility.
GPS entails an information system that provides complete tracking details of assets across a network. Businesses can avoid uneven delays in product shipment and deliveries by knowing the real-time location of the in-transit vehicles. Let's explore how businesses can enhance their supply chain processes with a GPS tracking system.
The Advantages
Enhanced Operational Efficiency: Majorly, modern GPS systems and their related software tools are heavily automated. They don't require constant monitoring. Instead, they inform you of the necessary actions that need to be taken via push notifications. It improves efficiency and becomes convenient for the drivers too. They get real-time information about their routes, congestion areas, and detour sites.
Boosted Customer Service: In a supply chain, increased efficiency, faster arrival times, and safe driving habits contribute to improved customer service. While providing clients with information about their shipments, you gain more control and can report more as well, including accurate schedules.
A freight courier, for instance, could locate a particular shipment and allow agitated clients to pick up goods, while in-transit. You can also identify incorrectly shipped or stowed packages and make faster decisions, like swapping couriers or destinations as necessary.
Vehicle Fleet Management: Using GPS tracking systems, the entire fleet can be managed conveniently together in real-time. It creates an opportunity to guide all drivers along the most accurate routes while avoiding roads with heavy traffic congestion. A shorter distance and less time on the road results in appealingly lower transportation costs.
Moreover, GPS tracking, when combined with data analytics, provides a level of fine-tuning which is incredible. The data being generated enables businesses to analyze which drivers perform better under different driving conditions. Accordingly, the best fit can be appointed for any given route.
Informative Data Analytics: As discussed in the previous point, GPS-powered data analysis is very effective for supply chains. It allows businesses to process complex data to take important business decisions.
From monitoring fuel consumption to finding trends of bad driving habits, GPS data analytics brings a much higher level of transparency. It enables a clear understanding of supply chain management to make adjustments that promote growth.
For instance, a business needs to mitigate the use of company vehicles to reduce fuel consumption. Doing that is essential to avoid instances of drivers taking the business vehicles out for their personal trips. Moreover, businesses must provide the shortest and most efficient route to their drivers for minimizing fuel expenses. GPS and vehicle-tracking tools enable you to achieve such goals precisely. You can monitor poor driving habits, fuel mileage, and costs and make adjustments to meet specific goals. If you want a driver to fuel up a vehicle, you can calculate exactly how much fuel is needed for a trip. Accordingly, you can communicate with the drivers, instruct them, and make minor adjustments in real-time.
Theft and Loss Prevention: GPS tracking solutions are necessary for businesses to track expensive assets or high-value cargo. Companies can track the database of assets such as vehicles and equipment in great detail. They can also record information such as the manufacturing year of a product, model, serial number, etc. It is useful for identification and verification of assets during asset recovery or for general item check.
When an asset is stolen, companies can use GPS trackers to locate it, improving the probability of recovering stolen assets. You can also trick thieves by making them believe they have removed tracking devices by installing GPS tracking decoys. It will, in fact, leave an actual covert device intact on the assets.
Sensors can be installed to notify companies on misuse and harsh handling of assets. It can warn against possible abuse of assets or theft. For instance, sensors can automatically alert companies if a door of a vehicle has been forcefully opened. Also, fingerprint readers can be installed to verify and validate the identification of the personnel using the asset.
Enhanced Security: There's a lot at stake in transportation, distribution, and logistics. If a vehicle, shipment, or even part of a shipment is stolen, the losses can be huge. Your business' reputation hampers, your customers and clients lose money, and in some cases, your drivers may even be in danger. In such cases, an Advanced GPS system can be used to monitor your fleet. They can also be programmed to send alerts when something strange is going on. It gives you ample time to check in with a driver or take action if something goes wrong.
Strategic Management: With a GPS-based SCM solution, companies can improve their operations through strategic management. The solutions can gather data on inventory items, across the supply chain network, whether in transit, in warehouses, or fulfillment centers. For instance, companies can use GPS tags to track specific items or containers. The GPS tags can report on location, time, speed, shock and motion tamper, tilt, temperature, humidity, etc. From this data, companies can analyze and monitor the movement of their goods and status of the storage environment. It enables companies to anticipate breakages and unsuccessful deliveries. Consequently, companies can decide on the best way to ship goods.
Driver Safety and Performance: Until self-driving and autonomous vehicles are used as a primary source of transport, the core responsibility still falls on human drivers. It also means that their safety, performance, and behavior are paramount to a successful business. If a driver falls asleep while driving, veers off the road, or causes an accident, it might fetch huge losses for your business. Moreover, goods will be lost, the company's reputation will be tarnished, and both equipment and resources will be damaged.
Constant tracker encourages drivers to be safe and responsible. You can also create a loyalty system that incentivizes good driving because you have more oversight as to who's driving well or poorly.
About Author:-
Currently associated with Oodles Technologies, an ERP Development Company. Abhijit is working as a technical content writer. He is focusing on unfolding the elements that make technology interesting. His writing consists of disruptive tech trends including ERP, artificial intelligence, cybersecurity, Internet of Things and Supply chain.