Technology is the logical aspect of all digital inventions that make life easy and effortless. Technology is omnipresent. It is found everywhere from houses, malls, offices and even in the toilets.Yaa! Technology has found itself everywhere in Human's life. Man cannot survive without technology and has got addicted to it. Technology is something that is the talk of the town with people wanting to have the latest apps or games. Lets have the list of best Android Apps and games of the year 2017.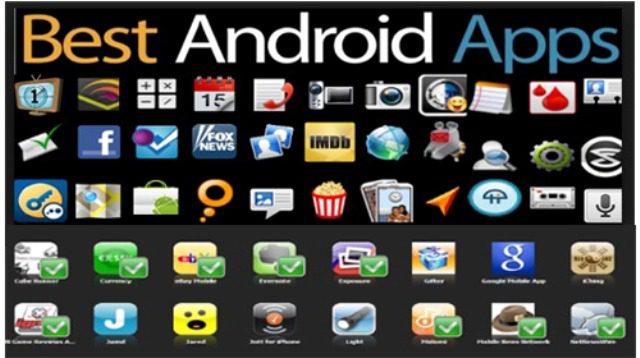 5 best Android apps of 2017 for Android:
These are the best five android applications for your device. These apps are free.. free.. free! Find an app according to your convenience. But to get the best apps. Read the below article.
Blue Mail
Rank: 4.5/5
For all the frequent email users. Experience the new email app 'Blue Mail'. It is one of the best email app and the latest one if you have got bored up with the Gmail. It systematically organizes all your mails making your work easier. The Blue Mail enables smart settings along with android wear support, locking  private mails, color coding etc. The app works smartly according to the user . The app is absolutely free ! Download now….
Goggle Drive Suite
Rank: 4.5/5
The Google Drive suite comes  free with purchase of Google Drive Suite.Once you download the app and get a sweet treat of 15GB free upon signing. It comes with handy office apps like Goggle docs,Sheets, Slides, photos, Gmail, calendar and Google keep. All the related office works can be done on your mobile phones or tablet. It user also gets unlimited photos  and video backup, live collaboration and many sharing features  to connect with your friends. Quickly download latest android app and impress your boss!
Google play music
Rank:  4/5
This app is best for all music lovers. Google play supports both the user's playlists and online music.Be free to download all your best songs online, make your playlists larger and larger. Once the user subscribes the Google play music, he /she gets lucky by getting the Youtube red app.This new Youtube removes all ads, giving ad free videos. This is a thumbs up app for all hardcore musicians!
Wunderlist
Rank: 4.5/5
This is the app for all the adventurous people and for the dedicated working class people. This app helps to make a list of all your ideas or to-do list or things to do, personal  wish list to discover a place. The app can be accessed from your phone, tablet. Feel free to share your list with your peers or employees. Make your list more exciting by attaching photos, PDF's, presentation making it easier for people to understand it better.The best part of the app is the 'Reminder' part, set a remainder so that you don't forget your work amidst a busy schedule. Get the app for free and use it from anywhere and everywhere!
Last pass Password Manager
Rank: 4.5/5
This app is a password manager and password generator which provides privatization to all your personal accounts. It secures your password so that you don't write it every time you login. The last pass master password handles all your accounts even if you forget it. The other features include storing passwords, logins, create online shopping profiles, general strong password, track personal information in photo and audio note which is applicable to  all devices. Privatize your account by clicking on https://play.google.com/store/apps/details?id=com.lastpass.lpandroid&hl=en
Best apps for every user
These applications are user friendly and are simple yet powerful. These are the 2.0 version of their older apps that symbolizes the rage of technology in the 21st century among people. Everyone wants to stay up-to-date with all the latest technology which helps them to reduce time and effort. These android apps are easy and simple to use. So why waste time with the older versions, update your phone and experience the advanced versions of technology 2.0!
For more such application, simply go to google play by clicking on the below link: https://play.google.com/store?hl=en.
Author Bio:
Sejal Parmar Working at Webratna Digital and SEO Marketing,Vadodara,Gujrat