JPG and PNG are the frequently-used format of photos. In the recent years, HEIC has become widely supported format, especially on iPhone/iPad. As some Android users and Windows users complained that they cannot open HEIC files directly, this post will lead you to view this HEIC images on different devices, including Windows, Mac, Android and iOS.
What is HEIC Image?
HEIC is a kind of image format, also called as HEIF, short for High Efficiency Image File Format. Its extension is ".heic" or ".heif". HEIC files will save half as much as the size of JPG/JPEG without compromising the quality. Since 2017, iOS 11 or above would capture the photos and save them as .heic, so you can view them on Apple devices (macOS and iOS) while it is currently not supported for Android and Windows. Thus, to view .heif on Android or Windows, it is in need to have HEIC Viewer/Converter.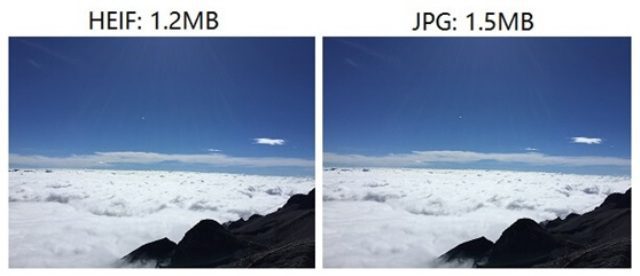 How to Open HEIC on iOS/Android Phone?
For iPhone/iPad users, as it is mentioned above, you can view all photos in different formats, including .heic. If some users don't want HEIF images, it is possible to disable High Efficiency Image Format: Go to "Settings" > "Camera" > "Formats" "Most Compatible".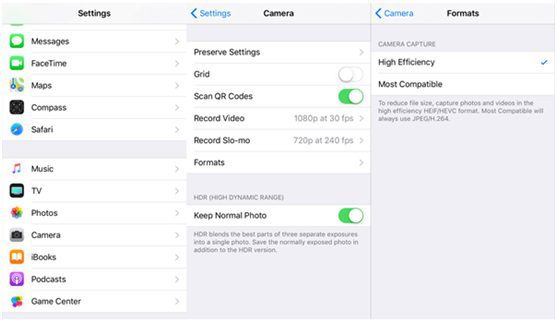 For Android users, Dropbox and Google Drive allow users to view .heic images even though they are cloud storage service. Not only on Android, it is also available to open HEIC photos on Dropbox/Google Drive on iPhone, especially iPhone 6s and the former.
3 Steps to View .heic/.heif on Android (take Dropbox as an example):
Upload the HEIC images to Dropbox from the device which the HEIC images are saved in.
Install Dropbox on Android phone which you tend to view pictures in and log in your account.
Select the pictures with .heic format to view. In addition, you are also able to check the info of the items in Dropbox app.

Besides, sending HEIC images via email can make users view in the attachment. Use two email accounts: one is to send the images; the other one on Android phone is for receiving and previewing.
How to View HEIC Images on Windows and Mac?
On Windows computer, it does not support to open .heic files but you can convert the format to the suitable one. There are lots of apps or online service for HEIC converting, but not all of them will keep the original quality. Therefore, users may need to try some and make comparison to get the top one.
As the top HEIC Converter, it must be:
Free;
Easy to use;
Selected with output format;
Available to convert .heic photos to .jpg/.png in batch mode;
Not compromise the quality.
There are few HEIC Viewer/Converter satisfying those requirements. Here will introduce the top 3 HEIC Converters:
Top 1. FonePaw HEIC Converter Free: Convert your HEIF files into widely-used format on Windows 10/8/7/XP.
Launch and Upload HEIC Pictures
Launch FonePaw HEIC Converter and open it. Add your .heic images to the program. Drag the photos to the interface or click "Add HEIC" button to upload the pictures.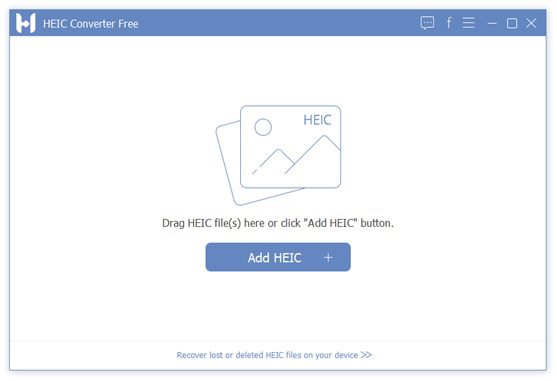 Choose Output Settings: Format and Quality, Folder
All uploaded images will be displayed with name, size and file directory. On the right side, please customize the conversion settings:
Format : PNG or JPG;
Quality: x% can be selected and 90% + is recommended, which will keep high quality as the original photo;
Keep Exif Data or not: Exif Data stores information on the image including F-number, location, resolution, white balance, shutter speed, exposure compensation, metering system, ISO number, date and time, and auxiliary lenses.
Output Path: choose folder to save the converted files.
Converting HEIC/HEIF to JPG/PNG
Now start converting to JPG/PNG with hitting "Convert" button. As the conversion is done, open the folder to preview the images on your Windows computer or share to other devices.
In this step, it is possible to convert one by one or convert all photos in batch mode.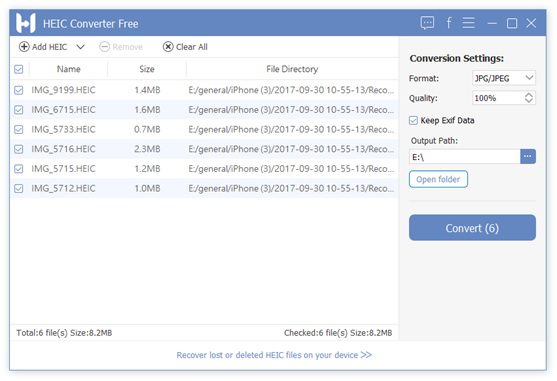 Top 2. iMazing HEIC Converter: A tiny desktop app to convert Apple's new iOS 11 & 12 photos from HEIC to JPG or PNG.
The awesome features you should know:
Convert HEIC to JPG
Convert HEIC to PNG
Drag & Drop .heic files or folders
Fast and easy to use
Preserves EXIF metadata
Support for color profiles, including wide-gamut
Free to use
When you use iMazing HEIC Converter, you will find it works like the first one HEIC converter. The steps to convert .heic pictures are the same.
Drag and drop the files to the program;
Select ideal format;
Click Convert and choose destination path to get started;
Show files after conversion.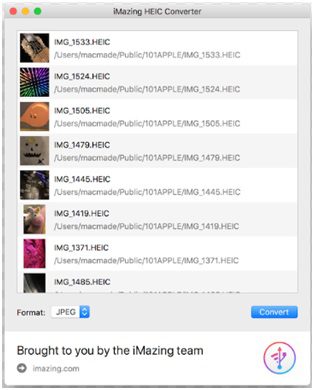 Top 3. Apowersoft HEIC Converter: Provide online version and desktop app version for HEIC conversion.
This HEIC Converter allows you to convert images online without downloading app but when you try it, you will find it doesn't support users to choose the format of the target images since it only can convert into .jpg format.
Follow the guide to convert HEIC files online:
Search Apowersoft HEIC Converter and click into its webpage.
Choose HEIC/HEIF or drag and drop them to the converting area.
It will convert automatically.
Download the images on PC to preview.

Generally, Mac computer with macOS 10.13 or newer version can preview HEIC files directly without any operation. If the Macbook or iMac is with the older OS version, try the HEIC Converter/Viewer. The above methods with the top HEIC viewers also work on Mac computer to transform .heif/.heic photos to .png/.jpg/.jpeg.
Now, HEIC format is not a problem for everyone.
Some Tips Here:
If the HEIC image get lost on iPhone, don't worry. It is a kind of iOS photos so those iPhone recovery software also can retrieve the .heic file back.
If you tend to move the .heic photos to Mac or PC with the compatible format, open your iPhone and go to "Settings" > "Photos" > "Automatic" in "TRANSFER TO MAC OR PC".