PST Exporter, v1.0, is a Windows based utility, designed to help users resolve their problems pertaining to conversion from Microsoft Outlook, Exchange and Office 365 to other apps. It's a single utility providing multiple options for converting PST emails, contacts and calendars to MBOX, PDF, MSG, EML, EMLX, vCard and ICS formats. Let's find out about all these options and other software features in detail. This review is based on my personal experience and testing and includes all the features and functions that will help users in knowing the software in much better way.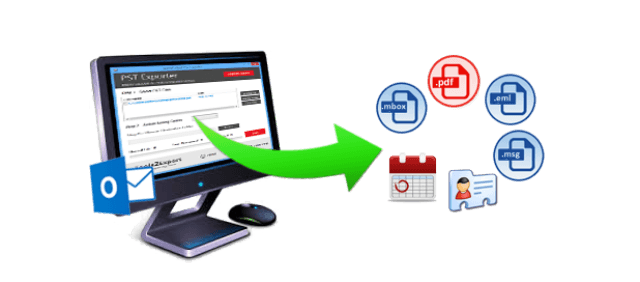 PST Mailbox Converter – All Rounder Solution to Multiple Problems
Whether its PST files' vulnerability to corruption or you are having other requirements (like changes in job environment, moving from Windows to Mac systems, forensic purposes etc.), PST Exporter will assist you in solving your problems. It provides 6 different options for saving PST emails to MBOX, EML, EMLX, MSG and PDF ; contacts to vCard and calendars to ICS formats. Moreover, it supports conversion of PST files extracted from all editions of MS Outlook, MS Exchange and Office 365 into different email applications like Thunderbird, Window Live Mail, Entourage, eM Client, Dream Mail, Opera Mail, Mac Mail, Netscape, EarthLink, Spicebird and so on.
PST Exporter – Specifications
| | |
| --- | --- |
| Product Name | Tools2Export PST Exporter |
| Licensed version | 1.0v |
| File Size | 25.15 MB |
| Supported File Formats | MBOX, EML, EMLX, MSG, PDF, VCF and ICS |
| System Requirements | Pentium II 400 MHz, 64 MB RAM, Minimum 30 MB Space |
| Operating System supported | Windows. All current and earlier editions supporting both 32 and 64 bit. |
| MS Outlook | Not Required. All editions supporting both ANIS and UNICODE character encoding PST files are supported. |
| Download Link | http://www.toolstoexport.com/free-demo/pst-exporter.exe |
Software Working – Brief Explanation
When installed on users' system, the first screen of PST Converter looks like this :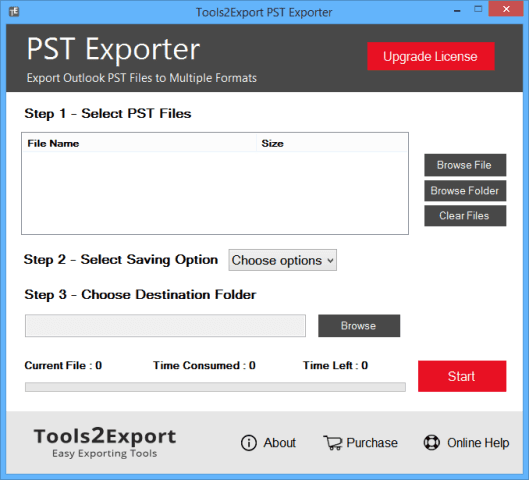 Step 1 – Select the PST Files.
The first step involves selecting PST files/folders using the options "Browse File" or "Browse Folder". If you wish to remove all or a few of them, you can do so by first selecting the PST files and then clicking on the "Clear Files" button.
Step 2 – Select Saving Option
Here, you will get 7 different options for saving PST files. These options are PDF, MSG, EML, EMLX and MBOX for emails, vCard for contacts and ICS for calendars. Select anyone option of your choice and move towards next step.
Step 3 – Choose Destination Folder
In this step, chose the desired location where you want to save the output files. Finally, click on the "Start" Button.
Once the Start button is clicked, the software will start migrating data from PST files to the chosen options. The time taken to complete the process will depend upon the size of the PST files, and may vary accordingly.
Prominent Features of the PST Exporter
Multiple Conversion options : One of the highlighting features of PST Mailbox Converter is its support for converting PST files (messages, address book, calends) to diversified formats : MBOX, MSG, EML, EMLX, PDF, vCard and ICS.
Convert multiple PST files in batch : Using this option, users can convert their unlimited number of PST files, at once. This option is very beneficial for them as they can now save their crucial time which could have lost in choosing and converting them one by one. With this batch option, they can do it in few clicks only.
Multiple saving options during conversion : While converting PST emails, the software offers multiple saving options : including deleted emails, excluding deleted emails, deleted emails only. Users can choose them according to their conversion requirements.
Dual saving choices while converting PST to PDF : When PDF file format is selected, the software provides options for users to either create individual PDF file for each email or generate one single PDF for all the emails. The attachments too, can be saved either in a separate folder or embedded within the PDF document.
Converts entire data with 100% accurate results and there is no data loss or corruption : Whichever format is selected, the software maintains that all the data is converted having accurate details and without any data alteration, damage or corruption.
Supports ANSI and Unicode PST files : PST Mailbox Converter supports all kinds of PST files. Whether they are ANSI or Unicode encoded, the software will convert them all without any problems.
No need for Outlook : Being an independent application, PST Exporter works efficiently in the absence of MS Outlook and other applications. It only requires PST files, extracted from any edition of Outlook – 97, 98 to the latest 2016. Moreover, the software efficiently converts PST files extracted from MS Exchange and Office 365 too.
Save Output at desired location : The software privileges its users to save the output files at the location of their choice, making it easy for them to search and manage the data accordingly.
Workable on all Windows Editions : the software is Windows based and is supported by all early (98, XP,) and latest (10, 8.1, 8 etc.) Windows editions supporting both 32 and 64 bit.
Final Verdict
PST Exporter has been tested for its operational effectiveness, competencies & compatibility and found to be working as per the specified parameters. It helps users in converting PST emails, contacts and calendars to MBOX, EML, EMLX, PDF, MSG, vCard and ICS formats. In my opinion, PST Mailbox Converter is a trustworthy solution for exporting PST files of Outlook, Office 365 and Exchange into innumerable supported file formats.
About Author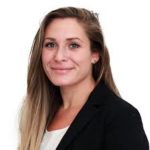 Jessica Smith is a tech savvy who likes to gain information on latest technical topics. Being a technical blogger, I like to share technical ideas with everyone.