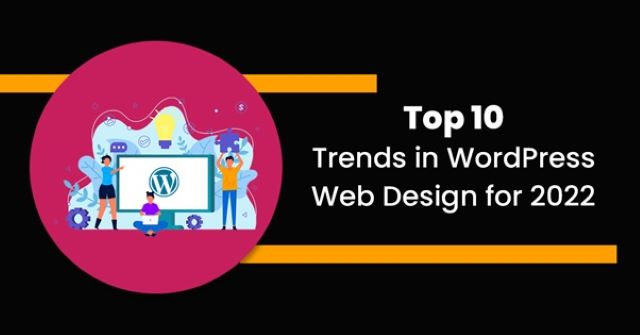 WordPress content management system is king for web development, particularly for startups or non-technical users. Additionally, it is a dynamic environment constantly changing to maintain the optimal performance of WordPress-based websites and their security, aesthetic appeal, and productivity as measured by recorded results.
A WordPress web designer must know market trends and changes because they can influence their work. Therefore, in this article, they will find out the top 10 WordPress Web Design trends for 2022 and their possible effects on the web design world.
For starters, let's talk about ten emerging design trends in WordPress Development:
The top 10 WordPress web design trends for 2022 are listed below.
Mobile-First Web Design:
Mobile-First Web Design is a decision to design websites according to mobile users' needs. This approach reduces the number of visual elements in the website and focuses on features compatible with various devices, from smartphones to tablets and laptops. Instead of making all the website's features work on a desktop, it just works on mobile devices.
To support this approach, new WordPress themes are being developed for mobile-friendly websites, and some basic functionalities have been removed from the original WordPress theme. For example, you can choose not to add a responsive menu or slider in your theme, as these items are unnecessary when designing an app-based website.
Drag & Drop Builder:
Drag & Drop Builder allows users to design their website without touching a single line of code. The core principle of this approach is that you can design your website easily and quickly by dragging and dropping the elements (such as images, text boxes, icons, etc.) on the screen. WordPress drag-and-drop plugins like Divi and Elementor are both quite common.
You can save tons of time and energy and have complete control over the designs you create. It is important to note that this approach requires the users to have good technical skills. However, their workflow is faster than the old-fashioned method of designing a website by hand.
Virtual Machine-enabled Assistant / Chatbot:
The concept of a chatbot is not new, but the rise of web technologies such as machine learning and artificial intelligence has enabled its modern implementation.
A virtual Machine is an essential tool that allows us to deploy chatbots on a cloud platform. Its purpose is to run all programs in an isolated environment so that they can run without compromising security issues. Businesses frequently use virtual Machines for testing and deployment, as well as for business applications and mission-critical projects.
A virtual machine is an operating system with complete security isolation (security sandbox). It can run any other operating system in the same manner as the personal computer.
Addition of Thumb-scrolling:
This new trend has been introduced to make the website look cool. Thumb-scrolling is a new page design, which can be described as a sliding page that makes browsing content easier and interacting with buttons, links, and other functions. This method benefits beginner users who do not want their hands to take up the screen when scrolling down.
Thumb-scrolling helps reduce the risk of accidental button clicks because it allows you to scroll down without needing your thumbs. A thumb-scroll layout typically uses mobile devices as its central platform, but it can also be used on desktop computers with touch screens or touchscreen monitors.
Use Of White Space & Minimalism:
White space is a design technique that stresses the importance of empty spaces on a website. White space can be either an area or a lack of an area. However, the most common white space is empty spaces between visually connected elements.
White space is an effective tool for making websites simple and easy to read. You are adding white (or any other suitable color) to your pages and organizing elements in a minimal design with as little content as possible, making them easier for users and search engines to read.
This approach helps increase popularity, particularly when WordPress development is based on the content on the page. Also, it helps reduce the website's loading time, even when it has a lot of images and videos. In addition, white space can also be used in advertising to help draw attention to a specific product or service.
Progressive Web App:
Progressive Web App is a way of building highly functional, fast-loading, and easy-to-use mobile apps. This concept can help mobile website owners provide their users with a fast and interactive experience, which can be achieved through new technology.
Progressive Web Apps are more than just mobile versions of websites because they combine all the best features from all other apps. In addition, Progressive Web Apps provide an offline mode, push notifications, and many others, making them more interactive than any other app.
With this trend, WordPress web developers can build mobile-friendly websites with rich functionality in a few easy steps.
Voice Search:
The emergence of Voice Search is one of the more anticipated trends that have dominated the web industry. This technology allows people to interact with websites, search for things and make purchases without limitations.
This approach promises users to access information without having to click on pages, allowing them to receive results in audio responses. The question and the answer will be heard directly from a search engine instead of being converted into text. All you need to do is speak your questions into a microphone or write them on a device using voice recognition software and then wait for the answers you want.
E-commerce Functionality:
E-commerce is a tool for creating online stores. It allows people to buy things that they want with the help of their mobile phones or other devices. Also, it will enable users to read more about the product and get suggestions from other customers, which enhances their buying experience.
Most E-commerce websites are based on WordPress, which means this approach can be applied to WordPress developers. By being mobile-friendly, WordPress websites can use e-commerce functionality and add new features and functions that make it easy for users to purchase things.
Use of Simple, Playful Font and Typography:
Flat design has been the trend in web design during the past few years. However, balanced designs have been replaced by playful fonts and typographical elements, which are more appealing to users. Many websites currently use this approach on their home pages, particularly the ones that want to attract a younger audience.
Typography can help enhance your website's functionality and make it look better. In most cases, you do not need to use the latest and greatest trend to make your WordPress website mobile compatible. Professional WordPress developers can create a WordPress website for you that is ready for this trend and much more.
Parallax Effect:
The parallax Effect is a style of movement that can be seen in websites, especially when an object moves from one place to another. This movement is often attributed to the fact that the webpages are "hanging" against the background of the fullscreen.
The adoption rate of this trend has increased rapidly in recent years amongst both users and website owners. That approach is prevalent amongst users as it is easy to navigate around a website with Parallax Effect and gives more depth and immersion to its contents. This trend provides a more immersive experience for users, which helps them understand better the value offered by the website they visit.
Conclusion:
While many other trends can be applied to WordPress website developers, these ten trends should give you a good idea about the techniques for creating mobile-friendly websites. They are becoming increasingly popular amongst users and web developers alike, so everyone needs to follow them in Google Search.
WordPress web developers can also utilize these trends to create a Website compatible with this concept. Also, WordPress maintenance and support services are essential for a website to be updated with the latest trends. WordPress developers are constantly updating the latest WordPress to make it more compatible with the latest trends and techniques.