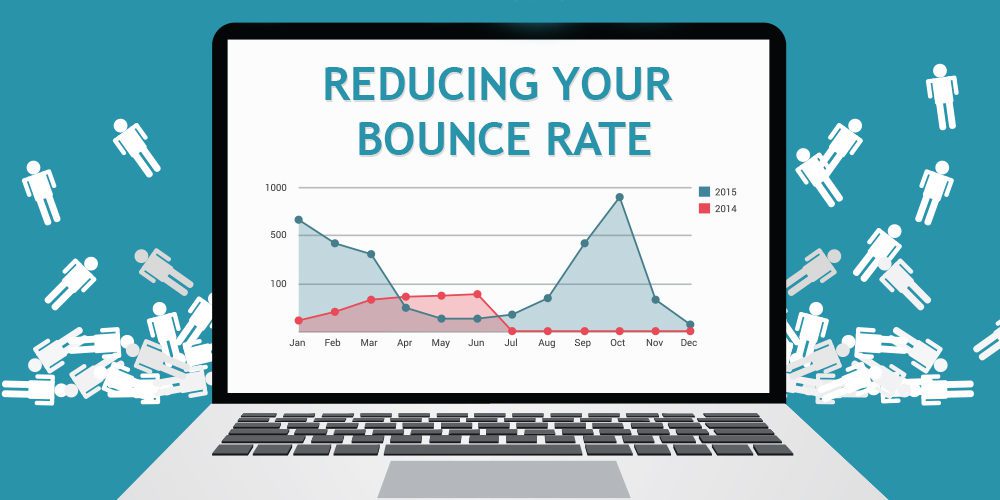 The internet is bombarded with a lot of content. So how could you make your article shine differently and grab attention? It's now a very relevant question. To make your article to be visited by more audiences it's important to decrease the bounce rate. There are certain SEO strategies and techniques to decrease the bounce rate.
Everyone would like to rank higher on google, want people to stay on your website longer and you want them to have a good page experience.
What is a bounce rate?
Bounce rate is an important feature of the SEO strategy. It is basically a metric inside of google analytics that will tell you how often people leave your website shortly after they visit. Obviously, this is a problem if you can't get people to stay on your website because it either means you're targeting the wrong keyword phrases in Google or you have a bad page experience.
How you can drastically lower your bounce rates?
An important factor that decides your site ranking is the bounce rates. If they're leaving right away, that means they're not finding what they're looking for. So great care and importance are given to the SEO strategies to decrease the bounce rate.
FACTORS THAT AFFECT THE BOUNCE RATE IN  SEO STRATEGY
We can remove unused javascript,  we can size images a little bit better, and can avoid serving legacy javascript to modern browsers. But unfortunately, a lot of this stuff is what actually makes the website look so nice.
As you can see 65 out of 100 should be considered green when it comes to mobile
most websites don't even make it that high. The performance scores are calculated directly from the metrics in the calculator.  The best gauge to find the page speed is to turn off the wi-fi in your home, go directly onto your cell phone service and type in the domain and see how fast it loads for yourself.
FIND YOUR PAGE SPEED POSITION
The first thing that we have to consider when actually trying to open up our page speed and get it to be a little bit higher is checking to see where you are now. It's really good to use the page speed insights tool by the google developers to actually test this and all you have to do is throw in a domain like maintainital.com and you can actually get a score from google that basically says how fast is this website.
AVOIDING POP-UPS
The second piece is avoiding pop-ups. So instead of using a pop-up, consider using a pop-up banner at the top of the website that potentially stays on scroll. This is important because if you have a pop-up coming to the website it's going to increase your overall bounce rate lowering your metrics towards google.
THE UNNECESSARY PLUGINS
The next SEO strategy is to remove the unnecessary plugins because the editor uses widgets which are basically hard-coded ways to add things to your website. If you're using something like WordPress generally you're going to have plugins that can overall slow down your site and if you were to do a search for the most popular WordPress plugins you can probably find the sizes of these plugins and every single plugin that you add is actually going to add weight to your actual website.
So you can see that WordPress actually has a page on their website that talks about the different types of plugins that are actually most popular for them, so for example Yoast SEO is one of the most popular plugins that people use and these plugins are always updating and these plugins are always being hacked and these plugins are being updated and because of that it's increasing the size of the actual plugin that you're adding to your website, overall lowering the actual site speed that you have.
If you checked inside of your WordPress you can see exactly how big these files are but every plugin that you have to your site adds weight to the site so it's always better to use something like Duda that's actually going to give you widgets already hard-coded into their platform and you have the ability to hard code these widgets into the platform.
If you're using Duda as your website builder and you want to shop different types of plugins and you don't want a hard code there's actually a website called the camel. Co and you can actually search for widgets inside of here they actually offer widgets and you can actually go in and buy these different types of widgets. You can buy these widgets and then they'll install them directly into your actual duty builder giving you widgets that you don't technically have to hard code.
THE USABILITY
Usability is an important SEO strategy. The site speed is set up the right way you're not installing a lot of these different plugins. So there are a few things that we like to do for usability that makes the site easier to use.
One is having clear and actionable navigation items that people can highlight and scroll over. When you put the mouse over these different links here they actually change colors and that's affecting the usability.
If you want to have a non-frustrating user experience the first one is to make sure that you're using custom photos. Now the next thing is the engagement of the website. There have to be engaging factors when we use our websites. We want people to click these buttons and we want people to fill out the contact forms and we want them to navigate the website because it's one of those things that's going to impact the overall usability of the website and give the user less frustration.
MAKE SURE THE TAGS ARE CORRECT
In SEO strategy the tags are really important. It is really important to make sure that your title tags are correct and that they're accurate and that your meta descriptions are accurate as well. Misleading somebody from a click to a page is the ultimate way to destroy your user experience.
Ultimately the best way to increase your user experience is to increase the experience of your existing customers visiting your website. If your existing customers can't find you because your branded name is not inside of your title tag. It will destroy your bounce rate and ultimately you're going to lose a lot of your existing customers that are looking for your brand or business.
TITLE TAG REFLECTS THE PAGE
If you want to decrease your bounce rate you want to make sure that your title tag accurately reflects that page.  You should be doing the same thing with your ads as well. If you're running any type of google ad to your specific website and your actual client's website you should make sure that the ad reflects the actual page accurately. if you're sending google ads traffic to your website you've got to be very careful with this as well because analytics will actually track the sources of the different types of things that are coming to your website.
BLANK PAGES AND TECHNICAL ERROR
If you have blank pages and technical errors it's going to be really difficult to get a higher bounce rate because people are going to be exiting off of the website so for example if you see that five pages returned with a 404 status code which means that visitor wasn't able to find the actual page.
If there are six internal links on the website that are broken, that means at any time if someone's navigating one of your websites and they decide to click on this 3d prototyping link,  this page would show a 404 which would ultimately get them to either exit the site or continue navigating.
So it's better to set up these alerts inside of Semrush to let you know on a weekly basis if there's anything new that's happening. This is important because if you're updating your website on a monthly basis it's important that as you're updating you're also making sure nothing's broken through the cracks because that's going to increase your actual bounce rate.
HAVE HIGH-QUALITY CONTENT
The next way to drastically decrease the bounce rate is to have high-quality content.
So google's actual algorithm update is that if your content is free from spelling or stylistic issues if it's produced well and does not appear sloppy,  if the content is mass-produced or outsourced to a large number of creators or if the content doesn't have an excessive amount of ads that distract or interfere its really good. If the content doesn't display well on mobile devices it's not considered good content.
The triple checker, this tool is going to basically run grammar audits on your website on a basically a monthly basis.
SETTING GOOGLE ANALYTICS
Google Analytics is a good SEO strategy to check the bounce rates. Inside the settings tab, you can actually visit google analytics and you can add the code for that google analytics tracking id.
GOOD USAGE OF KEYWORDS
Some sort of keyword research to actually see what makes sense and what doesn't. all these keywords will likely increase or improve my balance rate decreasing your actual bounce rate percentage. We see websites where the keywords don't match literally anything and that's something that's going to destroy your actual bounce rate, giving you less of a user experience and lowering your actual score in  SEO Service.
Make some of these better decisions so the first one is where are your new visitors versus your returning visitors. If you have more returning visitors than new visitors you should be making your website to attract returning visitors as well as satisfy them to increase your user experience and your overall bounce rate.
Your website can rank higher in the google search results by just following basic SEO tactics like internal linking and actually creating more content on your website that's clickable.
You can use Semrush's traffic analytics tool to actually check if your average session duration is like 10 seconds. Obviously, nobody can find what they're looking for in 10 seconds so ultimately those people are probably just leaving your website and damaging your analytics
Use SEO to your advantage to increase your bounce rate or to improve it.
The first thing you need to do is show your product or content first. If people are coming to your site because you're an online product, make sure you showcase your products. When you showcase the content first, then the bounce rate will go down.
Number two, make sure your text size is large enough. When your text size is really small it increases your bounce rates, making it hard for people to read, especially if they're on mobile devices.
Number three, make your web pages very minimalistic. By focusing on what readers and visitors want first, you can decrease bounce rates. The other important step to do is to cross-link. The moment you link your content to other pages of your website, you'll notice that people will start spending their time going throughout your whole site versus just bouncing off that page.
After that, make sure you add images. Images are visually appealing, it keeps people there. The images could be an image, or it could be a video, or it could be an audio file, in essence, it's another type of content that's not text-based, that keeps your visitors engaged and decreases bounce rates.
If you do those things, people will stick on your website longer, your bounce rate will go down, and you'll rank higher in Google over time.
So by keeping these valuable 10 tips in mind you can rule the SEO world.
About Author:-
Kathryn Martin is a Digital Marketing Manager at SEO Company Experts. She is passionate about her job and always love to share content on SEO Content Marketing, PPC  Services, Digital Marketing, and Branding & Online Marketing for All kind of Industry.