Kick out the virtualization layer and achieve maximum performance.
Well!!!
The title itself said we would compare the top 6 bare metal server providers companies in 2021 regarding Flexibility, Performance, Uptime, Cost, Customization, and Support to opt which service provider is best for your highly intensive workload.
Let's get started!
#6 Bare Metal Server Providers of 2021 – At a Glance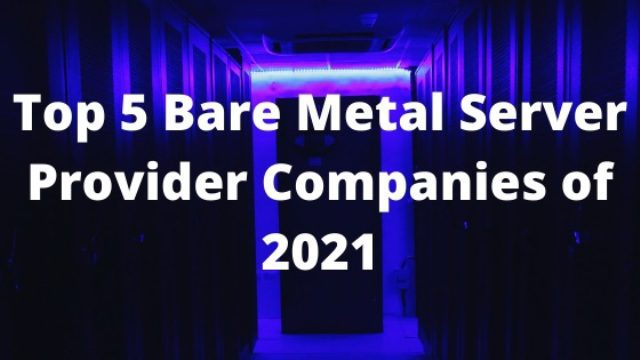 If you are dealing with sensitive and highly confidential data, these best five companies work best for you. We have tested the services offered by the mentioned companies, and they stand out excellently in every aspect. The following are the companies.
Bare Metal Providers – Top 6
Servers.com
HEFICED
NetForChoice
Fasthost
Zenlayer
Scaleway
Let's understand all of them in detail.
1. Servers.com
servers.com is a global IaaS hosting platform, founded in 2014 by a group of hosting industry veterans, with 18 data centers worldwide across North America, Europe, and Asia.
Their mission is simple. Make customers happy, keep them happy. They do this by bridging the gap between traditional bare metal hosting and hyperscale cloud, providing bare metal dedicated servers with cloud scalability. With pre-racked, pre-stacked server configurations and customizable RAM, disk and networking delivered quickly and cost effectively.
Their customers' solutions are designed and managed by dedicated teams of specialists in gaming, iGaming, Web3, trading, adtech and streaming. All underpinned by 24/7 world class support.
Why buy servers.com bare metal servers?
Enterprise grade, high performance servers
Continuous low latency
Provision servers in 40 minutes or less 
Month-to-month pricing models
Custom solutions for your business
Dedicated account managers
World class 24/7 support
Free global private network
2. HEFICED BARE METAL SERVER
The topmost bare metal server provider in the list is HEFICED. According to their bare metal server hosting review, it promises excellent High performance, Resilient Security , High bandwidth, and best Uptime. In addition, they offer a high level of customization at the best price in the market, according to their website.
Many companies preferred their bare metal servers, such as PureVPN, Avast, which says a lot about their server credibility. All the bare metal servers are hosted in the highly secure, ISO Certified Tier III data center, which incorporates enterprise-grade hardware redundant computer, power, and cooling resources to ensure maximum Uptime to keep the server always up.
Above all, they are well-equipped with IPMI or Intelligence Platform Management Interface to facilitate and streamline remote access and monitoring and in-house tech support team to resolve infrastructure-related issues as soon as possible.
Why Buy Heficied Bare Metal Servers?
Enterprise-Grade Infrastructure
Up to 4096 Ips / Server
Smart Server Management
High-tech Security
Low Latency
Full API Access
Auto-provisioning
3. NetForChoice Bare Metal Servers
The second-place hold by NetForChoice Bare Metal Server Hosting. It is a certified and highly secure data center company and not a reseller, which is just a cherry on the cake. The dedicated server configuration is founded on intelligent Intel Xeon processors CPUs. In addition, the user can deploy Ubuntu, CentOS, Debian, and other Linux variants that can be live in a snap. In short, it is a combination of a dedicated server with the flexibility of the cloud.
The NetForChoice Bare Metal Server is preferably used for heavy compute workloads like Distributed analytics, Batch processing, Gameplay, IoT, AI, Big data, ML, and high-performance computing.
The company offers an exclusive that has following configuration:-
Intel Xeon E3 – 1231
4 Cores
32 GB
480 GB Enterprise Storage
480 GB Backup Storage
99.995 % Uptime with Low-latency
Unlimited Bandwidth
Tier III or IV data center facility
All of these at just 6000 INR.
What's more – You can get one month of free Bare Metal Server Trial. So you can experience the state-of-the-art, DDoS-protected physical machine power. After the trial, it is ultimately your choice that you want to buy the server or not. No compulsion would be there.
The company's network facilitates unlimited bandwidth, and 99.995 % Uptime which is best for the hosting application required optimized performance monetize moments. In addition, servers are well protected from cyber attacks, so you don't worry about anything, and 24*7*365 support is always there for you.
Why Buy NetForChoice Bare Metal Server?
One month free trial
DDoS protected server
99.995 % Uptime
Unlimited Bandwidth
Tier 3 /4 Data center security
24*7 Server monitoring
Exuberant Support
Low price
Designed for a high-compute environment

4. Fasthost
After NetForChoice, the Fasthost provides cheap bare metal servers with excellent support based in the UK. The company lets you host your intensive workload on dedicated resources that can be easily charged with pay-as-you-go billing. The server can deploy in a snap. Furthermore, there is a freedom to choose the Storage.
HDD – Use for high capacity
SSD – Use for Fast Storage
NVMe – Use for Speedy & Capacious space
Above all, different type of servers are available for your workload.
Why Buy Fasthost Bare Metal Servers?
Storage Options
Pay-as-you-go billing model
Best Uptime
State-of-the-art Infrastructure
Optimized Performance
5. Zenlayer
Like NetForChoice, the Zenlayer bare metal servers integrate the dedicated resources with the flexibility of cloud or virtualization. According to their website, they have 25 different locations to host your physical server machine within 10 minutes. In addition, the servers deploy on a private spine. As a result, the traffic between Zenlayer server PoPs bypasses public internet connections.
Their server is preferred by the companies that want to build a compelling, cost-effective hybrid cloud because the bare metal cloud can easily integrate with public clouds from companies such as AWS, Azure, SAP, Oracle, and IBM Cloud to establish a private ecosystem.
Why Choose Zenlayer Bare Metal Cloud Service?
Fast server deployment
Availability of 25 locations
Presence of private backbone
Flexibility of cloud
Low latency
6. Scaleway Elements
The bare metal offered by Scaleway is made for intensive processing while providing the freedom of the cloud. You will get the latest Intel Xeon processor. The great thing is that the charges are based on time usage. So the more you use, the more you have to pay, and the less you use, the less you have to pay. According to their websites, they live the server in few minutes that comes with an IPv4 address.
Why Buy Scaleway Elements Bare Metal Cloud Service?
Intel Processor
Failover IPv4
High-end Performance
100 % Dedicated Server
Hourly Billing
Final Say on Bare Metal Server Providers
The term Bare Metal Server is very much different from the cloud hosting and advanced-type of virtualization. Being a single-tenant physical server, the Bare-metal has proved to be a remarkable asset for the IT infrastructure and facilitates the excel of the existing technology.
Those mentioned above top 5 bare metal server providers are excellent companies and offer the Best Uptime, Low Latency, Flexibility, Customization, Fast Deployment, and Low-cost.
It is a matter of the hosting of your data-intensive application. Choose your bare metal server provider wisely!